The Hershey Bears regular season kicks off on October 5th at home, against the Adirondack Phantoms, the AHL affiliate of the Philadelphia Flyers. Giant Center has proved to be a great venue for Hershey since they moved there, with the arena continuing to fill up with passionate fans season by season. The Hockey Writers takes a look at five great promotions for the 2013-2014 season.
December 1st vs. Providence
Promotions: WGAL and Northwest Savings Bank Teddy Bear Toss Night, Hall of Fame Night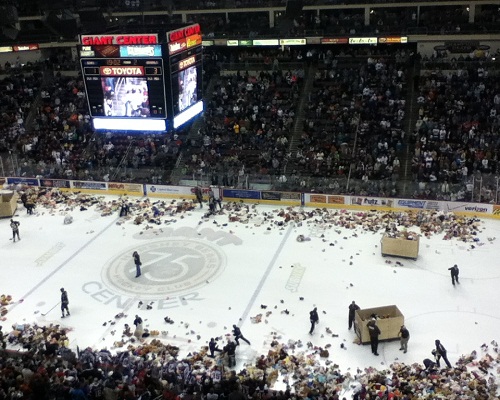 Teddy Bear Toss Night is unquestionably the most exciting event for fans, team staff and players every passing year. About ten thousand fans get the opportunity to toss future toys that will benefit regional charities around the Hershey community. Last season Teddy Bear Toss Night was held on January December 1st, where exactly 12,497 Bears were thrown on the Giant Center ice that evening.
January 4th vs. Rochester
Promotion: Philipp Grubauer Bobblehead Night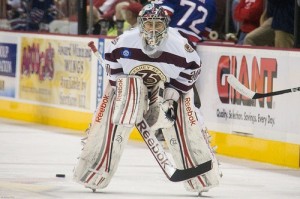 Washington Capitals top goalie prospect Philipp Grubauer highlights the bobble head promotions this season, as the first 5,000 fans that enter Giant Center will receive a bubblehead of the net minder. Grubauer should get a chance for substantial playing time this year, but former Rochester Americans and Buffalo Sabres product David Leggio could also receive close to 40% of the starts between the pipes.
January 5th vs. Manchester
Promotions: Affiliate Night, Huggins Printing Company Team Photo Night, Team Autograph Night
Fans love autographs making this a must see game. The first 5,000 fans will receive a Huggins Printing Company team photo, along with a chance to get player autographs after the game for 90 minutes. Affiliate night also highlights the promotional night, as both the Washington Capitals and Reading Royals (ECHL) will both be represented at the game. Fans can receive giveaways from the Bears' affiliates and mascots from the three teams will be present.
December 21st vs. Worcester
Promotion: Joel Rechlicz Bobblefist Night
Fan favorite and former AHL man of the year returns to Hershey in 2013-2014 to bring back his physical force and emotional leadership. He'll dress against tougher AHL teams and whenever the opponent has an enforcer in the lineup, but his life time will be limited by first year Hershey Bears head coach Mike Haviland. Rechlicz should have no problem energizing his teammates, earning him a bobble head promotion against the Sharks.
April 13th vs. Binghamton
Promotions: Hersheypark Pass Night, Fan Appreciation Night
There are a few HersheyPark Pass Nights on the schedule for the 2013-2014 Hershey Bears season, but their April 13th contest against an improving B-Sens club tops the list. All fans will receive a HersheyPark ticket valid through July 31st 2014. It's also Fan Appreciation Night, as there will be numerous promotions and events throughout the night giving fans an opportunity to win numerous prizes.
Hershey Bears regular season tickets go on sale to the general public on Monday, September 16 beginning at 10:00 AM.  Tickets can be purchased by calling (717) 508-BEAR, on the internet at TicketMaster.com, or by visiting the Hersheypark Stadium box office.
You can follow Matthew on twitter @m_speck and email him at mspeck21@yahoo.com with any questions or comments.
Matthew Speck covers the Washington Capitals organization for The Hockey Writers. He provides coverage of both Washington at the NHL level and prospect related content. Matthew also covers local sports for the Lebanon Daily News in Central Pennsylvania. You can email him at mspeck21@yahoo.com with any questions or comments.