Despondent Chicago Wolves play-by-play announcer Jason Shaver summed up the attitude of much of the American Hockey League in 2010 in his call of Jamie Benn's game 7 overtime winner for the Texas Stars against Chicago:
"He shoots, he scores. The Stars will advance. Jamie Benn, who spent the entire year in the NHL, gets the overtime game winner …"
English grammar refers to the italicized portion as a nonrestrictive relative clause. Its use means that both Jamie Benn gets the overtime game winner and Jamie Benn spent the entire year in the NHL are regarded by the speaker as being of equivalent value.
Point? When Jamie Benn came to Cedar Park in 2010 for the Calder Cup playoffs after playing all 82 games in the NHL and not one in the AHL, some people were upset.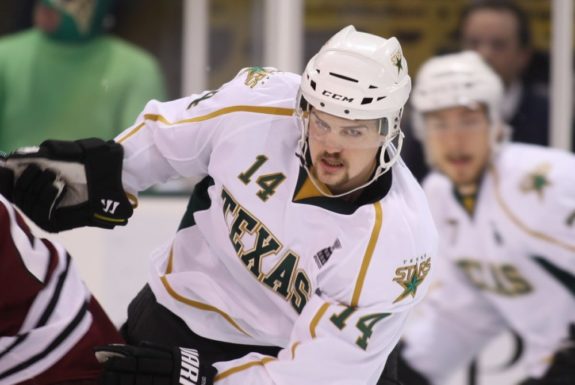 The 2009-2010 Season
At the conclusion of the inaugural American Hockey League regular season for the Texas Stars, nobody could dispute its success. Tenth in the league in attendance, the team finished the season with 46 wins and 99 points, good enough for second in the West division. At the time, the AHL split its 29 teams into two conferences of two divisions each. With the second seed in their division, the Stars would play the third-seeded Rockford Icehogs in the first round of the playoffs …
Ross Bonander is a freelance health writer and book editor. He is the editor of 13 quotation collections– six of them hockey-related, including his most recent, Modern Hockey Quotations. His homepage is RossBonander.com.