There had been a lot of vacant coaching positions in the past weeks. The whole hockey world was guessing who lands star coach Mike Babcock. Toronto won the sweepstake and ended the speculations. Other teams who filled their coaching positions in the past two weeks were San Jose, Buffalo, Philadelphia and Edmonton who hired Peter DeBoer, Dan Bylsma, Dave Hakstol and Todd McLellan respectively and took these names off the market. One coach who was mentioned in the mix was Guy Boucher. Coaching Swiss Team SC Bern last season, there were speculation he might could have been eyeing a return to North America. Detroit and New Jersey are still looking for a coach but it won't be Guy Boucher. His Swiss team SC Bern ended speculations about Boucher's future now with announcing the Canadian coach stays in Switzerland.
Brendan Shanahan confirms Guy Boucher was serious contender for Leafs' head coach position. http://t.co/WKzMOzoQuU pic.twitter.com/eo3ZHdlxav

— theScore (@theScore) May 21, 2015
Boucher now focusing on Switzerland
Boucher, who was hired by SC Bern of the Swiss League in January 2014, coached the team last year into the semi-finals. He has an out clause in his contract which would have made him able to sign with an NHL team. His team released the following statement today:
"In the last couple of weeks there were rumors saying Boucher could leave SC Bern for a Head Coach position in the NHL. Boucher's contract includes an out clause for the NHL. Boucher kept the team up to date during the phase he had conversations with NHL teams. The time of flirting is over now. Boucher won't use his clause and stays Coach of SC Bern for the upcoming season. From now on he will focus on his coaching duties in Bern"
NLA: "The time of flirting is over" – Guy Boucher still behind SC Bern's boards next term #SCB #NHL http://t.co/eOK7rDEfe5

— swisshockeynews.ch (@SwissHockeyNews) June 1, 2015
According to sources, Boucher was in Toronto's coaching mix but was also mentioned by media for other vacancies. With Babock's decision to join the Maple Leafs, there were still openings at that time and Boucher's name was mentioned in several media reports for a potential return to the NHL. By name it was San Jose, Buffalo, Detroit and potentially New Jersey who were/are still looking for coaches. The Sharks and Sabres meanwhile filled their positions and it looks like Grand Rapids Griffins Head Coach Jeff Blashill is the frontrunner in Detroit. They will likely make an announcement after the playoff run of the Griffins has ended. It seems like Boucher was interested in returning to the NHL as he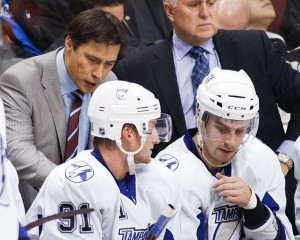 met with the Maple Leafs. It remains questionable which teams were interested in Boucher after the Leafs have won the bidding on Babcock. In the end Guy Boucher has decided to stay in Switzerland for at least one more year. Whether he has chosen Switzerland over North America because of the lack of interest from other teams or because he wants to wait for the right team to approach him is uncertain. Seems like it's the latter though since the Devils were supposed to be one team who showed interested in Boucher.
It seems to be only a matter of time until he returns to the NHL though. He might just be waiting for the right moment and the right team. However, SC Bern is probably pretty relieved he is staying in the Swiss capital. The team is aiming to win the Swiss Championship next season with the Canadian coach. Boucher is one of several former NHL Coaches who left North America to join a Swiss team. This path worked out very well for Bob Hartley who won the championship with Zürich Lions before joining the Calgary Flames. He led the Flames to the playoffs and is a Jack Adams nominee. Perhaps Guy Boucher will follow Bob Hartley by having similar success, first in the Swiss League and then in the NHL.
Independent Scout covering European Hockey and Prospects for TheHockeyWriters. Located in Switzerland and blogging on www.scouting-factory.blogspot.com. Opinions on blog are my own