While P.K. Subban will be pulling a Nashville Predators jersey over his head come October, there are still far too many questions surrounding the trade that saw the Montreal Canadiens acquire Shea Weber in exchange for their former exuberant defender. And every time one of those questions is answered, yet another seems to appear with more intricate details.
After easily the biggest fan favourite in recent Canadiens history – Subban – was moved, the team proceeded to fire their analytics expert Matt Pfeffer, according to Sportsnet's Eric Engels and a close source of his.
So what changed from the Habs team of a couple seasons ago? What happened to having arguably the best goalie in the game and one of the most offensively gifted defenceman in today's game?
Well, according to Marc Bergevin and Geoff Molson it was about making the team better. Whether it be leadership or character, they believe that they are getting a better option and improving the overall structure of the Canadiens in acquiring Weber.
At times, Subban's defensive play was questioned. His on-ice antics and passionate celebrations often made him an easy target for opponents and critics to publicly ridicule him. And yet, his numbers spoke for themselves.
He played 434 regular season games for the Habs – scoring 63 goals and 278 points. Sure he had issues staying out of the box (adding 532 penalty minutes), but his plus-35 and 127 power play points showed just how much of an asset he was both at even strength and with the man advantage.
Add to that his 38 career playoff points (11g-27a) in 55 games and for good measure a Norris Trophy in 2012-13 as the league's best defenceman and you've got a legitimate NHL defender on your hands. And while reports surfaced that maybe Subban wasn't the best dressing-room guy, the Toronto-native knows he did all that he could in his time in Montreal.
"I'm not perfect," said Subban in the Engels interview. "But I don't abuse alcohol or drugs, I don't party, and no one could say I didn't try my hardest or that I didn't show up to play."
So how does Pfeffer play into that?
Well, analytically speaking, Weber for Subban doesn't favour the Montreal Canadiens. In fact, the 31-year-old Weber simply won't have the same influence on the game as the younger and quicker Subban.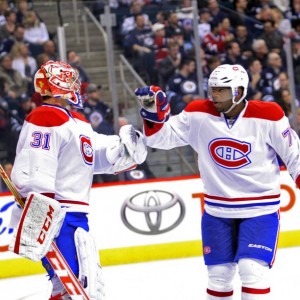 According to Engels' source, Pfeffer (who was hired prior to the 2015-16 season for his analytics background) "made an impassioned and elaborate presentation to management to dissuade them from following through on this trade."
Yet, the trade happened and Pfeffer finds himself outside the Habs management room looking in on what could be a historically memorable move by Bergevin and his remaining colleagues.
Montreal wouldn't comment on Pfeffer and why his contract wasn't renewed, but Engels' source believes it was his attempt at convincing management not to go through with the Subban trade that forced him out as the team's analytics expert – adding that Bergevin's insistence on making the move demonstrates another path of analyzing the players.
While Pfeffer will have to reboot and start somewhere new, Subban will look to quiet his critics in Nashville – especially those in Montreal's front office. For those of us on the outside, however, we remain here questioning the motives that led to the trade and the alleged loss of a job as a result.