The goaltending situation in Montreal is a bit of a disaster right now. It has been for a little while. Acquired by Montreal on December 28th, Ben Scrivens has played in three games for the Canadiens thus far, earning a save percentage of 0.882. In Mike Condon's 32 games for Montreal this year, he has earned a save percentage of 0.907, winning 13 of 15 games.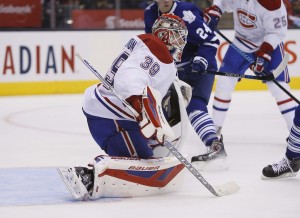 James Reimer Was On The Market In November
The Canadiens had the opportunity to acquire James Reimer back in November/December, but they decided to pass on that. James Reimer now has the best save percentage in the entire NHL and is close to signing a contract to stay in Toronto. The Canadiens missed their chance, seeing as the price for Reimer (if he is even still available) has increased significantly since November. The Canadiens had to settle for Ben Scrivens.
Building A Case For Scrivens
Ben Scrivens has the experience of 132 NHL starts under his belt to Condon's 32. So, he has played 100 more games than Condon. At 29 years old, Scrivens can be trusted more than Condon in goal for Montreal. In his three games played in a Canadiens jersey, Scrivens looked sound and stable in the net. In the three game sample size, his save percentage of 0.882 is unreflective of his play. He has looked poised and confident in goal, even against a very talented Chicago Blackhawks team. Ben Scrivens is not Carey Price. He never will be. But putting the fate of the season in the hands of rookie Mike Condon, as the Canadiens are currently doing, is just not reasonable.
It will be 3 Losses in a row for Ben Scrivens who has nothing to be ashamed of. He might start missing Edmonton #CH #Habs #Oilers

— Francois Gagnon (@GagnonFrancois) January 18, 2016
Scrivens' three game sample size is not enough action to properly evaluate his play. Why not let him start for two weeks and see how he does? Could he really be much worse than Condon? At the very worst, he plays bad and you toss the #1 role back to Condon. So what? It can't hurt the Canadiens to at least give Ben Scrivens a shot at manning the net until Carey Price returns (if he even returns this season).
Sometimes all that a goalie needs is a little bit of a hot streak to build up some confidence in order to start playing better (ie. James Reimer, Devin Dubnyk, etc.). Best-case scenario, Ben Scrivens saves the season for Montreal. Worst case, the Canadiens remain in the same position that they see themselves in right now.