Goaltender Mike Condon is doing a swell job guarding the Canadiens' net in the absence of Carey Price. With that being said, it is too much to ask of him to continue to carry this load of work for an extended period of time. If Carey Price is out for at least a month, as reported by RDS, Condon will surely need assistance in minding the net.
Dustin Tokarski
I don't think Dustin Tokarski is the answer for Montreal. Apparently Michel Therrien doesn't think so either- Therrien played Mike Condon, who was an ECHL goaltender just two years ago, on both nights of a back-to-back set with the New Jersey Devils. Playing Condon in both games against the Devils proved to me that Therrien, as well as Habs' management, simply do not trust Dustin Tokarski in goal. I do not blame them. Tokarski holds a save percentage of 0.891% in 6 AHL games this year with the Ice Caps. And, do we need to recall his one period stint with the Canadiens from earlier on this season? Yea, let's not.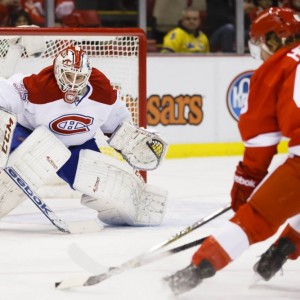 Condon played well in the home-and-home with New Jersey, mind you. But, as the workload picks up, he will need help from a goaltender who is more experienced than Dustin Tokarski.
Bergevin Has Assets At His Disposal
GM Marc Bergevin has the tools in place to make a trade for a goaltender that can help weather the storm if Price is out for an extended period of time. Bergevin has defenceman Jarred Tinordi, who he has been reportedly trying to trade, available. He could also use Tom Gilbert as trade bait, although I doubt teams are overly excited about taking on his $2.8M cap hit. It would be great if Bergevin could maneuver a deal in which the Canadiens rid themselves of Gilbert's contract and pickup a goaltender. One can hope.
Draft picks are locked and loaded for Marc Bergevin. The Habs' GM still holds possession of all of his picks in the 2017 and 2018 NHL Entry Drafts. For the upcoming draft in 2016, the Canadiens own their first, second, third, fourth, fifth, and sixth round picks, as well as a fifth round pick from the Vancouver Canucks and a second round pick from the Buffalo Sabres, via the Minnesota Wild. Bergevin has resources.
Don't Let Up
Although trading away draft picks for temporary relief is not ideal, sometimes, you need to. No one is saying that Bergevin needs to start wheeling and dealing his first and second round picks for a goaltender, but the point is that he has ample picks available to him. You will not convince me that home-ice at the Bell Centre in the Stanley Cup playoffs is not an advantage to the Canadiens. It is. Opposing teams have admitted that the key to playing at the Bell Centre in the playoffs is to weather the storm for the first five minutes of the game because it is such an overwhelming atmosphere. It would be a shame for Montreal to lose their stranglehold on the division (home-ice advantage in the playoffs) in December because they were not willing to assist Condon in the net.
2 Practical Options
With Zack Kassian's cap hit currently off the books, the Canadiens have just over $3 million in cap space available to them.
One option for the Habs is Toronto Maple Leafs goaltender, James Reimer.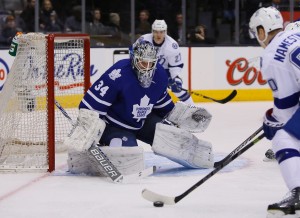 Reimer is currently sidelined day-to-day with a supposed minor injury but is expected to return to action any day now. He holds a cap hit of $2.3M and is an unrestricted free agent at the end of this season. He holds a save percentage of 0.934% this year in 15 games with the Maple Leafs. The Leafs are not contenders this year and surely would have to at least consider an offer from Marc Bergevin if he were to send one their way. Tell me the Leafs wouldn't love another draft pick for the upcoming NHL Entry Draft in 2016. For a team in the midst of a transitional rebuilding period, a draft pick would do them nicely. I should also note- James Reimer's current contract does not possess a No-Trade Clause of any kind.
Another possible option for the Canadiens is Anaheim Ducks goaltender Anton Khudobin.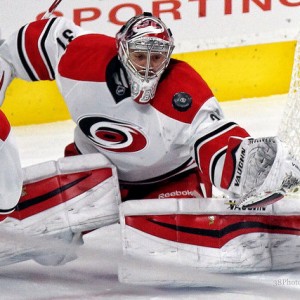 The 29 year old has played in 8 games for Anaheim this season with a 0.908% save percentage and 1 shutout. He is a UFA at year's end, and carries a cap hit of $2.250M. Khudobin's contract does not include a NTC of any kind. This is an interesting option, as the Ducks and Canadiens have a history of being trading "partners", per say. Since June of 2014, the Ducks and Canadiens have swapped assets 3 times, making Montreal Anaheim's most frequent trading partner since the year 2014.