written by Marc Lapierre (@MarcLapi)
Paul Kariya will be eligible for enshrinement in the Hockey Hall of Fame for the first time in 2013. His candidacy for immortality is clearly a borderline case which should spark an interesting debate over the next years.
Quite simply, the two-time Lady Byng Trophy winner was one of the great offensive threats of the last 20 years and a world-class player in his heyday. The problem is, like Pavel Bure or Cam Neely for example, he had a relatively short peak.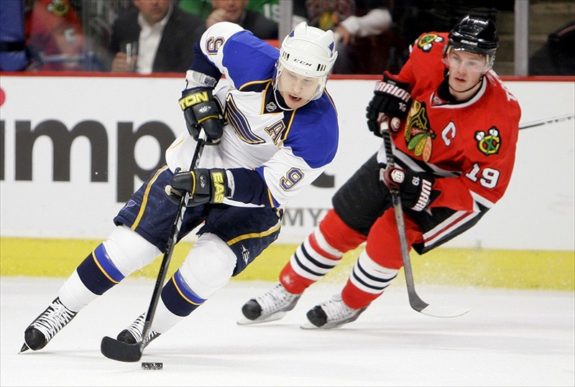 The Good
The former World Junior Championships star and Hobey Baker Award winner was praised for his playmaking skills coming out of the University of Maine. However, what we saw in the NHL during a span of about seven seasons was someone who could take over a game not only by feeding Teemu Selanne but also with his goal-scoring ability. The diminutive winger would go on to score 402 goals in 989 games in the show.
In his prime with the Mighty Ducks of Anaheim, Kariya was one of the most talented players in the game and a treat to watch. Offensively, he had it all: dazzling speed, playmaking aptitude, puck skills, sniping ability and a great hockey sense.
Kariya had several seasons in Anaheim where he was viewed as one of the best forwards in the world and in the running for THE best. In the summer of 1997, Dominik Hasek edged Kariya and none other than Mario Lemieux to grab the Hart Trophy for the first time in his illustrious career. Kariya had finished 9th in the voting the year before and would go on to finish 8th in 1999.
Kariya was also part of five time All-Star Teams during his career. He was a member of the NHL's First All-Star Team in 1996, 1997 and 1999 and was on the Second All-Star Team in 2000 and 2003. Needless to say that those are remarkable accomplishments and it's practically unheard of for a player with five All-Star Team selections to be excluded from the Hall of Fame.
The Bad
There are a lot of negative things about Kariya which definitely won't help his Hall of Fame case.
First of all, his career should've been far greater that it ultimately was but got sidetracked because of all the injuries he sustained during his 15 seasons in the NHL. I don't think it's fair to say that Kariya was never the same player after the Gary Suter cross-check to the face in 1998 or the devastating Scott Stevens hit in the 2003 playoffs but he did retire prematurely because of post-concussion symptoms.
If not for two lockouts, injuries and a controversial holdout, Kariya probably finishes with 500 goals and 1,200 points when it's all said and done.
Second, I think we forget sometimes just how quickly Kariya's world-class aptitudes diminished in the early part of the 21st century. Granted, he doesn't receive quite as much praise as he probably deserves because of how much he lost in the latter half of his career because of the concussions.
But looking back, it's impossible to consider him among the top forwards in the league after the 2003 season when he left Anaheim to join the Colorado Avalanche.
The Ugly
Then you have the playoff resume or lack of to be precise. Sure, the Mighty Ducks made it all the way to the Stanley Cup Finals in 2003, but that was all Jean-Sébastien Giguère. Kariya had only 12 points in 21 games during that epic run.
Kariya never had that ever so important career-defining, legacy-building playoff which could ultimately kill his hall of fame chances.
The Hall of Fame: A bordeline case
Kariya has to be considered one of the best left wingers of all-time. However, let's not forget that there were many very good wingers over the past 25 years that are similarly borderline candidates: John LeClair, Keith Tkachuk, Alexander Mogilny, Markus Naslund and Dany Heatley come to mind.
Let's get one thing out of the way, Kariya won't be inducted on his first try in 2013. If he does make it eventually, it will be primarily on recognition of his pure talent. Kariya had hall of fame talent, but not quite the clear-cut hall of fame career. It will also be because of the strenght of the pool of forwards against which he played during the dead-puck era.
Kariya is the classic example of a borderline hall of fame candidate. My gut is that he gets inducted down the road but will have to wait quite a while before his enshrinement ceremony. We should have a better sense of how we feel about Kariya's career 10 years from now and how he compares to other players from his time.