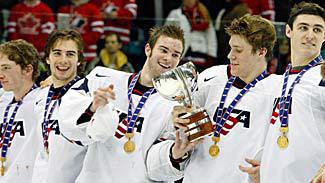 It has come down to this. Two teams will battle early in the morning for the 2013 World Junior Championship. Some will be hearty enough and wake up really early for the "Bronze Medal Game" as Canada and Russia battle at 4:00 AM ET. It is hard to believe that the appetizer is the second round of Canadian and Russian games. However, two teams that most believe had little business being in the gold medal game are. Team USA will battle Sweden at 8:00 AM ET in Ufa, Russia.
The road has not been easy for the Americans. They lost to Canada and Russia during preliminary play and had to go through the "dreaded quarterfinal round". However, it was not that the Americans played badly but it was more that the chances were not going in. Then came Slovakia, after that came the Czechs, and what followed were two easy wins that showed the world there was a team that could put it together. The 9-3 and 7-0 wins were an unexpected harbinger of things to come as the Canadians would face Team USA on an early Thursday morning stage. Hockey betting spiked and it was actually started heading in the Americans' direction in the hours leading up to the semifinal.
Maybe there was something in the hockey betting air. Canada was still a prohibitive favorite to most. Then the game started and the result was an absolute stunner to the hockey world and hockey betting in general. Jake McCabe and Johnny Gaudreau both scored twice as John Gibson continued his amazing run in a 5-1 rout against a Canadian team that so many had winning the entire tournament. It was clear that Team USA, with Gibson's goaltending, was allowed to play with almost little or no fear. Even Canada's one goal came after an inadvertent whistle, yet it counted. The bottom line is the game served notice that this team was one to reckon with.
People forget that the U-17 and U-18 teams were so talented for Team USA. It is just a fact lost on most casual fans and even the die-hard ones. The Americans are a solid money line favorite against Sweden but, first, thanks to Chris Peters, here is your gold medal primer. Sweden has the wheels and skill to match the Americans but do they have the intensity? The only knock against the Tre Kronor is that they have not faced that adverse moment where the run could end. Team USA has seen that a few times already. Every other facet is just about downright even.
The Americans have the intangibles and the intensity. Whoever has the quickest start probably wins this game. More and more it looks like this is how the projected lineup would look, again thanks to Chris Peters.
13 Johnny Gaudreau – 10 J.T. Miller – 26 Jimmy Vesey
15 Alex Galchenyuk – 7 Sean Kuraly – 16 Riley Barber
20 Blake Pietila – 18 Cole Bardreau – 21 Ryan Hartman
23 Rocco Grimaldi – 25 Vince Trocheck – 22 Tyler Biggs
12 Mario Lucia

19 Jake McCabe – 3 Seth Jones
27 Patrick Sieloff – 8 Jacob Trouba
6 Mike Reilly – 5 Connor Murphy
14 Shayne Gostisbehere

35 John Gibson
30 Jon Gillies
Scratched: Garret Sparks
So what is left? Honestly it is time to take our hockey betting roll of the bones and come up with a prediction. As always, it comes down to two things — imposing will and converting scoring chances. Sweden has played it close and this is a familiar opponent for Team USA. They are certainly not intimidated. Neither side is. This game comes down to the balanced might of the Americans versus the defending champions.
It will be the intensity of the red, white, and blue that takes the day. Shayne Gostisbehere is going to be a big force as will the special teams of Team USA. Expect the "Top Six" and "Bottom Six" to play havoc with Sweden's defensive assignments just enough. In the end, this is the Americans' tournament to lose and by the third period it will be theirs to claim.
Prediction: Team USA 4,  Sweden 2