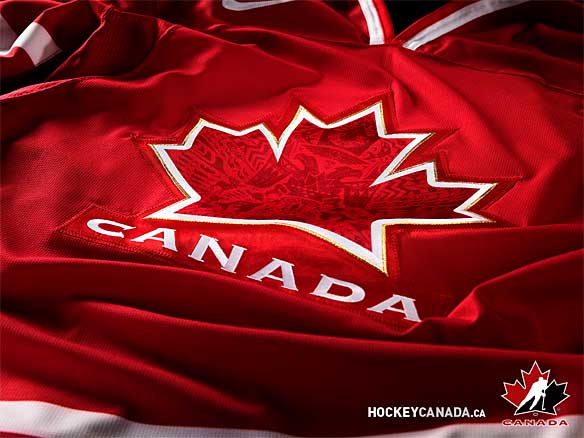 With the United States dismantling the Czech Republic by a final score of 7-0 Wednesday morning, Canada will now play Team USA in the semi-finals at the 2013 World Junior Championships in what will surely be a challenge for both squads.
Looking for revenge due to a 6-5 overtime loss to the United States in the Gold Medal Game at the 2010 tournament, Canada emerged with a 2-1 win over the United States in their first meeting at the 2013 WJC. To be fair Team USA probably outplayed Canada for the better part of the second half of the game, something Team Canada head coach Steve Spott likely went over in the video room.
Heading into their first match against Canada, Team USA had few scorers amongst the tournaments best. A lot has changed since then, as the United States now boasts five of the top 12 scorers, including John Gaudreau, who leads the tournament with five goals (three of which came against the Czech Republic).
Defenseman Jacob Trouba leads all defensemen and the American squad with eight points (four goals, four assists) in the tournament, while Alex Galchenyuk (eight points), Seth Jones (eight points) and J.T. Miller (six points) round out the Americans top five scorers.
After a rather ordinary game filled with turnovers against Canada, American defenseman Seth Jones looks to be turning it on at exactly the right time. Jones is currently sitting with eight points in the tournament and his heavy shot from the point is finally paying dividends.
Look for Jones to play a more calculated game against Canada this time around with a continued effort to get pucks to the net on the power play. Jones is a huge talent, Canada would be foolish to think he would have another bad game.
Fellow defenseman, Jacob Trouba, led Team USA with six shots on goal against Canada. Look for him to continue that trend against Canada, along with Jones (who had five shots) and forward J.T. Miller, who had three shots against Canada.
Trouba is an excellent defenseman. He's mean, he's savy with the puck and he has six power play points heading into the game against Canada. Canada will have to key on both Trouba and Jones, closing up those shooting lanes by blocking shots and getting physical whenever possible.
Once thought to be Team USA's game changer, Alex Galchenyuk was limited to one shot on goal against Canada in game one. While somewhat quiet this tournament, Galchenyuk has the high-end talent to break a game open and will be looked upon to be a factor against Canada.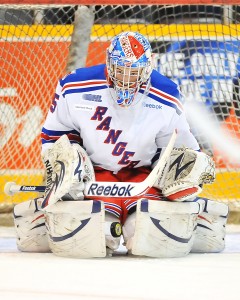 Between the pipes the Americans employ Kitchener Rangers netminder John Gibson.
Gibson was excellent against Canada the first time around, allowing two goals on 32 shots and looking very confident and poised throughout the contest.
Team USA will need another Herculean effort from Gibson if they have any chance at beating the Canadians, who flexed their offensive muscle on Monday, dismantling the highly touted Russians by a final score of 4-1.
Gibson, who sports a Canadian flag on the left side of his mask, might just be the best goaltender in the tournament. Gibson brings an impressive 1.51 goals against average and a tidy 0.950 save percentage to the table. He also leads all goaltenders with 278:07 of ice time.
After some early suspensions caused Canada to play with a shortened bench, Canada will be icing a full lineup against the Americans Thursday morning.
Defensive specialist and penalty killer, Boone Jenner, will be back after serving his three-game suspension earlier in the tournament. Jenner was the player of the game for Canada in his first game back from suspension against the Russians and remains one of Canada's best defensive forwards and a tenacious checker. Jenner played a huge role against the Russians, shutting them down with his physical play and keeping their key players off the score sheet.
The third line of Jenner, Phillip Danault and Brett Ritchie has the ability to win the game for Canada. Both Jenner and Ritchie scored 27 goals for their respective junior clubs, while Danault has 14 in the QMJHL. This line is physical, defensively responsible and all three players have the ability to bulge the twine.
Up front Team Canada, which made considerable changes to the lineup against the Russians, has few reasons to make any changes against the Americans. Expect to see Jonathan Drouin on the top line again with Ryan Nugent-Hopkins at centre and Mark Scheifele manning the right wing.
The combination of Drouin, Scheifele and Nugent-Hopkins was a dominant force against the Russians, bringing a measure of creativity, pace and hockey sense to the table. RNH owns the tournament lead with 11 points through four games, while Scheifele is tied for the tournament lead with two game-winning goals.
In Drouin, Canada is trusting a multi-talented 17-year old to be a game breaker on their top line. Drouin has displayed excellent creativity, drive and finish thus far, he will need to bring his top game Thursday morning.
For Canada, their top line will have to be exceptional against Team USA and a bigger effort from the second line of Jonathan Huberdeau, Ryan Strome (who has had penalty issues) and Ty Rattie will be needed as well.
Huberdeau, who is an exceptional playmaker, has shown glimpses of brilliance, but his penchant for making the pass instead of taking the shot has hurt his totals, in my opinion. Bottom line, I'd like to see him shoot the puck more, especially when the opposition is expecting him to pass first.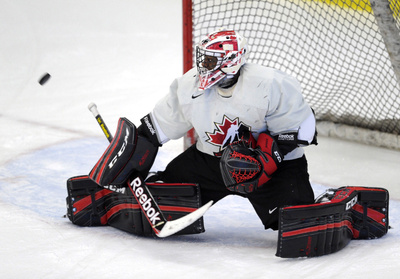 Malcolm Subban is expected to get the start in net for Canada. Subban has silenced his early critics with back-to-back victories over Team USA and Russia, and an undefeated 4-0 record thus far in the tournament.
Like Gibson, Subban has looked unflappable of late, stopping just about every puck that has come his way and looking extremely confident along the way. Subban brings an impressive 4-0 record, tidy 2.00 goals against average and a sparkling 0.930 save percentage to the table against the Americans. Canada is counting on Subban being equally effective against the Americans as he was in his 2-1 victory over the red, white and blue the first time around.
On the backend, Canada will continue to employ a top-six of Dougie Hamilton, Morgan Rielly, Scott Harrington, Griffin Reinhart, Ryan Murphy and Tyler Wortherspoon with Xavier Ouellet also chipping in.
Thought to be a key cog on Canada's power play, Kitchener Rangers defenseman Ryan Murphy has not been able to capitalize on his blistering slap shot from the point, registering zero points through four games. While there is no denying Murphy's skill with the puck or his mighty shot, many of his shots seem to find the goaltender with ease. If you observe Murphy's shot you will find most them come into the goaltender along the ice where they can be tipped or re-directed. Trouble is, if your teammates neglect to get a stick on the puck it makes for an easy save for the goalie, which has been the case more times than not throughout the tournament.
Sooner or later Murphy will have to break out of his slump— doing it against the Americans would be the perfect time for Canada. Here's a tip Murph— get the puck up once in a while, will ya?
Harrington and Wortherspoon have been excellent in their shutdown roles, while Rielly (who leads all Canadian defensemen with four points thus far), Hamilton (who scored the opening goal against Russia) and Ouellet (who has three points in the tournament), have been chipping in offensively.
Both Hamilton (one goal, one assist) and Reinhart (zero goals, one assist) have struggled to find their offensive games thus far. In fact, Reinhart might just be the most disappointing player for Canada thus far, as he has also struggled to find his physical edge as well. If I am Team Canada head coach Steve Spott I challenge Reinhart to have his best game against the Americans, as Canada needs everyone on deck Thursday morning.
Prediction:
The first match between Canada and the United States proved there is not much to choose from between these two sides. Both Teams enjoy excellent goaltending. Both Teams have tremendous defensemen and both teams employ forward lines with speed, finesse, a high hockey IQ and a physical presence.
When you consider just how deep both of these teams are and the level of play both clubs are capable of bringing to the table Overtime seems all but certain in this one.
Canada will be well rested heading into this match, having sat out the Wednesday's games with a bye. Comparatively, Team USA will bring a ton of momentum and confidence to the table after dismantling the Czech Republic in their match Wednesday morning. The question is— will the rest or momentum payoff?
In the first match the goaltending was a saw-off. Both teams had their fair share of breakdowns, but the American defense (mainly Seth Jones) seemed to be more vulnerable than Canada's defense.
Up front players like Tyler Biggs, Rocco Grimaldi and Alex Galchenyuk did little to impress for the Americans, while Canada got great efforts from all four lines against Team USA, yet were unable to dominate the Americans on the score sheet.
That said, once the first period was in the books, Canada was outplayed by the Americans in the first game. Canada can ill-afford to take their foot off the gas against Team USA this time around. Failure to bury their opportunities early will likely be disastrous for Canada against an American squad which seemed to get stronger as the first game went on.
Canada will have the psychological edge of having defeated the Americans in their first match. The American defense looked amateurish against Canada's hard-checking forwards, and the American forwards struggled to get any traffic in front of Subban. Yet, as bad as the Americans were, Canada only won by one goal in game one, which is a little alarming. Team USA has played its worst game and they know it. How they adjust the second time around will likely determine the outcome of game two.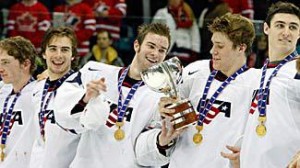 Of course, if Canada needs extra motivation they don't need to look any further than Canada's 6-5 loss to the Americans in the 2010 Gold Medal Game. Team USA's defenseman John Carlson beat Canadian netminder Martin Jones to give the Americans their second Gold Medal in tournament history that year, a fact that still stings Canadians from coast-to-coast.
When you consider how good Subban has been in his past two starts one thing is very clear: if you are going to beat Subban you will have to screen him, otherwise you just ain't scoring. The same can be said for Gibson, who has been gobbling up pucks with ease all tournament long.
Expect a close game, with both teams bringing more of a physical edge in this one. The Americans said they would "bang" against Team Canada in game one. They never established a physical game against Canada the first time around, and that may have been their undoing.
Canada's depth at forward has served them well throughout the tournament. I expect that trend to continue against the Americans, with Canada emerging with the game winner in overtime.
The easy pick as Canada's hero would be Mark Scheifele, who owns two game winning goals thus far. They say your best players have to be your best players if you are going to win the big games. With that in mind, I will take Ryan Nugent-Hopkins (Canada's best player) to notch the game winner.
And, if the game goes to a shootout?
Outside of Canada rallying for Jonathan Toews to be deemed eligible for the game, anything can happen. Both goaltenders are fairly familiar with the shooters as both play in the OHL.
Where Canada may have a slight edge is the fact that Canadian head coach Steve Spott coached American goaltender John Gibson in Kitchener and may have some insight on his tendancies in the shootout, but its unlikely to give Canada a huge edge.
In the end, Canada wins this game by a final score of 3-2 (in overtime) and moves on to face Russia in the Gold Medal Game—just as the hockey Gods scripted…or… Sweden, who I think might have enough to knock off Russia (who have looked rather ordinary all tournament long) in the other semi-final match upsets the Russians on their Home soil…
Yeah, I'll take Sweden, 4-2 over Russia in that one. Canada vs Sweden in the final, folks!
Keys to victory for Team USA:
Stay out of the penalty box
Get traffic in front of Subban
Limit breakdowns in own zone
Use their speed effectively
Better focus from Seth Jones
Big game from Gibson
Keys to victory for Team Canada:
Play disciplined game (watch penalties)
Get traffic in front of Gibson
Keep it simple on the power play
Subban must limit rebounds
Big effort from first line
Take advantage of power play opportunities