Sergei Gonchar will be approaching his third season with the Ottawa Senators when the labour dispute ends. Gonchar has had two very different seasons as he struggled in his first year with the Senators at both ends of the ice. Last season Gonchar looked as though he had worked through the challenges that plagued his first season in the nation's capital, as he improved his offensive output by 10 points  and plus minus by 11. Gonchar is an NHL veteran playing over 1100 NHL games. Over the course of his career the 38 year old from Russia has carved out a reputation for being one of the better offensive defenceman to play the game. Gonchar has had 10 seasons of 40+ points prior to joining the Senators.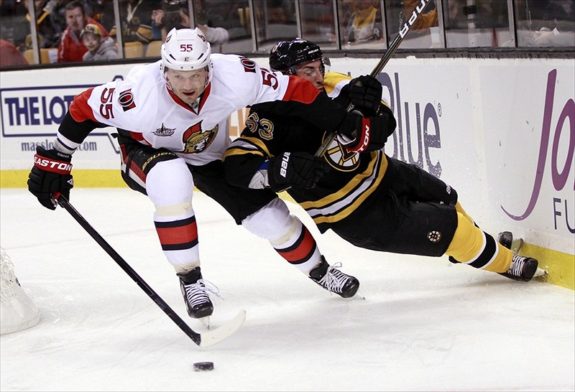 Sometimes a little home cooking can work wonders and it appears that's just the recipe Gonchar needed to rediscover his offensive touch.  Reuniting with former Penguins teammate and BFF Evgeni Malkin the duo has dominated the KHL so far this season. Gonchar was named the defenceman of the month of December in the KHL putting up 11 points in 9 games. Gonchar was named a starter for the KHL 2013 all-star game.
KHL Statistics:
| | | | | | |
| --- | --- | --- | --- | --- | --- |
| Games Played | Goals | Assists | Points | +/- | PIM |
| 35 | 3 | 25 | 28 | +17 | 40 |
It's no secret that Gonchar has made a name for himself being an offensive defenceman and that is his specialty. Though Gonchar is not a physical presence he can still make a great first pass to get out of the zone. With his size (6ft 2 212lbs) he is tough to knock off the puck, and is perhaps most known for his hard and accurate bomb from the point.
http://youtu.be/QVqyWQtqTCo
At what is usually the last stage of an NHL career and having won a Stanley Cup, many expected Gonchar to just burn out his remaining days as a pro in Ottawa. Gonchar had a much improved 2011/12 season and has dominated the KHL so far this season, leading many to believe he is far from finished.
At 38 years old it's clear his days of racking up 60+ points are behind him but there is no reason to believe he cannot produce at a point every other game average. The good news with Gonchar is that he has already previously stated he will return to the NHL when the lockout ends, and even expressed interest to play next year too.
If the NHL lockout were to end this month the Senators would need Gonchar at his best, as usual top 4 D man Jared Cowen is still out long term with injury. Ottawa would have to rely heavily on Karlsson and Gonchar on the powerplay which is a role Gonchar has proven to excel at in the past.
His former club, The Pittsburgh Penguins are reportedly interested in reacquiring him when the lockout ends. If the lockout ends this year the Ottawa Senators would be smart to keep Gonchar as they are thin on the back end and all signs are pointing to a comeback season from Sergei Gonchar.
You can follow Rick on Twitter: @remrith