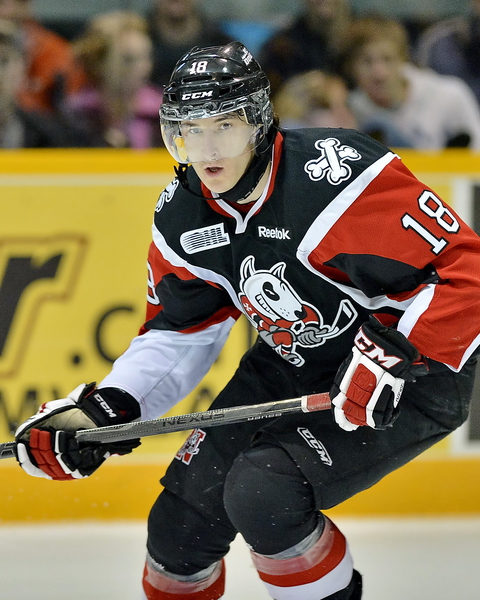 After scoring six points in Team Canada's first five games, Islanders fans must be wondering if Ryan Strome will crack New York's roster if the NHL lockout is lifted.
Excelling on an international stage such as the World Juniors has helped youngsters increase their draft stock or prove that they are worthy of occupying an NHL roster spot.
Despite the fact that the 2013 WJHC tournament will be Strome's second tour of duty for Team Canada in as many years, the Islanders' prospect is sure playing as though he has something to prove. Team Canada stormed out of the gates at the 2013 WJHC and Strome's contributions have undoubtedly helped his team to the top of Group B standings.
Not only has Strome's strong play made Team Canada's offensive threat that much more dangerous, the prospect has shown that he can perform on an international stage, something that could be very appealing to Islanders executives as they mull the center's future with the organization.
While it would be easy to be sold on Strome's abilities because of his WJHC play and statistics accumulated, success at such a tournament must also be viewed with a fine comb.
The Age Factor
It is no secret that Ryan Strome has been competing against players under twenty years old at this year's WJHC as the tournament showcases international junior-level talent.
Each year, some of the best prospects light up the WJHC stage and earn themselves some notice from NHL teams. Ryan Strome has been one of those players for the last two years as he has become a steady contributor for Team Canada. While Strome's stats (2012 – 9 pts, 2013 – 6 pts) in World Juniors competition have been quite noticeable, the center's achievements should not be directly associated with an ability to duplicate such numbers at the NHL level.
Strome is definitely playing against some of the most elite talent that the hockey world has to offer at the WJHC, but he is also playing against prospects that are under twenty years old. Whether or not Strome can reproduce such statistics at the NHL level remains to be seen and it is unlikely that Garth Snow and Charles Wang would outright give the center a roster spot on the Islanders based on his WJHC performance.
Using the WJHC as a guide to NHL-level production could ultimately have disastrous setbacks as prospects are only playing against those in their more immediate age range. There is no doubt that Strome will one day don an Islanders uniform and have full-time duties in the NHL, but those anticipating an instantaneous transfer of results to the professional level might want to temper their expectations for other reasons.
Development Derailed?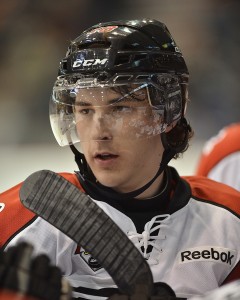 Islanders fans are well aware of what happened to Josh Bailey and Nino Niederreiter when they were rushed to the NHL-level.
While it would be hard to predict the same scenario for other Islanders prospects, one must think about what could happen to Ryan Strome if he can't handle an NHL stint. Hypothetical arguments will only get one so many answers, but many situations must be considered when evaluating a talent such as Strome.
Nino Niederreiter was a standout with the Portland Winterhawks of the WHL during the 2010-2011 hockey season and had a respectable showing at that year's WJHC, but was largely ineffective when he was given a promotion to the NHL level. Even though Niederreiter and Strome are two different players, the Islanders are likely to take the safer route when it comes to Strome's development and ascension to the NHL.
Making a direct leap to the NHL might have some drawbacks for Strome, but a stint with the Bridgeport Sound Tigers or continued play with the Niagara IceDogs could wind up aiding the young center in the long run. Much like many prospects, Strome still has some work to do on his overall game and could benefit from competing against players that are in his age group. Regardless of his improvements, the stunted growth of a promising prospect is probably the last thing that Islanders fans and executives want to see.
Where is Ryan Strome's Home?
Ryan Strome's home is definitely with the New York Islanders.
There is little doubt that Strome will become a key part of the Islanders' core in the coming seasons, but like a fine wine Strome must be given time to age properly. If the last couple of years have shown Islanders fans anything, then it is the fact that Ryan Strome is being steadily groomed for an NHL job.
Could Ryan Strome handle NHL duties if the lockout is lifted? Maybe. Maybe not.
The only sure thing about Strome at this point is that nobody knows how his play will translate to the NHL level.
Hockey fans have seen the pivot light up various hockey leagues, and his success in the OHL and on the international stage are further testaments to putting stock into a promising player. However, jumping the gun on Strome's readiness might have unwanted consequences for the prospect if he is not up to par for NHL competition.
Maybe Islanders fans would rather see Strome centering one of the Isles' four lines instead of Marty Reasoner, but time is not of the essence in this situation. While Ryan Strome will likely jump at the first opportunity that he gets to play with the New York Islanders, erring on the side of caution would not have a negative effect on the young center or the Islanders organization.
As a member of the Niagara IceDogs, Strome has shown incremental improvement in his play, something that could parlay into an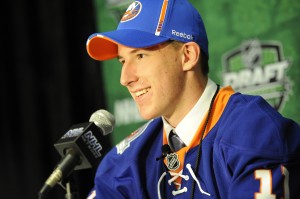 AHL promotion in the very near future. Many young and promising Islanders prospects are currently playing with the Bridgeport Sound Tigers of the AHL and it wouldn't be surprising to see Strome join the AHL ranks in time for the 2013-2014 hockey season.
For now, Ryan Strome will likely keep up his pace of play in the OHL and leave hockey fans wondering when the prospect will arrive at the professional ranks. Fans and analysts have often pondered the kind of damage that a John Tavares-Ryan Strome connection could inflict upon opposing teams, but all of those thoughts and hopes should be put on hold for the time being.
Nobody is questioning the talent and drive that is making Strome one of the Isles' most promising young prospects, but patience should definitely be a virtue when it comes to the development of such a special player. While a traditional nine game stint with the Islanders might not be out of the question for Strome, a hastened path to the NHL will not be in the works for the center if it is believed that he still has room for improvement.
Waiting for Strome to make it to the NHL might be a bit of a tease for Islanders fans, but when the center finally makes it to the big club, fans should expect the pivot's stay with the team to be permanent rather than temporary.