Happy Birthday to Max Talbot who turns 31 today.  Talbot has had a successful NHL career playing for three different NHL teams in the Pittsburgh Penguins, the Philadelphia Flyers and his current team the Colorado Avalanche.  Talbot is now a third line depth player who is instrumental in the penalty kill.  Talbot was the hero when the Penguins won the Stanley Cup against the Detroit Red Wings in 2009.
Early Years
Talbot was drafted by the Penguins in the 8th round number 234 overall in the 2002 NHL Draft.  After five season in the Quebec Major Junior Hockey League (QMJHL) and one season in the AHL Talbot played his first NHL action in the 2005-2006 season.  That year he played in 48 games and had 8 points before being returned to the AHL.  In 2006-2007 Talbot became a permanent fixture in the NHL and spent 5 straight season with the Penguins.  In 2009 Talbot scored both goals in the Game 7 Stanley Cup winning game for Pittsburgh forever making him a hero in the steel city.

Philadelphia Flyers
In 2011 Talbot made a somewhat unexpected move signing with in state rival the Philadelphia Flyers after not being able to agree on a deal with the Penguins.  The deal was five years long and paid nearly $9 million.  Talbot played 127 games for Philadelphia in three seasons that included a lockout shortened season and an unexpected trade to a young up and coming team.
Colorado Avalanche
On October 31 2013 Talbot was traded for the first time in his career.  He was sent to Denver in a one for one swap while Steve Downie was sent the other way.  Talbot was immediately placed on the penalty kill and has been a staple on the unit ever since.  Talbot brought playoff and championship experience to a team that lacked both and was part of the magical run that shocked the hockey world in the 2013-2014 Avalanche season.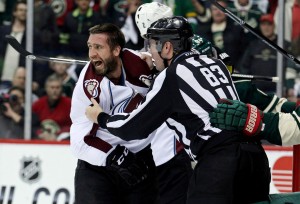 Talbot has played all 54 games for the Avalanche so far this season and has four goals and eight assists as a third or fourth line player.  Talbot experienced another first earlier this season when coach Patrick Roy put him out to take a penalty shot.  Talbot was the 11th shooter in a shootout, in a game that the Avalanche tied with 20 seconds left to force overtime.  Instead of getting no points in the very tight playoff race the Avalanche ended the night with two.  Talbot admitted he does not normally get these chances but was happy to contribute regardless of what that means.

Talbot is a veteran presence on a young team.  He brings experience and knows what it takes to make the playoffs, have a long playoff run and win the Stanley Cup.  This young Avalanche roster needs all of this and management is certainly looking at players such as Talbot to guide this young team.  Happy Birthday Max.