In 2011, I made a really dumb call and drafted Brad Marchand in the second round of my fantasy draft. I actually thought that my friends were going to kick me out of the league for my stupidity.
Of course, I knew what I was doing (kind of). Looking back at previous seasons Marchand had had, he seemed to have the Johnny Maziel complex- the more pressure he was under, the better he performed. His playoff numbers were out of this world- in sixteen playoff games with the Providence Bruins during the 2008-2009 season, he racked up almost a point a game. The consistency between those numbers and his playoff stats from Moncton, Halifax, and Val-d'Or was hard to miss- he seemed to be able to perform at every level he played.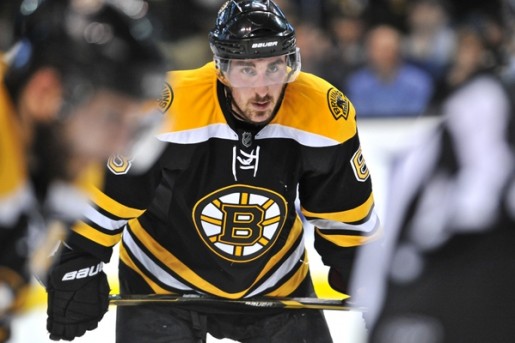 His 2010-2011 season looked much like it should have- he walked away from his first full season in the NHL with 41 points (21 G, 20 A) and 19 points in the playoffs over the 25-game road to the Stanley Cup. He still picked up 51 PIM during the regular season- and 40 during the playoffs- but this was nowhere near the numbers he had seen in junior hockey. He seemed to have found his stride, and was looking to become a second-line staple instigator.
Hockey's favorite pest continued his upward trend during both the 2011-2012 season and the lockout-shortened 2012-2013 season, surpassing the 50-point mark in his sophomore season and looking set to do the same in the year following the lockout.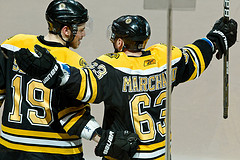 Then, the 2013 Stanley Cup playoffs hit, and Marchand began to struggle. He walked away from the team's unsuccessful cup run with only four goals and nine assists- following this season, he would hit a playoff dry spell that saw twenty consecutive games with no goals scored.
Looking at his 2013-2014 season stats, it would seem that Brad Marchand hasn't fallen off much at all. The Halifax native walked away from yet another season with 50-plus points, scoring 25 goals in the process. He also saw his first full season with no suspensions.
Broken down game-by-game, though, it seems that the second line winger wasn't as consistent as his numbers look to be. He started off the season a dud, got white-hot towards December and January, then looked all over the place until the playoffs- where he really failed to come through. In the team's twelve playoff games, he had zero goals and five assists.
Yep, you read that correctly. Zero goals. Five assists. Twelve games.
In previous seasons, Marchand could be counted on to hit a point per playoff game. He was at his best when a championship was on the line… but this spring, no one saw much of that. He even missed two complete gimme goals, having his skin saved only by Jarome Iginla's game-winning shot. For anyone who doesn't remember those, shame on you. For anyone who does, I'm sorry for bringing them back up.
Everyone has off seasons, and it's possible that last year was just that for the "Nose-Faced Killah". He still put up the second highest number of goals on a 75-goal second line, which most teams would say doesn't count as an "off" year. On the Boston Bruins, though, falling from your projected thirty-goal mark is huge- especially when there were chunks of games where it seems the player was missing from the ice altogether.
Tremendous Attitude
It's no secret that Brad Marchand is known across the league as one of the most polarizing instigators out there. For those who don't remember, he's the guy who gave Vancouver the "ring" finger after Boston overthrew the Canadian franchise in 2011. He's also the player who openly said that the hated Thomas Plekanek in an interview this post-season.
He's not the only controversial player in Boston- after all, Milan Lucic has been known to spear a guy a time or two- but Marchand's inconsistency suggests that he doesn't know when to back off. On a cup-contending team, you shouldn't talk the talk if you can't walk the walk.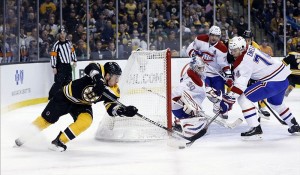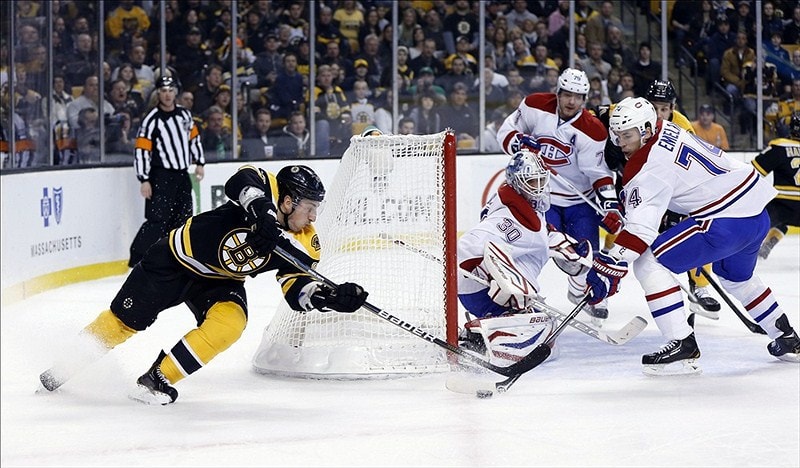 His instigating also makes him a target for referees. I've watched countless games where, at the start of a scrum, the first guy they pull aside is usually number 63. He's the first to pull a penalty, and the target of just about every guy on the other team.
Sometimes, this can be to his benefit. According to his scouting report, he's been a "sneaky little spitfire who doesn't know how to quit" since the start. He also made it a personal mission to show all the doubters that he would make it in the big league- standing at 5'9″, many thought he was too small to ever be considered successful.
Sometimes, he takes that mission a little too much to heart, though. He's admitted to having a chip on his shoulder about his size, and his scouting report criticized him for it- one big downfall that was mentioned for him was his inability to ever forgo the fancy play for something simpler, even when simple would have been better. Case in point- he got so overzealous during the playoffs this year that he missed those two complete "gimme" goals.
Is This Too Much For Chiarelli?
The second line has only been together for a season, but they already seem like a family. Reilly Smith provides the youthful force on the right wing, Marchand the sneaky instigation on the left, and Patrice Bergeron the calming force down the middle. Together, the three of them put up 75 goals and 91 assists for a combined 172 points.
To put this in perspective, that's only seventeen points behind the team's first line. Having a second line that could easily be another team's first line is valuable- not many GM's would want to trade that away.
Yet, the Boston Bruins are known for holding their players to a higher standard. Just look at Joe Thornton, Phil Kessel, or- most recently- Tyler Seguin. The team insists their players to do what is expected of them- on or off the ice, with the puck or a journalist's microphone. Brad Marchand may put up the kind of numbers that most teams drool over- but if he's not going to perform on a consistent basis, and if the team is going to have to constantly apologize for things he says and does, he might not be worth it any longer.
At 26, Marchand has long since passed the point where GM's should be speculating over whether he's going to turn over a new leaf. Evander Kane may have the excuse of youth on his side, but Marchand can no longer continue to promise that he'll step up and be more of a leader. He may be one of the team's biggest locker room presences, but those two missed goals during the Detroit Red Wings series have to be hanging over quite a few heads in Boston's front office. January saw the left wing put up eight goals and five assists in thirteen games… but October had seen him go as many games without any goals at all. He runs his mouth and messes around- but has he earned that right with his play performance?
The season is just around the corner, and I don't see the team trading one of Bergeron's linemates before he's been given a chance for redemption. He's certainly behaved better than his best pal Seguin ever did- he may be a goofball, but if he knows he might be on the chopping block, I don't see him taking that lightly.
I do predict, though, that Chiarelli has his eye on Marchand's every move this season. The trade deadline is a ways away, and if Boston's littlest pest doesn't get his act together, he could very well find himself looking at real estate in another zip code.