Everyone knows what kind of season goaltender Carey Price is having. He is the frontrunner for the Vezina and Hart trophies and is putting up insane numbers as he is leading most goaltending categories. Many feel that the Montreal Canadiens would be fighting for a playoff spot rather than leading the Eastern conference without Price. Price is without question the team's MVP but it is debatable whether his stellar play has the Habs ahead of schedule in their development towards being a contender.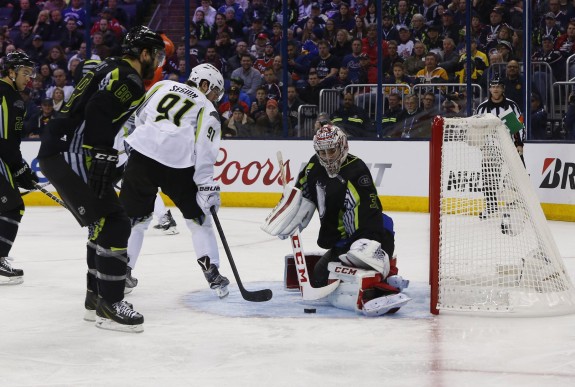 Started from the bottom
When Montreal finished third last in the NHL in 2011-2012, things were bleak but never as bad as the state of the Edmonton Oilers or the Buffalo Sabres. With Carey Price, P.K. Subban and Max Pacioretty already in place and grabbing Alex Galchenyuk with the third overall pick, the Habs had a solid core they could work with. The team has been near or at the top of the standings since and have an Eastern conference final appearance last year to show for their efforts.
Prior to GM Marc Bergevin taking over, Montreal had some pretty weak draft classes. 2006, 2008 and 2009 produced only one player who has played over 100 NHL games in Ryan White who is now with the Philadelphia Flyers. Montreal relied heavily on free agents to fill out their roster with the lack of youth in the system which contributed to their bad season. When looking at recent Stanley Cup champions, much of their rosters are built up of home grown players, confirming the importance of drafting and developing well.
Drafting and Developing
But a couple of strong drafts have replenished the prospect cupboards for Montreal. There are a lot of young guys who will be pushing for jobs down the road with young Swede Jacob de la Rose already forcing his way onto the NHL roster. Andrei Markov and Tomas Plekanec have survived multiple regimes in Montreal since being drafted in 1998 and 2001 respectively and have continued to be important cogs. Price of course came in 2005 where many questioned the pick but the critics have been silenced.
Subban and Pacioretty came in Montreal's famed 2007 draft class that also included defencemen Ryan McDonagh and Yannick Weber. 2010 produced a late round gem in Brendan Gallagher while fingers are crossed big defenceman Jarred Tinordi develops as hoped.
No big deal, Carey Price in his last 34 games (since Dec 1.) has a .942 save percentage, 5 shutouts… #Habs

— Eric Engels (@EricEngels) March 8, 2015
The value of Price
For a comparison standpoint, backup goalie Dustin Tokarski has struggled. It could easily be him not playing up to standard but it could also be he is playing behind a Habs team that relies too much on Price to be superhuman most nights and Tokarski isn't at Price's level. The Habs are not a strong possession team and the power play is atrocious considering the kind of talent they have.
Considering how the Habs stack up against other strong teams in the league and how they were outmatched during the California swing, Price masks a lot of flaws in this team. Lack of depth at certain positions and bizarre coaching decisions have been an issue at times during the season. On paper, the Habs are good, but they aren't terribly imposing. Bergevin has preached the future for awhile as he is usually reluctant to give up prospects and/or draft picks.
Price is a luxury most teams wish they had. There are a lot of good goaltenders in the league but Price has taken his play to new heights as you would be hard pressed to find another player whose team relies on him so much. He has put the Habs ahead of schedule in their development as a team so it's up to the Habs to raise their play and become the team they are expected to be.
I have a Bachelor's Degree in Journalism from Ryerson University. I am a freelance journalist and a Montreal Canadiens writer for The Hockey Writers. I previously wrote for Simcoe.com and Last Word on Sports as well as interned at TSN.