There's no doubting that the Boston Bruins have had an offseason full of ups and downs. New GM Don Sweeney wasted no time in making a splash, and has been greeted by mixed reviews in his first summer on the job.
However, when it comes to two of Boston's recent signings, Jimmy Hayes and Matt Beleskey, Sweeney should receive credit from Bruins fans for locking down two solid players, each of whom are extremely excited to be putting on the Black and Gold.
When you walk into a room with Jimmy Hayes, the first thing you'll realize is his size. The 6'6″ 221 pound right winger has the body-type that the Bruins want to fit their "Big Bad" style. However, with only four career fights, Hayes tends to use his size in other ways. That being said, Hayes knows what he needs to do to fit in with the Bruins style.
"They're known as the Big, Bad Bruins, and it's always a heavy game when you're playing against them," he said, per the Boston Herald. "They're a team that's always had a ton of size and a lot of power forwards as well. I think we're going to continue to go in that direction, adding a guy like myself and Beleskey.

"And there's a lot of skill up front as well."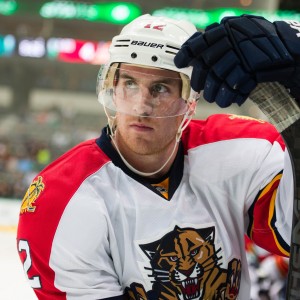 Hayes will look to use his size and talents to improve the Bruins offense come fall. He scored 19 goals with Florida last season, but that's a number that could certainly rise while wearing the black and gold this season.
If Bruins fans were unsure about Hayes, then this may change their mind: Hayes earned quite the praise from ex-Bruin and fan-favorite Shawn Thornton.
"I love that kid," Thornton said. "He's a hard-working kid, a great team guy, and I'll tell you, he'll be a guy that's proud to pull on that sweater."
Hayes, who was born in Dorchester, isn't worried about the pressure of playing in the city. Instead, he considers it a dream come true.
"I've probably played more games in this city than any other in my whole career," Hayes said. "I don't think it's pressure. I think I can handle it. It's going to be a great opportunity for (me to) be able to wear a jersey I've dreamed of wearing."
Matt Beleskey, too, is looking forward to an exciting opportunity with the Bruins. To make things even better, Beleskey is the likely candidate to play on David Krejci's left wing. However, he admits that it was more the team, and less the opening that brought him here.
"It's the Boston Bruins. It's an extremely attractive place to be," Beleskey said. "I looked at their team, I talked with my agent and my family, and it's always been a place I've liked. I didn't really look at the situation. Any team you go to, you're going to have to earn whatever you get."

"It's an Original Six team, the Big, Bad Bruins, they play that physical style, they've always been a team I've liked watching, Cam Neely in the front office, watching him play was exciting. It's been a team that I've always been drawn to."