The Pittsburgh Penguins locked up the final piece of their blue line last week, signing 25-year-old Brian Dumoulin to a six-year, $24.1 million deal. The contract will keep Dumoulin in Pittsburgh through the 2022-23 season.
It also means that five-sixths of the Penguins' defense is signed for the next three years. Only a couple of other teams in the NHL can say the same, and there are even a few organizations that barely have five total players locked up on contracts that long.
The expected consistency on the blue line will more than likely be a competitive advantage for the Penguins moving forward. That's a scary thought considering Pittsburgh's ability to score goals. But in order for it to be a strength, they must stay healthy, which they couldn't do last season:
Kris Letang Returns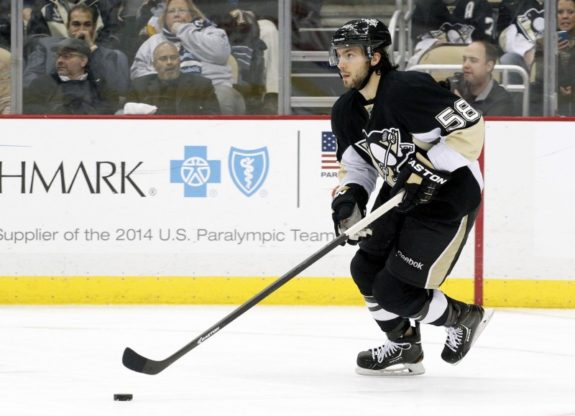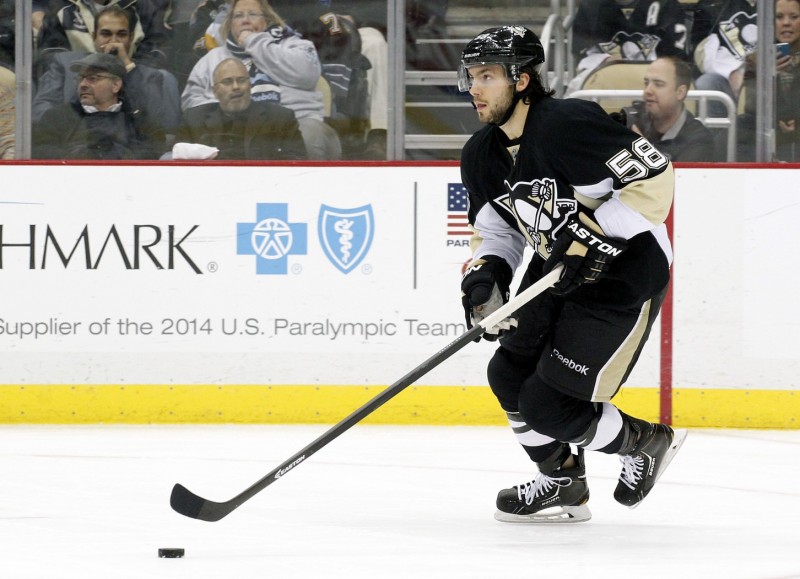 There were a lot of key free agent acquisitions from Metropolitan teams this summer, but one could argue one of the most important additions will be the return of Kris Letang to the two-time defending Stanley Cup champions. Pittsburgh played half of the regular season without its No. 1 defenseman and still tallied the second-most points in franchise history.
Then, without him for the entire postseason, the Penguins still grinded their way to a second title. That was no small feat, as Letang averaged 28:53 per playoff game in 2015-16.
Assuming he comes back healthy, the Penguins should be able to return to their transition game and become an analytic darling again as they were during the first championship run. But No. 58 hasn't played a full season since 2010-11. Without Letang, Pittsburgh relied upon a counter-attack and goaltending to win in 2017.
Kris Letang training with T.O. today 👀💨 pic.twitter.com/uKPottegly

— Barn Hockey Apparel (@BarnHockey) July 25, 2017
Key Penguins Defenders Back for More
Letang returning healthy (and staying that way) will be huge, but the fact just about everyone else is coming back too has Pittsburgh's blue line in position to make a giant leap in 2017-18. Letang, Dumoulin, Olli Maatta and Justin Schultz are all signed through 2020.
Granted, Trevor Daley, Ron Hainsey, and Mark Streit all departed, but none figure to be significant losses. It was always assumed Hainsey would leave, as he was acquired as a rental. Daley played a strong season and a half for the Penguins, but his analytics from 2016-17 suggest free agent signee Matt Hunwick should be able to nicely replace him. Hunwick is also signed through 2020.
Pittsburgh finished 17th in goals allowed (2.79), 20th in penalty kill (79.8 percent) and 27 in shots allowed (32.6) last season. But in the 31 regular-season games where the Penguins had a completely healthy blue line, they performed much better, allowing 2.68 goals and 31.8 shots per contest.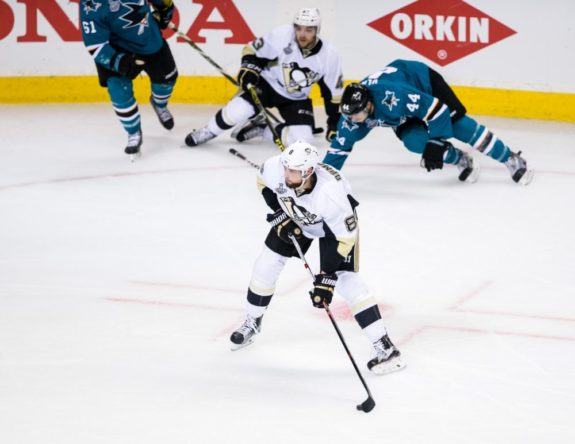 In 51 games where at least one member of Pittsburgh's top six defenders was missing, they yielded 2.86 goals and 33.1 shots per game. It's not really worth comparing the penalty kill numbers because those figures are going to be just as dependent upon the decisions made at center as on the defense.
That clearly indicates that even without veterans such as Hainsey and Daley, Pittsburgh's blue line will be fine as long as everyone is in the lineup. The Penguins' top six defenders are going to be solid and borderline great, but the depth of the unit will be a weakness as it was in 2016-17.
In 54 regular-season games under Mike Sullivan when the defense was relatively injury-free in 2015-16, the Penguins gave up 2.52 goals per game. With a healthy blue line, it's fair to expect Pittsburgh to yield about 2.58 scores per contest, which would put the team right around the top 10 in defense.
Matt Murray in Net for Penguins
Sure, there are question marks surrounding the Penguins' blue line. Can Olli Maatta get back to his rookie form? Will Brian Dumoulin start producing more offense? Can Letang really stay healthy for a full season?
Those are obstacles standing in Pittsburgh's way of an elite defense. But if any of those problems arise, goaltender Matt Murray is talented enough to make up for a lot of deficiencies.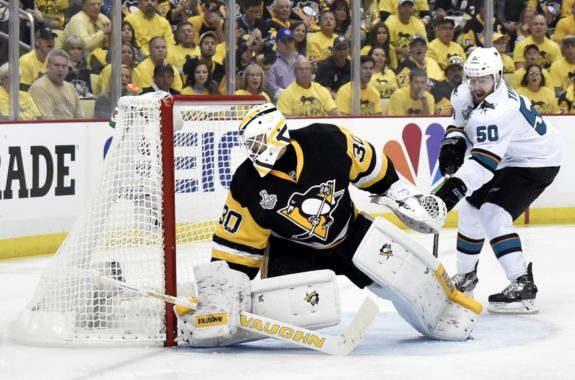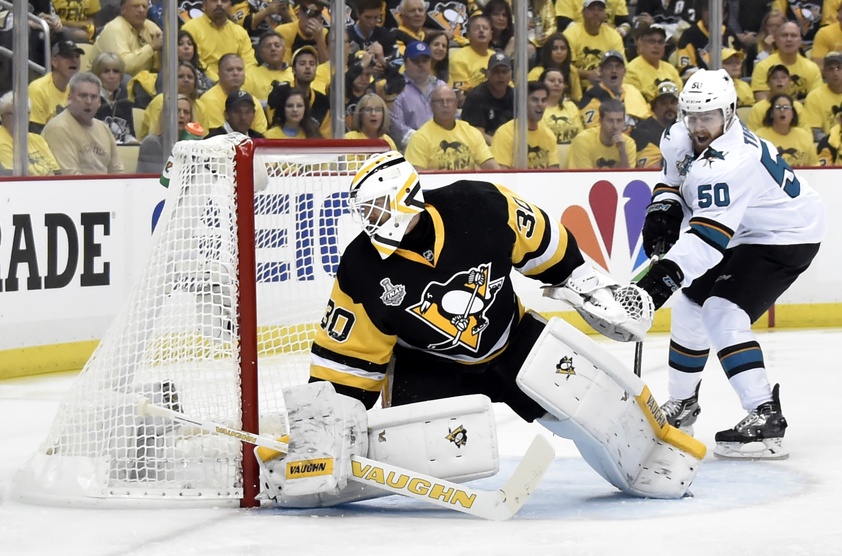 Part of why the Penguins finished 17th in goals against last season was because of some inconsistencies in net. Murray was the projected starter heading into training camp, but then he broke his hand at the World Cup. Marc-Andre Fleury didn't play well under trade rumors, and when Murray returned, neither could find a rhythm when they shared the net.
When the 23-year-old suffered his third injury of the season, which gave Fleury, who then knew he would finish the season with the team, an opportunity to start in the playoffs, the goaltending vastly improved. Murray excelled as well once he returned during the Eastern Conference Final.
Of course, there's the question of health when it comes to Murray too. He was only able to play 49 games in 2016-17 and missed the beginning of the playoffs. Should he be healthy, though, Murray should improve statistically during his second full season in the league and be the backbone of this potential strong defensive group the Penguins have locked up the next three seasons.
Where will Matt Murray rank among goalies by the end of the 2017-18 season? I don't think it's far fetched for him to be a Vezina favourite https://t.co/2wBykGGtNy

— Travis (@travis807) June 12, 2017
Dave Holcomb is excited to join The Hockey Writers team, covering the Pittsburgh Penguins. Holcomb began his NHL work as a fantasy columnist at The Sports Network. In 2015, Holcomb joined the fantasy NHL team at FanRag Sports, where he eventually worked into a beat writer position, covering both the New York Islanders and Pittsburgh Penguins. He continues to cover the Metropolitan division, along with the NFL and Syracuse basketball, for FanRag Sports. To find more of his work, follow Holcomb on Twitter at @dmholcomb.