HERSHEY – A chance for their first two game winning streak at home this season awaited the Hershey Bears (7-7-2-3), but once again they couldn't deliver. Hershey fell to the Providence Bruins in a shootout 3-2, but only reached that point due to the stellar play from goalie David Leggio (3-5-2), who recorded 42 saves on 44 shots.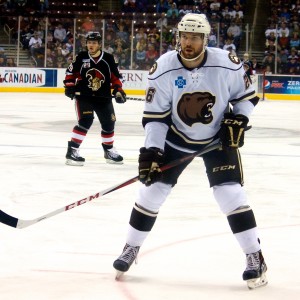 Although they lost in the shootout, the Bears finished the weekend with three out of four points, including a win against the Wilkes-Barre/Scranton Penguins Saturday night. Hershey picked up a point in their first game after a 5-4-1-2 November.
"Three out of four points this weekend after really having a long chat after St. John's about how we needed to play," stated Hershey coach Mike Haviland. "I thought we played pretty good for these two games, a shootout can go either way. We don't score and they get a couple in the shootout."
The Bears converted on their only power play to tie the game at two goals apiece 5:16 into the third period, as forward Jeff Taffe converted a rebound following a shot on goal from Casey Wellman. After the five minute overtime session, Providence tallied three goals in the shootout and goaltender Niklas Svedberg (8-3-2) stopped three out of the four Bears' shooters.
"We have one power play and we score on it, I told them it's a positive thing and we need to keep building on it," said Haviland.
Matt Watkins also scored for Hershey in regulation, scoring 4:52 into the second period for his first goal of the season. After he scored, the Hershey crowd threw a grand total 12,980 bears on the ice to commemorate the team's annual Teddy Bear Toss Night, presented by WGAL and Northwest Savings Bank. With his middle stanza tally, Watkins became the 20th different player to score for the Chocolate and White this season. 12,987 Teddy Bears were thrown on the ice by the fans Sunday night according to the team.
#TeddyBearToss #AHL pic.twitter.com/hDcLDptx8k

— Hershey Bears (@TheHersheyBears) December 1, 2013
"He's been playing very well," Haviland said praising Watkins. "He gets rewarded, that line I thought played a pretty good game for us. We were trying to shutdown Spooner and I thought they did a pretty good job. Good for Watty and hopefully it gets him going."
"I played here on the road once and I couldn't believe how many Teddy Bears came out," Watkins stated. "That's unbelievable, the amount of support that comes for this night."
Forwards Alexander Khoklachev (18:54 into second) and Craig Cunningham (1:29 into third) scored for the Bruins in regulation following Watkin's tally, recording goals just 2:35 apart between the second and third periods.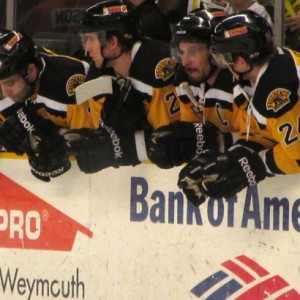 Hershey was outshot once again 45-28, allowing a season high in shots allowed. Their previous high was 42 shots against, coming in their November 2nd contest against the Wilkes-Barre/Scranton Penguins. The Bears dropped to 4-5-2-1 when getting outshot by the opponent. Hershey has outshot the opponent just seven times in 19 games.
The Bears being a four game road trip on Friday, beginning with a game against the Binghamton Senators. Hershey returns home December 14th for a Saturday night matchup, also against the Senators. The Bears also announced their second Hockey Hall of Fame Class in a pregame ceremony on the ice.
Game Notes
Attendance: 9,601
Bears Injuries: Defensemen Tomas Kundratek, Connor Carrick and forward Derek Whitmore (upper body)
Hershey Healthy Scratches: Forwards Jamie Johnson, John Mitchell, Nicolas Deschamps and Josh Brittain
Hall of Fame Inductees
Gordon "Red" Henry:
Arnie Kullman
Tim Tookey
Kenneth V. Hatt
J. Bruce McKinney
Hershey Lines
Forwards
Dane Byers-Casey Wellman-Stanislav Galiev
Nathan Walker-Ryan Stoa-Brandon Segal
Jeff Taffe-Peter LeBlanc-Joel Rechlicz
Matt Watkins-Michael Latta-Garrett Mitchell
Defensemen
Cameron Schilling-Patrick Wey
Chay Genoway-David Kolomatis
Patrick Wellar-Julien Brouillette
Three Stars
Jeff Taffe (goal, two shots on goal)
David Leggio (42 saves on 44 shots)
Matt Watkins (goal, two shots on goal)