One of the keys to the Carolina Hurricanes' success this season has been the ability to roll four lines with confidence. Lately, however, Kirk Muller hasn't been able to trust certain players, leading to a shortened bench and lopsided minutes for his forwards.
The 'Canes went 0-for-the-weekend, dropping a 5-2 decision Friday to the New Jersey Devils and following it up with a 3-2 defeat at the hands of the Vancouver Canucks on Sunday afternoon. In both games Muller was forced to select from a limited number options up front, and spoke of passengers after each loss.
"There were a lot of guys that, work ethic wise, were giving it all they got," he said. "But we're not going to win when we have to shorten our bench and not use a lot of guys."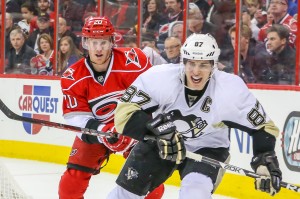 Muller never named names, but a quick peek at the box scores reveals the likely culprits. Riley Nash played a team-low 8:47 and took just three third period shifts against the Devils before finding himself in the press box during Sunday's matinee. His replacement, Kevin Westgarth, played 103 seconds against the Canucks — just one seven-second shift in the final two periods. Jiri Tlusty and Elias Lindholm also found themselves in the doghouse, spending large stretches of the game on the bench.
"Too many guys not willing to commit fully. It pays off at the end where too many guys are playing too many minutes to cover for it.
If it felt like Eric Staal was out there every other shift on Sunday, it's because he nearly was. He led all forwards in ice time with 23:46, his second-highest total of the season. The Hurricanes are 4-7-4 when Staal plays over 20:00.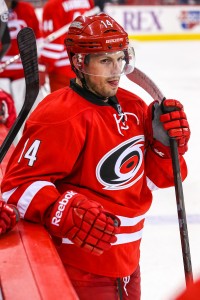 Because Muller was effectively choosing from nine forwards, lines were constantly shuffled. Nathan Gerbe and Jeff Skinner rotated on Staal's wing throughout the third period, making it tough to forge chemistry, but Gerbe wouldn't let that be used as an excuse.
"It makes it harder, but we can't focus on that," he said. "We can play with anyone, it doesn't matter. You just gotta go out and do it."
The losses of Alex Semin and Andrej Sekera cannot be overstated. Their absence has forced other guys into roles that they are not used to. Against the Canucks, Mike Komisarek played 4:00 on the powerplay; his last four seasons totaled 6:07. Jay Harrison and Ron Hainsey have taken turns playing on the top pairing with Justin Faulk to mixed results. But it all comes down to the same thing.
"It's desperation. It's execution," Muller said. "When you get a chance, the guys that are out there have to execute. And if they can't execute, then I guess we have to start looking at other guys in our lineup and give them the opportunity."
The 'Canes take to the road for most of December, and there's no guarantee that they'll travel with all of their passengers. General manager Jim Rutherford has been itching to make a move, and Muller must be provided with players he can trust. If Westgarth is going to play sparingly, there's no point in dressing him.
Bringing in Manny Malhotra was a shrewd, under the radar move that has paid off handsomely. It's given Muller a second option for defensive draws, and, along with Radek Dvorak and Drayson Bowman, a line he can roll with confidence.
Once the other pieces fall into place — whether inside the organization or out — and all 12 forwards consistently contribute, the wins will start to come again.