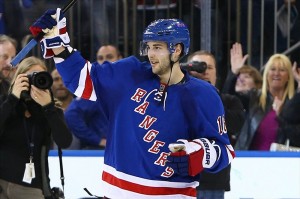 Never underestimate the New York Rangers' ability to rebound after a tough loss. Two months into the season, the Rangers have proven themselves to be a team that can completely collapse both offensively and defensively in one game, only to return to the ice in their next game to light the lamp on multiple occasions and shut down their opposition.
Facing a plethora of injuries, occasional line shuffling, and a carousel of healthy scratches rotating in and out of the lineup over the past month, it has been difficult for the Rangers to create and maintain a high level of chemistry between players on the ice.
In fact, the Rangers have looked like two completely different teams at times. Not only do line combinations look different, but the overall play of the team looks different. One night they can't score against their opponent, and the next night their opponent can't score against them. Ranging from careless turnovers to their varying production on the power play, it is often unclear which Rangers team will take the ice.
Their 9-6 record in the month of November reflects their average yet inconsistent play. When looking closely at each game and not only at the overall record, however, one sees an aspect of the Rangers game that can be overlooked amidst all of the unpredictability: their ability to bounce back after a loss.
November numbers
In the six games they lost across November, they were shut out twice and only netted a total of six goals. Despite the lack of offense, the losses were close games. Five of the six games were lost by one goal.
Losing one goal games can certainly be deflating for any team, but it is the way that teams respond to tough losses that separates winning teams from losing ones. In the days following a tough loss, instead of dwelling on their inability to score and their defensive flubs, the Rangers focus on staying positive and rebounding in their next tilt. Even early on when the season was still fresh, experienced players like Henrik Lundqvist understood the importance of putting their shaky start to the season behind them in order to move forward.
First month of the season was definitely a test mentally for me. To stay positive when things go wrong can be really challenging..

— Henrik Lundqvist (@hlundqvist35) November 3, 2013
This past week was big for us. Let's continue to grow and stay positive. Next week is another big test.. #ThanksForTheSupport #NYR

— Henrik Lundqvist (@hlundqvist35) November 3, 2013
This even-keeled mindset continues to reward the Blueshirts.
Take a look again at their record in November. They had one losing streak that lasted just two games, which means that five of their six losses were followed by a win. In those five wins, the Rangers outscored their opponents 19 to 7.
In their six losses, they went 1 for 27 on the power play. In the five games they won following a loss, they went 6 for 14 on the power play, proving not only that capitalizing with the man advantage helps to win games, but that the Rangers are successfully making needed adjustments after losses. They are returning to the ice following a loss determined to play better, no matter how ugly the loss was. They are motivated to win, and it is showing on the score sheet.
Forward Derick Brassard described the team's winning mentality in his post game interview after their 5-2 win over the Florida Panthers on Nov. 27, which came two nights after their 5-0 loss to the Tampa Bay Lightning.
"We were not really happy with the way we played in Tampa, and I think that's one of the good things about this team, there's never any highs or any lows. We just showed up and played and the guys are pretty confident and that's what we showed tonight."
Finding ways to win
While the Rangers continue to search for that sweet spot in their game that combines a solid defensive effort with a productive offense on a consistent basis, they have been able to find ways to win enough games to climb the Metropolitan Division standings. Until they are able to consistently string together more than two wins at a time, they will need to rely on their ability to rebound after a loss in order to maintain one of the three playoff spots atop the division.
With Rick Nash healthy and back in the lineup after being sidelined for 17 games with a concussion, Chris Kreider blossoming into a first line winger, and a strong goaltending tandem to play in front of thanks to the emergence of rookie Cam Talbot, now would be a good time for the Rangers to find the consistency in their game that they are looking for. If they can't find it soon, changes will need to continue being made.
Perhaps the Rangers' dominance over their former coach's new team is a sign of things to come for the Blueshirts. Their 5-2 victory over the Canucks in their final game of the month demonstrated their bounce back ability once more, winning at home the day after a tough 3-2 loss to the Boston Bruins.
The win on home ice should give the club something to build off of moving into December.
Bethany is a recent graduate of George Mason University where she majored in communication and minored in sport communication and electronic journalism. Her love of hockey and writing has led her to pursue a career working in public relations for a team in the National Hockey League.