The Hershey Bears (2-4-2-1) enter this weekend last in the East Division of the Eastern Conference in the American Hockey League (AHL), trailing the first place Wilkes-Barre/Scranton Penguins by nine points in the standings. They recently failed to pick up a regulation win in their first three games in three nights stretch, but picked up two points with a road overtime loss to the Penguins and a shootout loss to the Norfolk Admirals at Giant Center last Sunday night. The Hockey Writers previews Hershey's two home games set for Saturday and Sunday below.
Bridgeport Sound Tigers (3-5-1-0)
Goals per Game: 2.89 (18th)
Goals Against per Game: 3.78 (29th)
Power Play: 14.5% (24th), six shorthanded goals allowed
Penalty Kill: 75.0% (29th), two shorthanded goals
Road Record: 1-2
Record when scoring first: 2-1
Although sitting the cellar of the Eastern Conference, the Sound Tigers pack an offensive punch that could present a challenge to the Hershey Bears. Led by rookie forward Ryan Strome, who has 14 points in nine games, Bridgeport is near the middle of the pack in goals per game, averaging 2.89 per contest.
They're tenth in shots per game, averaging 31.11 per matchup, which could be an issue for the Chocolate and White. Hershey's been outshot in seven of their first nine games, holding a 1-4-2-0 record in that department. The Bears have a 1-0-0-1 record when outshooting their opponent, which is a rare occurrence even with numerous AHL veteran forwards on the squad.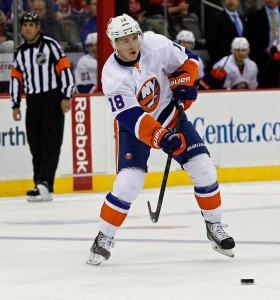 Forwards Mike Halmo (ten points), Anders Lee (7) and Johan Sundstrom (5) have complimented Strome's distribution. Bridgeport's big problem after their top offensive players is secondary scoring, with only six players recording more than two points this season. The Sound Tigers aren't getting blown out of the building every night either, they've been tied going into the third period four times this season, but only have two points to show for with that situation.
Goalies: Anders Nilsson (3-3, 3.65 GAA, .879 SV %) and Kenny Reiter (0-3, 3.45 GAA, .864 SV %)
Binghamton Senators (6-4)
Goals per Game: 3.10 (9th)
Goals Against per Game: 3.10 (22nd)
Power Play: 26.3% (3rd), two shorthanded goals allowed
Penalty Kill: 80.8% (21st), five shorthanded goals
Road Record: 3-2
Record when scoring first: 5-1
Like when they played Norfolk, the Hershey Bears could play well against a hardworking and physical team in the Binghamton Senators. They're a team that is tough to beat when trailing, holding a 3-0 record when leading after one period and 5-0 record when leading after two periods. Veteran forward Mike Hoffman (ten points) leads the Senators in scoring, supplemented by forwards Cole Schneider (5), Matt Puempel (5), Stephane Da Costa (5) and Jean-Gabriel Pageau (5).
Ottawa defenseman prospect Cody Ceci leads the Binghamton blue line in scoring, registering eight points in ten games to begin the season. Defenseman Chris Wideman has contributed seven points in nine games to aid the Senators' offense on the backend. Binghamton has picked up some close wins in the early part of this season, going 3-0 in one goal games.
Even strength play will be a huge dynamic for this contest, with physical play coming from both sides. Stopping Binghamton's third ranked power play will be a tough challenge for the Bears, but their penalty kill has been strong recently, improving to 8th best in the AHL (85.7%).The Senators have a 5-2 record against teams in the East Division as they play their eighth game against divisional foes.
Goalies: Nathan Lawson (5-1, 2.22 GAA, .931 SV %) and rookie Andrew Hammond (1-3, 4.45 GAA, .842 SV %)
You can follow Matthew on twitter @m_speck and email him at mspeck21@yahoo.com with any questions or comments.
Matthew Speck covers the Washington Capitals organization for The Hockey Writers. He provides coverage of both Washington at the NHL level and prospect related content. Matthew also covers local sports for the Lebanon Daily News in Central Pennsylvania. You can email him at mspeck21@yahoo.com with any questions or comments.