A frustrating 2015 season in the Mile High City left many wondering if the Avalanche would trade one of their prized, young forwards for a defenseman. The move never came, and now there is pressure on this group of forwards to fulfill their potential. The group is littered with first round picks, though none of them reached 60 points in 2015.
Top-Six
Even after moving out Ryan O'Reilly and Paul Stastny in recent offseasons, the center position is Colorado's strongest. Nathan Mackinnon and Carl Soderberg manned the position last season, while Matt Duchene also has the versatility to slot in at the spot. Mackinnon recently signed a seven-year, $44 million contract. The former No. 1 overall pick will be expected to find a more consistent game, including in the defensive end and the faceoff circle. Soderberg found success last season as the second line center, putting together a quality 51 point (39 assists) season.
The much maligned Duchene will start out at right-wing, unless head coach Patrick Roy changes his lineup from last season and knocks Soderberg to third line center. With a flashy play style and an overzealous celebration late in the 2015-16 season, Duchene has found himself at odds with Roy at times. Still, Duchene thrived at right-wing last season and potted a career-high 30 goals.
Another top-3 draft pick, Gabriel Landeskog will return as the team's top left-wing. With a suspension late in the season, Landeskog also received criticism from the media. He was second on the team with 53 points (20 goals), but could likely become a perennial 60-point scorer if he found more consistency and a willingness to shoot. His shot count has declined each year in the NHL, from 270 as a rookie to 169 last season in similar games played.
The fifth member of the top six is veteran Jarome Iginla, who showed last season that he can still be effective on the power play (13 PP goals). Unfortunately, Iginla struggled a bit at even strength and ended the year with a miserable -22 rating. He provides a strong presence and some attitude to complement the other Avalanche forwards, but his slower pace doesn't always fit in with the team's identity. Currently in the last year of his contract with a no-movement clause, he could be moved at the deadline if Colorado is out of a playoff spot and he wishes to chase the Stanley Cup in the twilight of his career.
The last wing spot is a tough one to choose, as it will be up for grabs between Mikhail Grigorenko, Blake Comeau and Mikko Rantanen. After working his way up the depth chart from the fourth to second line last season, Grigorenko is a prime candidate to continue his development with other skilled players. Showing some slick hands down the stretch of the season, he played well enough to garner more and more ice as the games rolled along.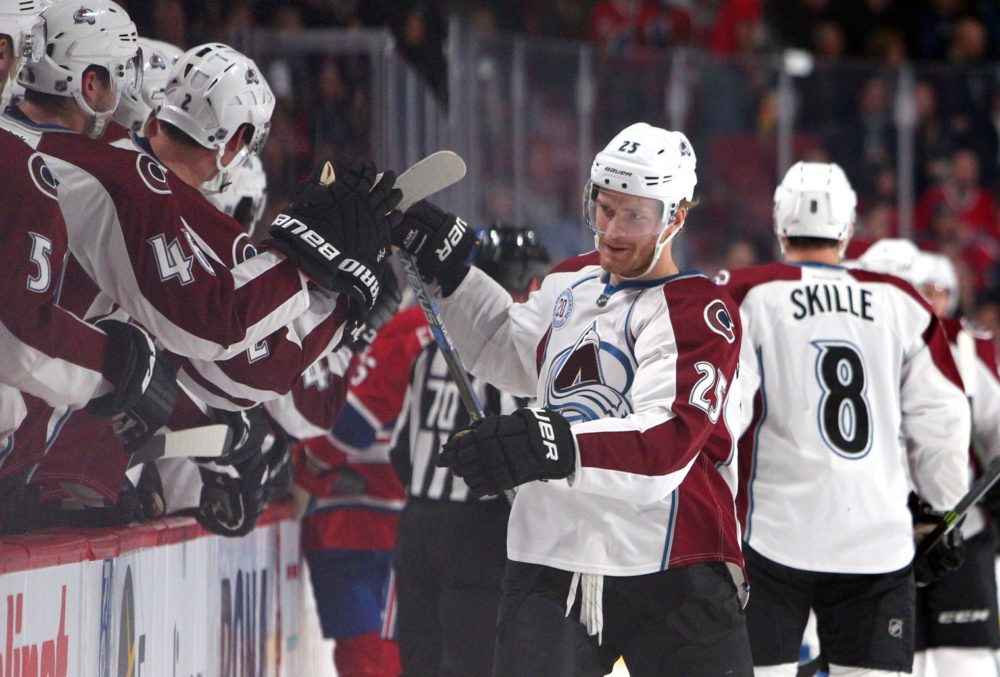 Third Line
There are a few different options for Roy with the third line, but Comeau and free agent signing Joe Colborne should slot in on the wings. Comeau has some grit to his game and was promoted to second line duties often last season when injuries struck. He posted a solid 36 points (12 goals) in 81 games.
Colborne is not an overly physical player despite his huge 6'6 stature. He can play the center role, but also played wing in Calgary. Although last season's 19 goals and 19% shooting percentage were likely overachievements, a 35 point season would be well worth his $2.5 million AAV.
The last spot on this line could be center John Mitchell, the Avalanche's Swiss army knife. Playing anywhere from the second to fourth line, Mitchell possesses a quick release on his wrist shot and a quick north-south game. In a contract year and at age 31, he's another player who could be let go at the trade deadline if Colorado is out of a playoff spot.
Fourth Line
Patrick Roy has been clear in the past about his preference for rookies earning their roster spots. It looks as though Finnish sensation Mikko Rantanen will have a spot on the big club next year, but he may start out on the fourth line. Playing in nine games as a rookie, he posted 0 points and a -7 rating playing on the fourth line and with limited powerplay minutes. Rantanen scored 60 points (24 goals) in only 54 games with the San Antonio Rampage, Colorado's AHL affiliate. At only 19 years old, he is expected to have growing pains, but could also really help this squad out sooner than later. Playing the typical 200-foot Finnish game, he should find himself with plenty of ice time in 2016.
Andreas Martinsen, 26, will be playing in his second year in the NHL. A powerful hitter and surprisingly smooth skater, his gritty game will have value for the Avs on the third and fourth lines. Alternate captain Cody McLeod returns for another year in the burgundy uniform, bringing snarl and attitude to the bottom six. His 138 PIMs last season ranked him fifth in the NHL. Rocco Grimaldi could be the team's 13th forward after being acquired for goalie Reto Berra in the offseason.
Rookie forward J.T. Compher is a dark-horse for the last forward spot, but he may be start out in the AHL and receive more playing time until an inevitable injury occurs in Colorado. A part of the Ryan O'Reilly deal, Compher captained the University of Michigan last season and posted 63 points in only 38 games. His power forward mentality would be welcomed to the bottom six if he can be defensively responsible.
This forward core has high expectations, especially playing in front of a youthful defensive core. There are a few break out candidates in the bunch, as well as solid complementary pieces up and down the board.
Line Projections
Grigorenko – Mackinnon – Duchene
Landeskog – Soderberg – Iginla
Comeau – Mitchell – Colborne
McLeod – Rantanen – Martinsen
Grimaldi