Depending on who you ask the Islanders either got better, got worse or stayed the same at the opening of free agency two weeks ago. The team lost longtime staples Kyle Okposo to the Sabres, Frans Nielsen to the Red Wings and Matt Martin to the Leafs. They replaced them with Andrew Ladd, Jason Chimera and the return of P.A. Parenteau.
You can debate if you think the team is stronger or weaker at this point but remember that there is a long way to go until training camp and we have seen Garth Snow pull off moves in training camp or later. With that being said, let's take a stab at the potential lines and defensive pairings for the Islanders come October.
Offensive Lines
Andrew Ladd – John Tavares – P.A. Parenteau
There are two definites going into the season on the Islanders first line: Tavares and Ladd. After that everything in the lineup is up for changes. Tavares is arguably one of the top-10 players in the league and despite his down season last year, he should be in that conversation again this year. The Islanders offense as a whole regressed last season. The team dropped from fourth in the league in both Goals For (scored) and Goals per Game in 2014-15 down to 11th in 2015-16.
Ladd will bring better all-around play than Kyle Okposo and has a chance to breakout playing with Tavares. Ladd has scored a minimum of 23 goals in his last five full seasons and should be thought of as a lock to hit that number with Tavares. A 30-goal season is not out of possibility. Ladd has broken the 60-point barrier before and put up 46 points last season playing mostly on a down Winnipeg team.
Parenteau makes his return to the Islanders after four years bouncing around the league with Colorado, Montreal and Toronto. The 33-year old winger had a solid season last year for the Leafs, matching his career-high of 20 goals and adding 21 assists. Project Parenteau on this line right now thanks to his history with Tavares, putting up 120 points in two seasons from 2010- 12 playing on his wing.
This is a solid first line for the Islanders. Parenteau at this point projects more as a second-line winger but if he can return to his form from last year, and his time with Tavares, then this line could be dynamic.
Snow also said he could see #Isles adding another forward before the season, either in FA or trade. Tavares/Nelson/Strome/Cizikas set at C.

— Arthur Staple (@StapeAthletic) July 1, 2016
Anders Lee – Brock Nelson – Mikhail Grabovski
If you take the tweet from Staple, arguably the most plugged-in writer covering the team, as gospel then the reformation of the Islanders "Kids" line with Nelson, Lee and Strome isn't happening. As a second line the Islanders could do worse than this, but of course after the first line there are many question marks. Parenteau would be a great presence on this line next to Nelson and Lee.
Nelson has been the target of much criticism from analysts and fans alike, and now could face much more with the prospect of replacing Frans Nielsen as the 2C. He has been knocked for disappearing two consecutive seasons in the second half of the season and the playoffs and not playing as big as his 6'3″, 206 lb frame. He has a wicked wrist shot and has scored 20 goals in back-to-back seasons, but he needs to get more consistent with his output over the season.
Lee, another Islander who regressed last season, is an important piece of the Islanders puzzle. He is another 6'3″ player but he thrives on using his frame to battle in the corners and in front of the net. He had a massive drop of 10 goals last season after scoring 25 his rookie year, playing a lot of time with Tavares. Lee has been on the Islanders first power-play unit in the past and could slot in there as well to help replace Nielsen and Okposo there.
The third member of this line is another question mark. Again, if you take the tweet from Staple as what things will be then Grabovski will shift to the wing full-time. A similar player to Parenteau, Grabovski can still be a savvy playmaker and being on the wing could help free him up. He needs to come back healthy and there is the looming concern of concussions for him.
Nikolay Kulemin – Ryan Strome – Josh Bailey
Do not be surprised to potentially see Bailey on the Islanders second line with Nelson and Lee but he will be a middle-six player, barring a trade. As was stated above it seems that the Islanders are intending to move Strome back to his natural position of center. He was once thought of as a future second-line center behind Tavares and that could still be the case. He needs to get his game back after a very rough season, seeing his production drop from 50 points to 28 and seeing a demotion to the AHL. He still has the talent to be productive and a switch back to center could be what he needs.
Snow says Strome is most effective as C; but way team was built put him on wing. Loss of 51 should lead to different Ryan Strome. #Isles

— Brian Compton (@BComptonNHL) July 7, 2016
Kulemin, along with Bailey, is one of the Islanders best defensive forwards and makes his biggest contributions on the Islanders stout penalty kill. Kulemin has not had the offensive impact that was hoped when he and Grabovski signed together with the Islanders, but he has become an integral part of their lineup especially in defensive situations. He could still be a 30-40 point producer, and is a good veteran presence for Strome.
2008 #NHL draft: Points

Stamkos 562
Karlsson 385
Eberle 331
Doughty 318
Stepan 305
Pietrangelo 255
Bailey 250
Carlson 228
Boedker 225

— Yahoo Sports NHL (@YahooSportsNHL) July 11, 2016
There is no one on the Islanders roster who more takes the wrath of the fans than Bailey. He has been inconsistent in his career and many believe the Islanders decision to play him in the NHL from day one was a mistake. However he has been a solid contributor and as the tweet above says he is seventh in his draft class to date in scoring. Like Kulemin his value right now is more as a defensive forward, but if the Islanders could get him to shoot more a 20/20 campaign is not out of the question.
Cal Clutterbuck – Casey Cizikas – Jason Chimera
The Islanders energy line lost a big piece, its biggest depending who you ask, when Matt Martin signed with the Leafs on July 1. A few weeks before that the team handed Cizikas a new contract, locking up one of their best defensive forwards for five years. Casey had a career season last year posting an 8-21-29 stat line and a plus-4 rating. He now becomes the Islanders top penalty-killing center replacing Nielsen in that capacity. Playing with Clutterbuck and Chimera could see his point total go up next year.
Clutterbuck has grown into another integral piece for the Islanders bottom-six. He brings grit and physicality but is also capable of putting up some offense when needed. This line in the past has had the full confidence of the coaching staff and that should continue even with the loss of Martin. 15 goals again this year is not out of the question.
Chimera may be 37 and has the tough task of taking Martin's spot in the lineup but he should be up for it. He is coming off a 20-goal season with the Capitals and is still one of the fastest skaters in the league. His speed and scoring touch will add something to the Islanders bottom-six and do not be surprised if he slots in on the third line with Bailey and Strome come October with Kulemin dropping down to the fourth.
Defensive Pairings
Johnny Boychuk – Nick Leddy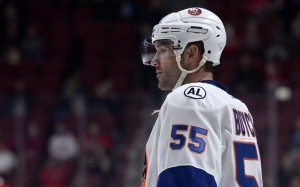 This season should see the reformation of the effective first pair from the 2014- 15 season. The tandem was split up when Boychuk missed time due to injury and Leddy was placed with Travis Hamonic. Hamonic and Leddy clicked well but Leddy and Boychuk have solid chemistry together and compliment each other very well.
Leddy had a slow start to the season last year, producing only 12 points through the end of December. After January started it was a different story and he finished strong with 28 points over the final three months of the season giving him a new career-high of 40 points and breaking the 30-assist barrier for the first time.
Travis Hamonic – Calvin de Haan
Another return to a defensive pairing that was effective in the 2014- 15 season before an injury split them up this past year. Hamonic is one of the heart-and-soul leaders of the team. Islanders fans were ecstatic when he rescinded his trade request to stay with the team after the season. He is one of the most integral players on this team and is the glue that keeps this defense together. He plays a great all-around game and his offense continues to develop, mixed with his stellar blend of defense and physicality.
Production wise de Haan has not lived up to his draft slot but he is a very good defenseman and is a legitimate 4/5 defender in the league. de Haan had his best statistical season this year posting 16 points and a plus-3 rating. He was fourth on the team in Time-on-Ice this season behind his other three defensive mates in the Islanders top-four.
Ryan Pulock – Thomas Hickey
Islanders fans finally got their taste of Ryan Pulock last season and in the brief time liked what they saw. It may have taken him a few games to get situated in the NHL but Pulock more than showed he is ready to play with the big boys. Fans are salivating over the thought of his 105 MPH slapshot on the Islanders blueline, especially on their power-play. He has the potential to be in the top-four by the end of the season and beyond. The biggest issue comes with the expansion draft next season as one of Hamonic, Leddy and Pulock will be exposed thanks to Boychuk's No-Movement Clause, unless all are protected.
#Isles rookie D-man Ryan Pulock had 2G and 2A during 15 NHL reg. season games. He had 1G and 2A in 6 games during the #StanleyCupPlayoffs

— Buddy (@BuddyPeck) May 11, 2016
Hickey was arguably the Islanders best defender in 2015-16. He posted 18 points and a plus-9 rating and in the playoffs led Islanders defenders with five points playing almost 20 minutes per night. He showed the ability to play bigger than his size dictates and was a calming presence on the Isles blueline. He will be back on the third pair and is an important contributor for the Islanders going forward.
Goaltending
Jaroslav Halak – Thomas Greiss
This is where some of the debate will come from going into next season. IF Halak is on the roster, how does the goalie situation shake out? I covered this in June before Brian Elliott and Fred Andersen were traded and James Reimer went off the market. The problem is right now there is not a market for Halak, even for a lower draft pick. With the signing of J-F Berube to a one-way deal the Islanders are backing themselves into a corner if Halak is not traded, having to again carry three goalies on their roster.
@JoshElkin I don't think Halak will play another game for the Isles.

— Arthur Staple (@StapeAthletic) March 24, 2016
Greiss had a breakout season for the Islanders in his first year with the team and is under contract for one more season. Halak has two years remaining on his deal and a $4.5 AAV cap hit. Halak was the best player in the playoffs against the Capitals last season, and deserves a shot to get his net back. Greiss was arguably the Islanders best player in the playoffs this season not named John Tavares. Both have a case to start the season in net. If Halak is healthy and plays well at the World Cup, give it to him to start and if he struggles or gets injured give it to Greiss. Either way it could ultimately boil down to a time share regardless of who is the "starter."
Prospects Who Could Crack the Lineup
This will also be a hotly debated topic come training camp. Which of the Islanders highly-touted prospects could potentially break into the lineup and take a spot from a veteran. The one who is talked about the most is Matthew Barzal.
The Islanders selected Barzal in the first round of the 2015 draft. He was originally projected as a top-10 pick but a knee injury dropped him to the Islanders who pounced. By all accounts he almost made the team in training camp last season but was sent back to Seattle of the WHL. He still is 19 so he cannot be sent to the AHL meaning that it is either the NHL or back to Juniors for Barzal this year. He has seemed to have outgrown Juniors and it is very possible with a good camp the Islanders will at least consider him for nine games before deciding to keep him up here, especially if there are concerns about the health of someone like Grabovski.
So, it sounds like plan is to put Strome back in the middle. Where Barzal fits in will be determined by his camp. #Isles

— Brian Compton (@BComptonNHL) July 7, 2016
Barzal could slot into a wing position at the moment in camp. Two other wing players to look at will be playing in the AHL this season and those are 2014 first-round picks Michael Dal Colle and Josh Ho-Sang. Both are exciting young prospects with high-upside potential, but both seem to need seasoning in preparing for the more physical professional game. They will be given long looks in training camp, especially if they play well but are most likely destined for Bridgeport to start the season. Should the need for a call-up arise for the Islanders than one of these two will probably be at the top of the list during the season.
Much can change between now and training camp. Teams will look at and evaluate their cap situation and of course there is the looming concern of next June's Las Vegas Expansion Draft. Garth Snow has always been notorious for watching the waiver and trade wire during training camp and early in the season and most people feel he still has a move up his sleeve. The Islanders will field a competitive team in 2016-17, but the debates will rage until the beginning of the season and beyond if they did enough to get over the hump and take a step forward.