With the Stanley Cup playoffs completed, the NHL now shifts its complete focus to the upcoming Entry Draft. Despite recent off-ice issues, the Arizona Coyotes are set to participate in their 20th NHL Draft since moving from Winnipeg. As Arizona prepares to select future Coyotes, we take a glimpse back to the team's first draft after relocating back in 1996.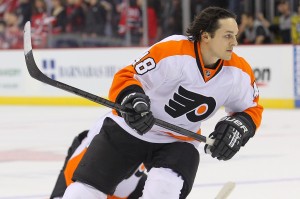 First Round
Just like this year's draft, the Coyotes held two picks in the first round back in 1996. With their first pick, the 11th overall of the draft, the Coyotes selected defenseman Dan Focht. Focht's NHL career was brief, playing in only 82 games from 2001-2004 with the Coyotes and Penguins. Arizona's second pick of the first round, the 24th overall selection, was Daniel Briere. Briere has enjoyed a very successful NHL career, with 307 goals and 697 points over 17 seasons with five different teams . Briere gave Arizona fans their share of fond memories in the desert, although many hockey fans will remember his time in the NHL wearing Philadelphia orange.
Later Selections
The Coyotes drafted six more players in the 1996 Draft, but only three of them saw any playing time in the NHL during their careers. Defenseman Richard Lintner, selected 119th overall, played in 112 games with three teams before leaving the league in 2003 to play in Europe. He last played in 2014 in both the KHL and with a team in his home country of Slovakia. Goaltender Robert Esche, picked 139th overall, had a similar career path to Lintner. After spending eight seasons with the Coyotes and Flyers, Esche went to Europe in 2007, where he would spend four seasons playing in Russia and one season in Switzerland. Esche now serves as the president of the AHL's Utica Comets. Forward Trevor Letowski, selected 174th overall, played in nine NHL seasons with four different teams, collecting 84 goals and 201 points during that time. He spent the last two years of his playing career with Barys Astana of the KHL before moving on to coaching. Letowski spent the last five years coaching the OHL's Sarnia Sting before being fired in April.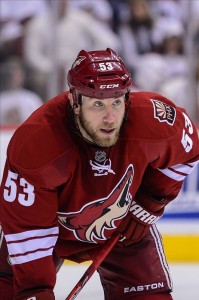 Drafted by Other Teams
There were a couple of notable names from the 1996 NHL Draft that, while not selected by the Coyotes, did find themselves playing in the desert during their careers. Two picks after Arizona selected Focht, the Calgary Flames chose Derek Morris with the 13th overall pick. Morris would end up spending seven full seasons and three partial seasons with the Coyotes, where he notched 152 points (38 goals and 114 assists) in 544 games. Another defenseman that played with the Coyotes from the 1996 Draft is recent Stanley Cup winner Michal Rozsival. Selected 105th overall by the Pittsburgh Penguins, Rozsival played 87 regular season games with the Coyotes and was part of the team that went to the Western Conference Final in 2011-12.