It was truly an 'amazing race' – and an amazing victory – for hockey-playing brothers Bates and Anthony Battaglia. The two defeated ten other teams in a race around the world to claim the top spot and the $1 million grand prize in the 22nd season of hit CBS TV show "The Amazing Race."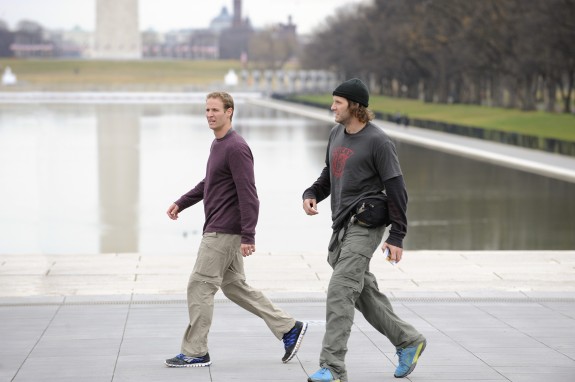 This season's race spanned ten countries over five continents, with the contestants traveling over 30,000 miles.  Starting in Los Angeles, contestants traveled to exotic locales like Bora Bora, New Zealand, Indonesia, Botswana, Switzerland, Germany, and the United Kingdom before returning stateside.
Both brothers made their careers playing hockey.  Bates, originally drafted by the Ducks in 1994, spent ten seasons in the NHL with the Carolina Hurricanes, Colorado Avalanche, Washington Capitals, and Toronto Maple Leafs.  In 580 career games, he has 80 goals and 198 points along with 385 penalty minutes.  He was a part of the Canes' 2002 playoff run making it all the way to the Stanley Cup Finals. Anthony spent the majority of his career in the ECHL, suiting up for nine games in the Lowell Lock Monsters of the AHL in 2002-03.  He won the Federal League Championship with the New Jersey Outlaws in 2012 and currently skates with the Huntsville Havoc of the Southern Professional Hockey League.
An extremely celebratory Bates and Anthony Battaglia joined us to talk about their Amazing Race victory.
So, what was it like to win?
ANTHONY: "100% last night, that was my Stanley Cup.  Bates played in the Stanley Cup Finals [in 2002 with the Carolina Hurricanes].  For me, it felt like I won the Cup last night.  I've never felt anything like that before.  Nothing else I can compare it to – that was my Stanley Cup."
In the season finale, Bates shared his brother's feelings, saying,  "I can't remember the last time I felt like this. It hasn't come from hockey in a long time, so it's pretty amazing."
While they didn't have any set plans on how to spend their winnings, Bates had some suggestions on how his little brother could use a portion of the prize money.
BATES: "Maybe he can get his teeth fixed  You know, he can eat corn on the cob through a picket fence.  He uses rope as dental floss."   That's some brotherly love, right there.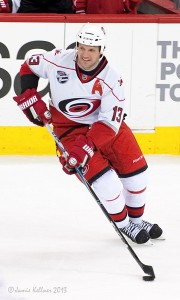 What was your most frustrating moment in the Race?  
BATES: "[At the restaurant serving challenge in the season finale], I was bringing the thunder, delivering the food. Anthony didn't know what chartreuse looked like. I didn't know what chartreuse looked like.  What color is chartreuse?!  We figured out, though, and we were good to go after to that."
So good, in fact, that Anthony even threw a bone to Roller Derby Moms Mona and Beth to help them along, giving them a key clue as to how the menu worked for the evening's dinner service.
ANTHONY: "I was trying to be as vague as possible and still help them out."
Did you see them making it as far as they did? Any surprises in the final three teams?
BATES: "Max and Katie, the country girls, and us – that would have been the perfect finale. The perfect sexy six. The Roller Girls, though, I think they were the strongest team out there, other than us."
The Battaglia brothers won an impressive four legs of the race, taking home trips to London, Bora Bora, and Thailand.
Of all the different stops you made, which country was your favorite?
ANTHONY: "Africa was pretty cool. I just love being able to tell people that I've water-skied with crocodiles. I don't care what anyone says. I saw the crocodiles. They were there. I was pretty scared. Bates is the worst water-skier anywhere. Worse than John Candy in 'The Great Outdoors'."
BATES: "I'm okay with that."
ANTHONY: "You know what though, he did it.  I'm super proud of him."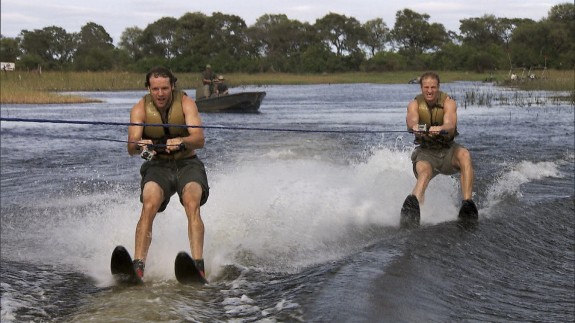 Was there ever a time when you thought you might be eliminated?
ANTHONY: "Berlin.  I really didn't think that we were going to make it."
Bates had his travel bag stolen on the train en route to the city. While performing a challenge that involved moving large neon letters through the streets, one of the boys' letters fell and cracked, leaving them to go back and build a toy train track instead — somewhat reminiscent of the Hanson brothers with their slot cars in Slap Shot — before continuing on.
ANTHONY: "I was Debbie Downer the entire time and Bates was trying to keep us going.  I just thought we were last the whole time and then we saw the roller girls at the final challenge [a disturbingly creepy, underground funhouse maze], and we knew we could beat them in a foot race."
They did.  Thankfully, it was a non-elimination leg of the race, so neither team was in danger of being sent home.
What about the toughest challenge you guys faced?
ANTHONY:  "Getting my junk in that wetsuit [at the bog snorkeling challenge in Scotland]."
A debate ensued about the actual difficulty of the challenge and the amount of effort involved, as well as the actual space requirements needed to fit said junk in said wetsuit.   Brothers.
You guys seemed to get along pretty well with the other teams.  Did you get any time to hang around with them at the checkpoints or did you only get to talk while racing?
ANTHONY: "At the check points, we just have to hang out. We're not allowed to talk to the other teams."
BATES: "We do laundry and we work on our abs.  We're shredded.  We have washboard abs, so we actually do our laundry on our abs."
ANTHONY: "Mostly just lounging and doing laundry on our abs."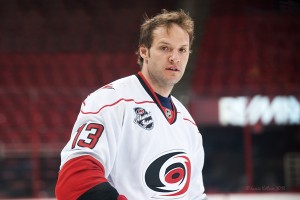 Watching yourself play hockey on TV is one thing. Being followed by cameras tracking your every move around the world is altogether different. What was it like watching yourselves on TV?
BATES: "I couldn't stand looking at Anthony. I wanted to kick a field goal between his teeth the whole time."
ANTHONY: "I can't stop looking at myself on TV.   But the camera adds about two or three inches on my nose."
With an "The Amazing Race" victory in hand, where do you go from here? What's next for the Battaglia boys?
BATES: "As soon as they get us on Survivor, we'll crush it.   Or Dancing With The Stars.  I'll bring the thunder."
Just make sure you remember to bring your teeth, boys.
---
And check out Bates (@batesbattaglia) and
Anthony (@fazo11) Battaglia while you're at it.
Josh is a life-long hockey fan. He grew up as a fan of the New York Rangers, but thanks to their general mismanagement and years of mediocrity, has developed a great appreciation for every team across the league.
He's been writing about hockey on various sites since 1995. In addition to his work at The Hockey Writers, he also keeps tabs on the referees over at ScoutingTheRefs.com.