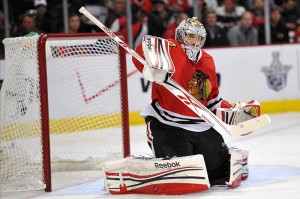 The Chicago Blackhawks are prepping for Game 4 Wednesday and they know they are facing a fired up Minnesota team. After Chicago had taken the first two games of the series at home they headed to Minnesota in the enviable position of being up 2-0 in the series. Sunday afternoon we were introduced to a much different Minnesota team that came out to play and dominated physically. This is what we learned in Game 3.
Crawford can stand on his head
Heading into the post season one of the biggest question marks was could Corey Crawford be the goalie to lead the Blackhawks on a deep run, through 3 games he has looked solid but in his first playoff loss of 2013 he perhaps looked his best. Chicago was outplayed from the drop of the puck but Crawford was the only reason they made it to overtime making 34 saves and was at his best in the second period making 14 saves when Chicago was being outshot 14-8.
Crawford kept Chicago in the game and was by far the team's best player in Game 3, through 3 post season games this season he holds a .935 save percentage and a 1.81 GAA. Despite Crawford elevating his game this post season, Josh Harding has kept pace with him inspiring the Wild to force overtime in games 1 and 3.
Minnesota can step it up physically, Chicago needs to answer
Every hit in a playoff series counts and the reason playoffs are so exciting is you usually see everyone finishing checks and giving it their all, unless your name is Andrei Kostitsyn. After a more pedestrian approach and falling into playing Chicago's style of game, Minnesota came out in Game 3 and ramped up the physical play outhitting Chicago 34 to 13.
Niklas Hjalmarsson led Chicago with 3 hits and only Michal Handzus and Brandon Bollig had more than 1 hit. Minnesota's Cal Clutterbuck (8 hits) and Devin Setoguchi (7 hits) had more than the whole Blackhawks roster. Chicago needs to respond with a much more aggressive physical approach to avoid a repeat of Game 3.
Saad-Toews-Hossa line needs to step up            
Through the first three games of the series Chicago's top line has combined for just 1 goal, Hossa's powerplay marker in Game 1. Saad has not had the playoffs debut he imagined going scoreless in the opening 3 games and being a -2. Captain Jonathan Toews has also gone pointless in the series but had been taking many of Chicago's key faceoffs and playing an active role on both special teams.
Game 3 offered a rare sight as we witnessed a sloppy defensive play from usual two way stalwart Marian Hossa. Brandon Saad played a quiet game as it was hard to notice him out there until late in the third with the Blackhawks pressing for the game tying goal.If Chicago wants to make this an extended run they need their top line dominating with puck possession and creating plays like they did time and time again in the regular season.
The Patrick's Kane and Sharp have been leading offensively and Duncan Keith has been getting it done on the back end. Bryan Bickell has been a surprise offensively all season and his 2 goals in 3 post season games are a direct result from his much improved work ethic this season. Game 3 should serve as a wake up call for Chicago that Minnesota is not a regular 8th seed and will not go down without a fight.
Creator of the Bettman Stand Up hockey blog. I cover the Chicago Blackhawks for The Hockey Writers, In Hossa we trust! I also write for publications such as Arbitrage Magazine and Elite Sports Blog. You can follow me on Twitter @RickEmrith