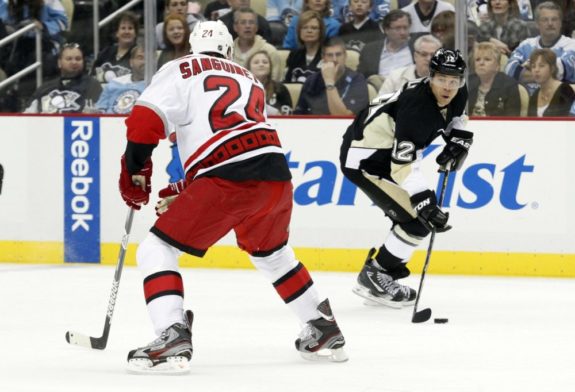 Where should Jarome Iginla be playing?
Left wing or right wing?
Alongside Evgeni Malkin or next to Sidney Crosby?
It's all up for debate, and Pittsburgh Penguins coach Dan Bylsma has tried almost every variation.  Here's a detailed breakdown of Iginla's linemates at even strength over the first three games in the New York series: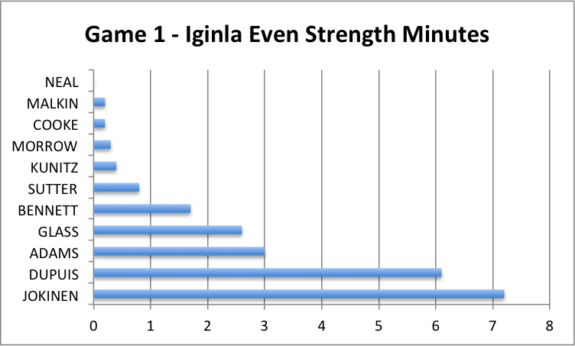 With Crosby out of the lineup in Game 1, Iginla spent most of his time on a line with Pascal Dupuis and Jussi Jokinen as Bylsma tried to establish a balanced attack.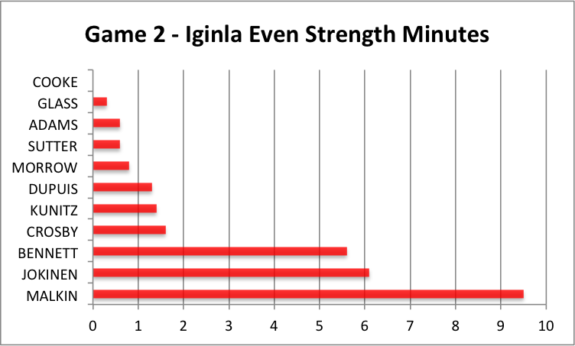 Iginla moved onto Malkin's line in Game 2 once Crosby returned.  Beau Bennett started the game as the left winger on that line but then was replaced by Jokinen.
Iginla stuck with Malkin for most of the Penguins 5-4 overtime win on Sunday afternoon.  The rookie Bennett again saw his ice time slashed late in the game, this time in favor of Brenden Morrow.
The first question we need to answer is who should Iginla be playing with?
Last week, the Tribune-Review's Rob Rossi suggested that Iginla makes the most sense on left wing with Malkin and Neal:
Jarome Iginla may be the new Ruslan Fedotenko.

It worked for the Penguins in 2009, when they won the Stanley Cup with Fedotenko — a big, but not exactly bruising winger — taking up space on the left side of the ice as center Evgeni Malkin and forward Max Talbot, playing on the right side, parlayed their off-ice chemistry into on-ice magic.
Rossi's point makes sense.
Iginla's offensive prowess in Calgary — ten straight 30-goal seasons — doesn't mean he should automatically be the Penguins' premier scorer during this playoff run.  He can fill a role.  He's a big body and can open up space for Malkin by winning battles in front of the net.
Iginla has five points so far in the series, with three of those coming on the powerplay.
So why not keep him with Malkin?  Why mess with a good thing?
After a closer review, Iginla and Malkin were awful together in Game 2.  Defensive coverage breakdowns, lazy backchecks, and repeated miscommunication in the offensive zone.  In Game 3, the Islanders line of Kyle Okposo, Frans Nielsen, and Matt Moulson did an excellent job defending against the Malkin unit.
As Rossi alluded to, it takes a special player to mesh with Malkin.
I'm not convinced Jarome Iginla is that player.
We discussed Malkin's quirks in this article on Brenden Morrow a few weeks ago.  Malkin is unpredictable — like a mad scientist on the ice.  He improvises.  And he expects his linemates to read his mind.
Iginla is a more straightforward player.  He battles in the corner and behind the net.  He uses his big shot to score off the rush.  The perfect complement to Sidney Crosby.
But moving Iginla onto the Crosby line would obviously require moving Chris Kunitz or Pascal Dupuis somewhere else.  That's not an easy move to make.
After five years together, there's incredible chemistry between the Crosby-Kunitz-Dupuis trio and I think that's a big reason Bylsma reunites the line for every Crosby injury comeback.  Bylsma knows it can be overwhelming for Crosby to jump back into the lineup, especially at a ramped up playoff pace, and the familiarity factor with Kunitz and Dupuis gives him less to think about.
Pascal Dupuis is also in the midst of a career season on the top line.  Immediately after the Iginla trade, Hooks Orpik at Pensburgh said the Penguins can't deny that Dupuis had earned his place alongside Crosby:
The Penguins acquire a prototypical power forward right winger who's scored 30 goals in 11 straight seasons…And they don't have room for him on the first line. Pascal Dupuis' goal scoring touch, speed, forechecking and positioning perfection have given the Pens no choice but to leave him on the first line.
That makes moving Kunitz to Malkin's left wing a no-brainer.  Kunitz has had a ton of success with Malkin and Neal in the past.  (By the way, what does Kunitz's ability to produce in any situation with any linemates say about his value?)
So now that we've decided on Crosby, Dupuis, and Iginla, where should they line up?  More specifically, who should stay at right wing?
Iginla is right-handed and spent most of his 14-year career at right wing in Calgary.  He says right wing is a lot more natural for him but he's willing to work at left wing if that's what the coaches want.
Pascal Dupuis has moved around a bit more.  He's spent most of his time with the Penguins at right wing, but he's played center and was Crosby's left wing after Pittsburgh acquired Marian Hossa at the deadline in 2008.
There was also an interesting quote from Bylsma in the Rossi article, referencing the advantages of having Iginla move to left wing:
"There are other aspects of our execution that playing the off side is beneficial, and we've seen that in those areas — coming across the ice — and he's kind of gotten more comfortable with that and where those areas are," Bylsma said of Iginla, a right-handed shot, playing on the off wing.
Beneficial execution aspects to the off side?
What does that even mean?
When entering the offensive zone, the Penguins utilize a 'Center Drive' attack to create space and scoring opportunities.
On a 3-on-2 rush, the middle forward (not necessarily the center) drives hard to the net, forcing one or two defensemen to come with him.  The other two forwards stay wide and read how the defensemen react.
Take this shift from Sunday when Crosby and Iginla were paired together.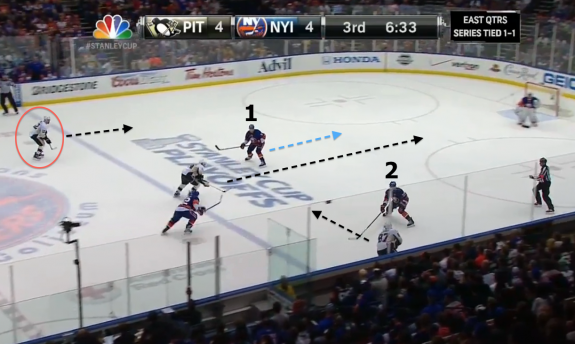 Crosby enters the zone with the puck on the right wing, while Kunitz drives hard to the net in the middle of the ice.
Defenseman 1 is closest to Kunitz and logically should pick him up going to the net (if Defenseman 2 would decide to take Kunitz, Crosby skates in uncontested).
With Defenseman 1 driven back, the ice opens up for Iginla (orange circle) to set up for a one-timer.  Crosby cuts across the middle, delays and allows the play to develop, and then feeds a pass to Iginla who has opened up for a one-time shot.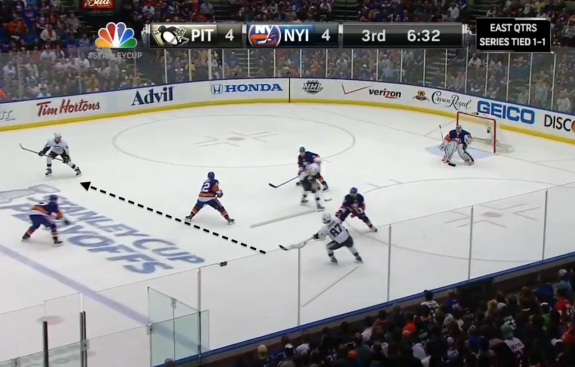 It makes more sense for a left-handed player to enter the zone on the right side.  Crosby can see the ice and make a pass without having to deal with the stick of the defenseman in front of him.
For a similar and more important reason, it makes sense to have a right-handed player on the left side. Iginla can open up for a one-timer a lot easier and faster than a left-hander like Dupuis can.
To illustrate the point, here are two recent examples of Crosby finding Kunitz via the center drive attack.
In the first video, Kunitz (left-handed) enters the zone on the left side.  He has to drag the puck to the middle of the ice before taking a wrist shot that somehow finds its way through Evgeni Nabokov.
In the second example, Kunitz enters on the right side. James Neal drives the net hard, Crosby waits until a passing lane opens up, and then Kunitz cranks a one-timer into the open net.
Flip-flop this play and imagine Crosby feeding Iginla on the left wing for one-timers.
Iginla is a streaky scorer. When he's cold, he can go a while without a goal. But when he gets rolling, he can be unstoppable.
It's time to unleash his full potential in Pittsburgh.
It's time to unite Jarome Iginla and Sidney Crosby.
___________________________________________