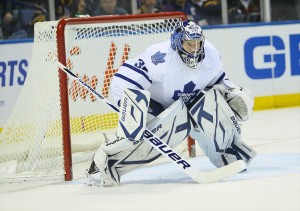 After splitting games one and two in Boston, the series between the Toronto Maple Leafs and Boston Bruins shifts to Toronto, where the Maple Leafs will host their first playoff game since 2004.
After having their heads handed to them in a lop-sided 4-1 loss in game one, Toronto responded with a fantastic effort, overwhelming the Bruins with physical play and an unrelenting forecheck, which were absent in game one.
Despite the better effort on Saturday night, Toronto Maple Leafs head coach Randy Carlyle will ask his club to play even better Monday night, with a ficus on remaining physical with the Bruins, establishing a punishing forecheck and reducing the shots on goal netminder James Reimer has to face, which sits at 40.5 per game thus far.
The Leafs will also look for better results in the face off circle where they have accumulated a 43.1 percent success rate, while continuing to dominate the Bruins on the power play where the Buds are humming along with a 28.6 percent success rate thus far.
While it will be tough to match Joffrey Lupul's two goals and Phil Kessel's long overdue goal against the Bruins in game one, the Maple Leafs will be the beneficiaries of what should be a pumped up crowd in Toronto.
Like many Home teams, Toronto should get a boost from the Leafs Nation, but will Toronto fans (who are notoriously quiet) step up? Or will the Air Canada Centre atmosphere disappoint?
Regardless of how Toronto's fans react, winning game three will likely come down to the Maple Leafs' ability to keep their momentum from their game two win against the Bruins, culminating in another terrific offensive effort against Bruins netminder Tuuka Rask, who has been excellent thus far.
Toronto defenseman Mike Kostka will sit out game three and is out indefinitely with a broken finger.
After sitting out game one, defensemen Jake Gardiner and Ryan O'Byrne played well for Toronto, with O'Byrne racking up four hits, while Gardiner played just under 18 minutes and contributed to the offense with an assist.
Look for both Gardiner and O'Byrne to return to the lineup tonight, with captain Dion Phaneuf, Cody Franson, Carl Gunnarsson and pugilist Mark Fraser rounding out Toronto's top-six.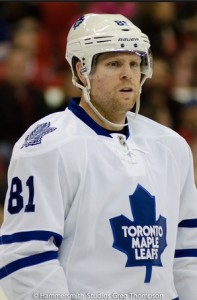 Up front Toronto will continue to look to Lupul, Kessel and a suddenly hot James van Riemsdyk, who has a goal in both games thus far. Nazem Kadri will also be looked upon to bring some offense to the table after landing an assist in game two, and continuing to establish himself as a physical player despite his smallish stature.
Captain Dion Phaneuf, has a chance to help his team establish an identity on home ice Monday night. A timely hit early on in the game could go a long way in setting the tone for the Maple Leafs— will Dion step up or be invisible?
Meanwhile, Boston will attempt to re-establish themselves as the superior physical team . It's not often that the Bruins find themselves on the losing end of a physical battle; but that was the case Saturday night. Look for the B's to bring the noise early and often Monday night, with Zedeno Chara, Milan Lucic and Johnny Boychuk leading the way.
The Bruins also hope that Tyler Seguin (who has 15 shots in the series but is yet to score) will finally find the back of the net.
Despite only beating Toronto netminder James Reimer twice on Saturday, the Bruins can take a measure of solace in the fact that they have put together back-to-back games with 40 or more shots. If Toronto continues to give the Bruins that many opportunities Boston will surely win as the Maple Leafs cannot keep the likes of Jagr, Seguin, Rich Peverly and Patrice Bergeron off the scoresheet forever.
Bruins defenseman Denis Seidenberg finished Saturday's contest with a plus-3 rating, while forward Jaromir Jagr's boxscore was blemished with a plus-2 rating and two giveaways. Jagr is expected to be back in the lineup, while Seidenberg may find himself on the bench or get a reduction in ice time Monday night.
Keys to victory for Toronto:
— Establish an early physical presence
— Remain disciplined
— Better results in the faceoff circle
— Cut down Boston's shots on goal
— Score early
— Keep the crowd engaged
Keys to victory for Boston:
— Contain Joffrey Lupul
— Establish a physical game
— Get Jagr going
— Stay out of the penalty box (Toronto's PP is hot)
— Get one past James Reimer early
— Line of Gregory Campbell, Chris Kelly and and Shawn Thornton must find their magic.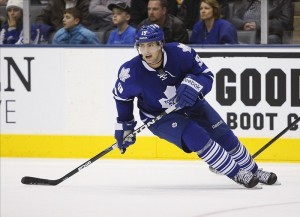 Prediction:
Despite tremendous support from the fans of Toronto, look for the Maple Leafs to come out flat as nerves and inexperience get the better of Toronto's young squad.
After struggling against the Bruins for so many years it is hard to imagine the Maple Leafs winning two in a row over Boston, especially in a playoff series. But, the Bruins did not play well down the stretch and Saturday night's game proved that Toronto can compete with the big, bad, Bruins and can beat them at their own game.
In the end, despite some struggles early on, Toronto pulls out a 3-2 victory with Lupul (my pick for series MVP) scoring the winning goal.
Known as an honest, opinionated and trusted writer, Mark Ritter brings a unique view on the Maple Leafs and the NHL in general. Mark has been writing about hockey for almost ten years and is known for bringing an honest view on the Maple Leafs. You can view more of Mark's work at www.theslapshot.com
Please follow Mark on Twitter: @theslapshot