In the Stanley Cup Playoffs, a win is a win. It gets you one step closer to your ultimate goal. And now the Pittsburgh Penguins need just two more wins to reach the Eastern Conference Semifinals for the first time in three years thanks to a 5-4 overtime victory over the New York Islanders in Game Three.
But the mood in the Pens locker room was anything but cheerful after Saturday's win. In fact, it resembled the locker room of a team who had just lost.
Been doing this a long time. Can't ever recall locker room after playoff win where absolutely no one was smiling. #Pens#TribHKY

— Dejan Kovacevic(@Dejan_Kovacevic) May 5, 2013
For the second game in a row, the Pittsburgh Penguins looked utterly lost against an Islanders team that has proven, beyond a shadow of a doubt, that they are the fastest team in these playoffs. The Penguins have no answer for New York's speed, and it showed again this afternoon at Nassau County Coliseum.
A fair warning before we proceed: this will not be your typical game recap. This will most likely be a combination of me venting about how a far superior team has now played annoyingly stupid for two games in a row; and solutions to what ails the Pittsburgh Penguins.
The goal scorers (for recap's sake)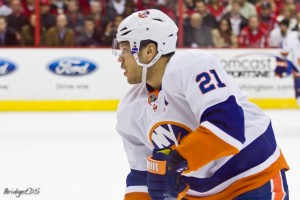 Kyle Okposo continued his extraordinary play in this series, first by assisting on Matt Moulson's opening tally, but then scoring, short-handed no less, in the third period on a pseudo-breakaway.
Casey Cizikas of the Isles made it 2-0 just about four minutes later by beating a partially screened Marc-Andre Fleury.
But somehow, after being dominated, and I mean DOMINATED for the first 12 minutes of this hockey game, the Penguins were not out of it. Mark Streit took a hooking penalty, then 34 seconds later, Travis Hamonic went to the box for tripping, giving the Pens a much-needed 2-man advantage.
Jarome Iginla scored just 23 seconds into the 5-on-3 for Pittsburgh, then Evgeni Malkin fed Chris Kunitz on a breakaway 19 seconds later and just like that, we were tied.
Pascal Dupuis added his third of the playoffs off a nice feed from Sidney Crosby right in front of goaltender Evgeni Nabokov to make it 3-2 Pens, surprisingly, headed to the first intermission.
Douglas Murray game the Pens a 4-2 lead with just under three minutes left in the second, and that lead would carry into the third. But yet again, the Penguins blew another 2-goal lead.
Here is where Kyle Okposo shifted the momentum of Game Three. With Pittsburgh on the power play once again, Brenden Morrow fired the puck to one in particular (there is that phrase again), and Frans Neilsen was able to chip the puck up to Okposo for the short-handed breakaway chance that beat Fleury. A little over five minutes later, John Tavares was the beneficiary of a fortuitous bounce off the linesman and beat Fleury clean to knot the game at four. It was all Pittsburgh could do just to hang on for overtime.
But hang on they did. And when Sidney Crosby drew a penalty on former Penguin Brian Strait for holding, Chris Kunitz won it on the ensuing power play off a nice feed from, who else, but Crosby.
The bigger picture
For the second game in a row, not to mention the fourth in their last nine playoff games (dating back to last year against the Flyers), the Penguins blew yet another 2-goal lead. For all of the things they did right in Game One, Pittsburgh has done all of those things equally wrong (if not more so) ever since. Poor puck management (aka bad decisions and laziness), stupid, untimely penalties, and a lack of defensive urgency has this Pens team facing a lot of questions.
For most of a 15-game winning streak during the entire month of March, these Penguins looked to be playing "playoff hockey." Then again during a 7-game winning streak in April. But now all of a sudden, this team has reverted to a "Fifty Shades of Philly" style of hockey.
Yes, the Penguins lead this series two games to one, and on paper, they should win the series. But if this style of play continues, this series will go the distance and recent history says that it won't end well for the flightless birds.
System vs. system
The Islanders know their game: speed. The Penguins know their game (we think): tenacious forecheck. But for the Penguins to "get to their game" as Dan Bylsma likes to say, they need to get the puck deep in the offensive zone. A pass from a defenseman to a high winger on the opponent's side of center ice, plus a chip from said winger is the Penguins preferred style of zone entry. As I have thought for the past three years now, this system is great when you have speed from your other forwards through neutral ice and into the attacking zone.
But when a team knows what you want to do, and are able to combat it successfully, that means it's time for an adjustment. This is what Ottawa did last season to Pittsburgh in one of the final games of the regular season. And Philadelphia took notes. Now, it's the Islanders following the blueprint. It makes for an easy exit out of the defensive zone for the opponent if the Penguins don't reach the puck first (which has been the case most of these past two games). Couple that with the Islanders' speed, and the inability of most Penguin players to win battles along the boards and you have a recipe for disaster.
The adjustment
It's time for Bylsma and the boys to rethink their strategy. This Pittsburgh team boasts a number of sure-fire Hall of Famers. Allow them to skate the puck into the zone. Or perhaps even better, work together as a unit entering the zone, with short, quick passes between forwards into the offensive zone. Consider it like a fast break in basketball. Too often the Pens defense is looking for the long stretch pass into the neutral zone, only to have that forward blanketed by two defending players. Making the deep chip nigh impossible.
Now I'm no hockey coach, and I was a goalie when I played. But when you consider the disparity in time spent in the offensive zone between these two teams in the past two games, it's pretty apparent that a change is needed. The above-mentioned ideas are worth, at the very least, some consideration.
And the Penguins must be better defensively. Too often this afternoon you saw the Pens' D back off of an attacking Islander, giving him ample amounts of time and space. Ah, time and space; a hockey player's best friends. Something that the Islanders have had far too much of in the past two games.
It's time for this team to get back to basics. Solid puck management (aka smart decisions and a good work ethic) and rock-steady defense. If they focus on eliminating the one aspect of the Islanders' game that they can't match, their speed, the Penguins should be just fine.
If their collective egos don't screw it up.
Back at it again Tuesday night from the Island. Keep up with me on Twitter, and if you're not yet following me, shame on you for six weeks. Please do so here: Follow @TDT_Pens4Life
Especially in the Stanley Cup Playoffs…
"It's a great day for hockey!!"
Pittsburgh, Pa. Class of 2000 graduate from Robert Morris University with a B.A. in Mass Communications. Full-time objective sports fan.