Here's your daily roundup from the NHL and leagues across North America:
The Blackhawks re-upped Marcus Kruger after moving Kris Versteeg and Joakim Nordstrom to the Hurricanes. [Chicago Tribune] Making a cost-cutting move such as this was long overdue for the Blackhawks. [The Committed Indian]
Shero: "Ryane Clowe was the guy – you think of Lucic, you think of Clowe, those are the two guys that teams always wanted."

— Tom Gulitti (@TomGulittiNHL) September 11, 2015
Ryane Clowe has called it quits thanks to years of concussion problems. [Puck Daddy]
Connor McDavid made his debut in rookie games with a goal and an assist. [Fox Sports] The crowds were large for McDavid's first event. [CBC.ca]
Martin Havlat is heading to the Panthers on a PTO basis. [Today's Slapshot]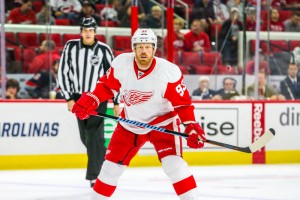 Johan Franzen has been cleared to play after suffering a concussion for four months of NHL play. [The Score]
The NHL league office is moving to educate its players better from now on. [ESPN]
Notes from the Red Wings' and Blackhawks' prospects game. [Kukla's Korner]
The latest on Las Vegas and its arena. [LA Times]
What will the NHL look like with Seattle in the mix? [Sonics Rising]
Brendan Gaunce is ready for the NHL and he is going to make some noise. [The Province]
Gaunce isn't the only one ready to make the jump. Nikolay Goldobin could be one to watch this season. [CSN Bay Area]
I am a former NHL media member and reporter for the St. Louis Blues, working for various media outlets. Currently, I am an NHL News Writer and Editor for The Hockey Writers. I live in St. Louis and work as a freelance copywriter in numerous industries.