by Eldon MacDonald (edited by @ChrisRalphTHW)
Panthers State of the Union
Dale Tallon was brought in as General Manager to make the Florida Panthers a real contender. How is he doing going into his sixth season. Let's look at some of the key ingredients added under his watch:
Core Players: One of the main keys in winning the Stanley Cup in the salary cap era is that a team has to have four or five core players that the team rides on. Last year the Chicago Black Hawks had Jonathan Toews, Patrick Kane, Duncan Keith and Brent Seabrook. Do the Panthers have four or more key players? Here is my assessment:

Aaron Ekblad: Yes, the winner of the 2014-15 Calder Trophy as NHL top rookie. Aaron would be a core player on any of the 30 teams.
Aleksander Barkov: Not yet but he will in the next two to three years. Aleksander's game turned upward last year as soon as he was paired with the old master, Jaromir Jagr.
Jonathan Huberdeau: Yes, Jonathan Huberdeau like Aaron Ekblad won the Calder Trophy as NHL top rookie, Jonathan in 2012-13. Jonathan, however, followed up his Calder Cup with a disappointing sophomore season. Last season he faired much better with 54 points in 79 games. Is Jonathan Huberdeau good enough to be considered a core player on a Stanley Cup Winner? No, net yet at least. Offensive players generally start to show their peak production in years 3 or 4 of their career and Jonathan is entering his fourth season. This year, therefore, will likely tell the tale as to whether he is merely just a very good player or could be a core on a Stanley Cup championship team.
Roberto Luongo: Right now, my gut feeling is that, yes, he is. The question is, at age 36, how much longer will he be?
Lawson Crouse: It is way too early to consider Lawson Crouse a core player and besides, he has not yet demonstrated the offense necessary to be a core forward.
The Others: There are other good players on the Panthers but none who have shown to date that they are likely to be core players on a Stanley Cup winner.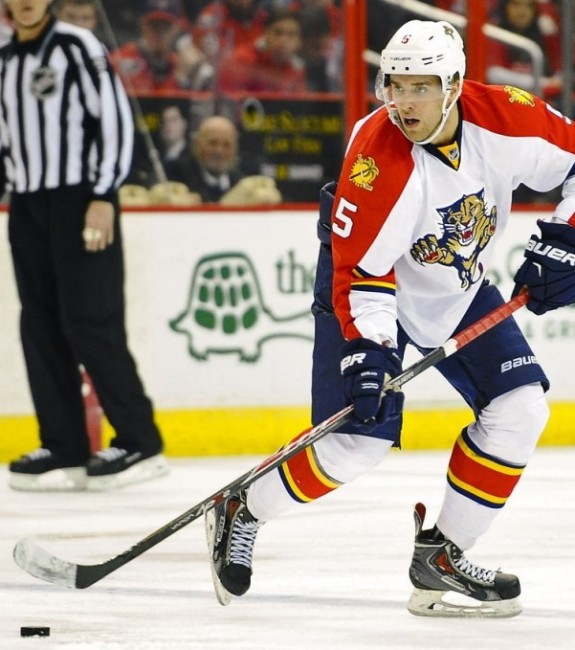 Grade: (C) My concern is that the Panthers have not yet amassed the critical core players necessary for a Stanley Cup win and that the window of opportunity to obtain them may have past. The best way to acquire core players is through the draft and the best way to acquire high-end draft picks is to tank. Florida has seen enough of non-playoff teams.
Coaching: The good news about Gerard Gallant is that he worked at developing his young players and for the most part they responded well. Aaron Ekblad was NHL rookie of the year; Jonathan Huberdeau rebounded from a dismal sophomore year and Aleksander Barkov looked better with Jaromir Jagr. The bad news is that the team missed the playoffs and that their special teams play did not cut it
Grade: (B-) I believe that Gerard should be given another year to see if he can continue to grow his young star players and improve on his special teams. He will need to make the playoffs though.
Special Teams: Management probably has more control over special teams than any other facet of the game on the ice. So how did the Panthers do?

Power play – 1st Washington – 25.3%; 24th Florida – 16.3%.
Penalty kill – 1st Minnesota – 86.3%; 24th Florida – 80.0%.
Grade: (F) Not good enough.
If u guys r looking to see how much I'm getting overpaid or things of that nature make sure 2 check out http://t.co/9mVPYHwVyA @CapFriendly

— Strombone (@strombone1) May 27, 2015
Goaltending: Roberto Luongo has provided solid goaltending and stability in the goaltending position, finishing last year with a .921 save percentage. The big factor surrounding Roberto is that he is 36 and will still be under contract until age 43, although he is still in great shape. Al Montoya, the back-up, had an off year with an .892 save percentage and there does not seem to be much in the pipeline.
Grade: (B) Need some back-up and prospects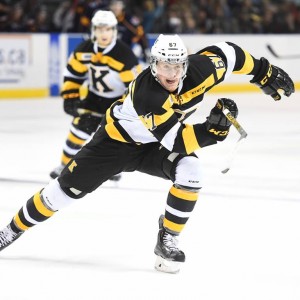 Prospects: Lawson Crouse is a high-end prospect. Micheal Matheson, Ian McCoshen, Vincent Trochek and Alex Petrovic all should make the team at some time and offer solid contributions. Others will too but are not as certain or will not provide as great an impact. Five impact players is about average for the NHL.
Grade: (B) The Panthers need to add more high-end prospects if they are going to eventually elevate their standing in the NHL.
In summary, there have been improvements under the Dale Tallon regime. Are they enough for Florida fans and their owner? Time will tell. Florida could become a playoff team this year or soon afterwards but a Stanley Cup winner – much more needs to be done for that.
Big Bang Theory: E-Mac's Impact Prospects
The top five players on the Panther Prospect List have a strong chance of making the NHL and being impactful when they do. In addition, there will likely some of the others who make the NHL. However, they are either less likely to have an impact or less likely to make the NHL or both. Possessing six impact prospects is about average amongst NHL teams.
As for the rest of the league, the team with the most impact players is Winnipeg with 9 followed by Arizona and Detroit with 8 apiece. Los Angeles trails with just 1.
Already Arrived
21 and Under Players as of September 15, 2015 in the NHL
(to give one the big picture of young players in the organization)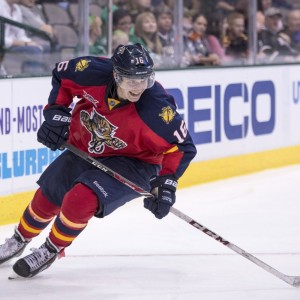 Ekblad, Aaron
Drafted: 2014-1st
2014-15 Team: Florida, NHL
D, R, 6'4, 216, 81-12-27-39 (+12)
Barkov, Aleksander
Drafted: 2013-2nd
2014-15 Team: Florida, NHL
C, L, 6'3, 213, 71-16-20-36 (-4)
*Link to rankings of all teams
Florida Panthers Top 10 Prospects – Summer of 2015
The Next Ones Summer Prospect List includes the top 10 prospects along with 5 honorable mentions and any other 2015 draft choices not previously listed.
Drafted: 2015-11th
2014-15 Team: Kingston, OHL
LW, L, 6'4, 212, 56-29-22-51 (+10)
Here is an excerpt what I wrote about Lawson Crouse (Every Coach's Dream) when I did his draft profile here at THW:
Big Man Game:Coaches love a big man presence on their side who can change the complexion of a game by how he uses his size and strength. This element to Lawson Crouse's game bought him a ticket to the Team Canada U20 Team and was a key contributor in helping Canada bring home a gold medal in that tournament.
Havoc Creator: Coaches love a player who can throw their opposite counterparts into a frenzy by creating havoc all over the ice and leaving the opposition's game plan in tatters. "Raise a little hell" describes what Lawson Crouse can do – net drive, net presence, board battles, scrums, forechecking, bodychecking.
Role model:Coaches love a player that they can use an example to inspire other players. Lawson Crouse serves as that role model, particularly for the younger guys.
Hardest Worker:Coaches love a hard worker. They must love Lawson Crouse too because they voted him as the hardest worker in the Eastern Conference of the OHL and it wasn't even close.
Defensive Excellence:Coaches love that top-end defensive guy who they can throw out against the opposition's best and make sure that the game doesn't get out of control by the opposition's top forwards. It is as essential part of their game plan. Lawson Crouse is that defensively excellent forward who can complete the game plan.
Intermission reading? 18-year-old Lawson Crouse is looking to nab a leadership role with Canada ~ http://t.co/WD786oMtop #WorldJuniors

— Aaron Vickers (@AAVickers) August 4, 2015
Although, Lawson Crouse may be better served by returning to junior to further develop his offense, the other parts of his game appear close to NHL ready. Dale Tallon and company may have a hard decision to make real soon.
Drafted: 2012-23rd
2014-15 Team: Boston College, Hockey East
D, L, 6'2, 194, 34-12-14-26 (+18)
The positive news about Michael Matheson is, "wow, can he skate". He is also a leader (Captain of Boston College), can really move the puck andhas shown tremendous success in his NCAA career (three straight NCAA Tournaments). The still need to improve news is that Michael's defense still could use some work before being NHL ready, particularly his physicality and positioning. Michael has signed a pro contract so I expect him to play for Portland in the AHL this year to round out his game.
Latest Prospect Info Michael Matheson http://t.co/71nKdnr4mg #FantasyHockey

— DobberProspects (@DobberProspects) September 5, 2015
Drafted: 2013-31st
2014-15 Team: Boston College, Hockey East
D, L, 6'3, 218, 35-6-10-16 (+10)
Ian McCoshen has the NHL size (6'3, 218), the NHL skating (acceleration and top speed), the NHL shot to go along with excellent defensive acumen and positioning, as well as being calm under pressure. He has an NHL future in front of him. He will return to Boston College for his third season. His first two seasons resulted in trips to the NCAA Tournament.
Drafted: 2011-64th
2014-15 Team: San Antonio, AHL
C/RW, R, 5'10, 185, 23-8-11-19 (+1)
Here are the Trochek facts as I see them:
Has the ability to be at least a good third line center in the NHL.
Should be a favorite with the analytics crowd because he has good possession numbers.
Faces a lot of competition at Florida's crowded centre position – Aleksander Barkov, Nick Bjugstad, Dave Bolland and Derek MacKenzie.
Would be more likely to get a position on the wing barring injuries or a trade. His main competition is Jaromir Jagr, Reilly Smith, Scott Thornton and Rocco Grimaldi.
I think Trocheck will find a permanent posting in Florida this season; what the position is remains to be seen.
Drafted: 2010-36th
2014-15 Team: San Antonio, AHL
D, R, 6'4, 201, 42-3-17-20 (-2)
Here is what Florida General Manager Dale Tallon said on Panthers.NHL.com when he signed Alex to a two year one-way contract, "We are very pleased to have re-signed Alex. Alex is a strong, physical defenseman who possesses great size and strength. He took great strides last season, logging valuable minutes for the Panthers. He was one of the Rampage's top players and was named an American Hockey League All-Star. He is another building block for our team's future." Panthers' Manager of Player Development, Bryan McCabe, was a little more specific when he told Panther Parkway.com, "He got a little taste last year. He's a big lanky guy who can really skate and move the puck, it's rare. He's got a little edge to him, plays with a little grit as you guys saw at the end of the year in Tampa. He's really coming into his own here, becoming more of a leader." Big, nasty, can skate and move the puck, hmm, sounds like you are going to like him on the Florida blueline this season.
Drafted: 2011-33rd
2014-15 Team: San Antonio, AHL
C/RW, R, 5'6, 172, 64-14-28-42 (+9)
Rocco has the hard skills – skating, passing, shooting, stick-handling. Rocco has the soft skills – hockey sense, leadership, work ethic, heart. Rocco just doesn't have the size. He is only 5'6 but at 172 lb., he is still solid. Rocco is a guy I had in the 1st round in his draft year in spite of his size. I thought he had what it takes to make it then; I still do today. We will all get a better idea if I am right when training camp opens in a few days.
In light of the article on Rocco Grimaldi, I think he has the potential to be an X-factor for FLA next year http://t.co/MyngpXQmEi

— Shane O'Donnell (@shane1342o) September 5, 2015
Drafted: 2013-97th
2014-15 Team: University of Michigan, Big Ten
D, L, 6'2, 204, 36-6-16-22 (+3)
Micheal Downing is a player who has simply gotten better both offensively and defensively from the player that Florida drafted in the 4th round in 2013. He was second in offense for defensemen at the University Michigan with 22 points in 36 games – exceeded only by Zach Werenski, drafted 8th by Columbus in 2015. Micheal has the size, skating, physicality and puck moving ability that teams look for in a defenseman. His game is growing to the point where a NHL future seems likely.
Drafted: 2014-32nd
2014-15 Team: Brandon, WHL
C/RW, R, 5'10, 196, 54-30-35-65 (+42)
Jayce Hawryluk may not be the biggest guy out there at 5'10. However, he is 196 lb. so is very solid and has an excellent balance, thus hard to knock down or around. He has skills but it is likely his work ethic and adherence to good defense that will likely propel his ride him into the NHL. He models his game after Brendan Gallagher of the Montreal Canadiens and can play centre or right wing. Jayce works hard in the dirty areas and along the boards as well as plays good defense, attributes that will likely eventually earn him a keep in the NHL. He tried out for Team Canada's U20 team this summer and has decent offense as well.
Drafted: 2010-25th
2014-15 Team: San Antonio, AHL
LW, L, 6'2, 190, 33-3-15-18 (+14)
Quinton Howden is a first round draft pick from 2010 whose game has not progressed much from his draft year and has shown very limited offense. Quinton's chief attributes are his skating and his defensive prowess. He does, however, have a good shot and decent hands. Quinton will need to make the team this year or probably start to slip out of future Panther plans. Hopefully he will be injury free as injuries have played a large part in his lack of progress.
Drafted: 2015-77th
2014-15 Team: Blainville-Boisbriand, QMJHL
G, L, 6'3, 165, 52-2.59-.891
Samuel Montembeault is an fascinating prospect. He wowed the scouts in the BMO NHL/CHL Top Prospect Sport Testing for Goalies by winning the contest for an array of reaction, agility and movement challenges. His league stats, however, were only average or even below average. So there you have Samuel Montembeault – a goalie with very high potential, close to best in his draft year, whose game has not yet matched his physical abilities. It is very difficult to predict a progression for an individual goalie. Samuel will have to up the mental side of his game to closer match his physical side if he is to attain the success that Florida management hoped for when they drafted him. He had an excellent summer camp with the Team Canada U20 team so he is off to a good start for the new season.
Samuel Montembeault 2015 http://t.co/dCjpTIbGNG

— Nicholas Janakas (@2005WhiteSox05) June 28, 2015
Five Honorable Mentions
Just outside the top 10, you will find in alphabetical order:
HM – Brown, Josh – (2013-152nd) – '14-15 – Oshawa, OHL – D, R, 6'5, 213, 60-4-17-21 (+49)
HM – Cowley, Evan – (2013-92nd) – '14-15 – University of Denver, NCAC, G, L, 6'4, 185, 20-2.16-.924
HM – Malgin, Denis – (2015-102nd) –'14-15 – ZSC, NLA, C, R, 5'9, 176, 23-2-6-8 (+4)
HM – Schemitsch, Thomas – (2015-88th) – '14-15 – Owen Sound, OHL – D, R, 6'2, 205, 68-14-35-49 (+0)
HM – Weegar, Mackenzie – (2013-206th) – '14-15 – San Antonio, AHL – 6'0, 183, D, R, 38-2-8-10 (+2)
@RAWagman sees Denis Malgin as one of Floridas sleepers #prospects https://t.co/PdxYU4twtx

— Dennis Schellenberg (@ScoutingFactory) August 17, 2015
Other 2015 Draft Choices Not Listed Above
The other 2015 draft choices not previously listed:
2015-132nd – Bachman, Karch – '14-15 – Culver Military HS, HS IN, C, L, 5'11, 179, 32-19-24-43 (+32)
2015-162nd – Wilkie, Christopher – '14-15 – Tri-City, USHL, RW, R, 6'0, 194, 39-35-20-55 (+4)
2015-192nd – Shea, Patrick – '14-15 – Kimball Union HS, HS NH, C, R, 5'11, 185, 33-19-20-39
2015-206th – Bednard, Ryan – '14-15 – Johnstown, NAHL, G, L, 6'4, 179, 37-2.16-.913
Dare to Compare
Buffalo Sabres Top 10 Prospects
Montreal Canadiens Top 10 Prospects
Ottawa Senators Top 10 Prospects
Toronto Maple Leafs Top 10 Prospects
_________________________________________
Email: CRalph@TheHockeyWriters.com