by Eldon MacDonald (edited by @ChrisRalphTHW)
NHL Draft War Room: Lawson Crouse
Ranked #11 – Mar-15 Rankings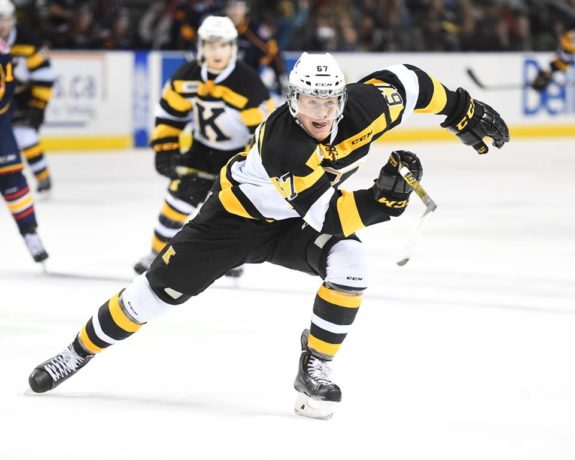 Hashtag: #EveryCoaches'Dream
Team: #67, Kingston, OHL
Position: Left Wing
Shoots: Left
Height: 6'3
Weight: 212 lb.
Born: London, ON, 23-Jun-97
Twitter: @LawCrouse
Stats
Other Rankings
THW's Draft War Room: "The Coach's Dream"
Eldon MacDonald, THW:  A few words on Lawson Crouse:
Every Coach's Dream: Lawson Crouse is a coach's dream because he not only does all the little things right, he also serves as the role model in inspiring other teammates to do them as well. It also does not hurt that he has that large-size, mature NHL physique and prepared to use it.
On Kingston LW Lawson Crouse: "I see many Cam Neely-type traits in Crouse. He could one day be that type of player."

— Mike Morreale (@mikemorrealeNHL) March 28, 2015
Five Reasons Why Lawson Crouse May Be Selected in the Top Ten of the 2015 NHL Draft
Big Man Game: Coaches love a big man presence on their side who can change the complexion of a game by how he uses his size and strength. This element to Lawson Crouse's game bought him a ticket to the Team Canada U20 Team and was a key contributor in helping Canada bring home a gold medal in that tournament.
Havoc Creator: Coaches love a player who can throw their opposite counterparts into a frenzy by creating havoc all over the ice and leaving the opposition's game plan in tatters. "Raise a little hell", that describes what Lawson Crouse can do – net drive, net presence, board battles, scrums, forechecking, bodychecking.
Role model: Coaches love a player that they can use an example to inspire other players. Lawson Crouse serves as that role model, particularly for the younger guys.
Hardest Worker: Coaches love a hard worker. They must love Lawson Crouse too because they just voted him as the hardest worker in the Eastern Conference of the OHL and it wasn't even close.
Defensive Excellence: Coaches love that top-end defensive guy who they can throw out against the opposition's best and make sure that the game doesn't get out of control by the opposition's top forwards. It is as essential part of their game plan. Lawson Crouse is that defensively excellent forward who can compete the game plan.
Offense
Shooting: NHL shot and release – needs to use it a bit more often.
Skating: Big man stride, big man balance, big man force – Some question his skating; I am not one of them.
Net Drive and Presence: Formidable for both. Can be game changing.
Cycle Game: Very good at maintaining puck possession in the opposition zone for extended periods due to his willingness to use his large frame and reach to constantly win puck and board battles.
Lawson Crouse Passing: Lawson Crouse may not be the next Sidney Crosby of passing. However, he excels at Lawson Crouse passing – knock a body over or off balance and let your linemate pick up the loose puck. I would call those passes more crunchy than crisp.
Defense: Lawson is a high-end defensive forward, very disruptive to the opposition D on the forecheck, very supportive of his own defenseman on the breakout. He uses a combination of mental strength (ability to read the opposition) and physical strength (size, strength, reach) to intimidate the opposition. He is also effective on the PK and will likely find regular employment there when he reaches the NHL.
Awards and Achievements
2014-15: IIHF U20 Tournament – Team Canada – Gold Medal
2014-15: Selected for BMO NHL/CHL Top Prospects Game
2014-15: Eastern Conference of OHL – Hardest Worker (Coaches Poll)
Improvements to make:
Shot – His shot is great but he needs to use it more.
Passing – Passing is probably never going to be Lawson's go to weapon of choice. Improvements to this part of his game will help his overall game by giving him more options and giving the opposition more to worry about.
Offense – Lawson has made his mark with the defensive side of his game. He needs to give the same commitment to improve and attention to detail to the offensive side that has made his defensive game so good.
NHL Projection: Lawson definitely will make the NHL in a top 9 grinder, checker, energy-guy role. Top 6 is also well within his grasp if he can improve the offensive side of his game just a tad – more shooting, more work on the passing option and just more attention to the offensive side of the game in general.
Draft placement: As can be seen from the rankings above, Lawson is currently in the 3 to 11 range. I currently have him at the lower end at 11 because I want him to show us a little more offense.
http://t.co/XjymQcv3NG
#3 Lawson Crouse @LawCrouse
2015 – 23GP 13G 10A 23PTS. Power frame and presence on the puck. Strong shot velocity.

— ISS Hockey (@ISShockey) March 7, 2015
Those in the Know
Interviews
Interview 1: HockeyNow.ca – Kristopher Bras – 1-Feb-15
Interview 2: The Pipeline Show – 19-Oct-14 (Audio)
Interview 3: NHL.com (Video)
Profiles
Videos
Want to follow Lawson Crouse for a shift? Here's an ISO video of the #2015NHLDraft top prospect on the powerplay http://t.co/qQ1XN1Q5Vh

— Ryan Yessie (@RyanYessie) March 15, 2015
[catlist categorypage="yes" numberposts=3 excludeposts=this]
Chris is THW's senior draft/prospect analyst and a Managing Editor. Watch for "The Next Ones" Prospect Profile series, exclusive rankings, mock drafts, as well as the annual THW NHL Entry Draft Guide. Follow @ChrisRalphYQ on Twitter as he infiltrates, dissects and analyzes all happenings of hockey prospects and the NHL entry draft. Email: cralph[at]thehockeywriters[dot]com