A collection of the latest news from around the world of hockey:
The Washington Capitals were the best team in the regular season, and it wasn't close. They looked like a well-oiled machine from start to finish, with no apparent flaws or weaknesses. They never faltered, they stayed relatively healthy, and they were on cruise control for most of the second half of the season. But was that a detriment to them? The Capitals had a structure, and a game plan. They rarely needed to alter it, because it worked on every team. But now, when finally faced with some adversity, they haven't been able to solve the Pens tight defence, and rookie goalie.
Some are calling the Pens lucky, but it's been far more than just luck that's brought them to this point. They made quick work of the Rangers, and have a shot to do the same to the Capitals. The question is, will the Caps assert the dominance they know they have, or will the Penguins continue to employ their team-first mentality to roaring success? They didn't miss a beat without their top defence pairing in game four, and maybe the Capitals assumed it would be an easy game. Maybe they underestimated the Pens.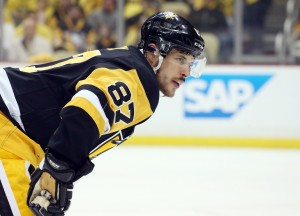 The Caps could win tonight's game. They are favored to. But the Penguins would ultimately have to lose three straight games for Washington to advance. After what we've seen from them since Mike Sullivan took over, it would be some kind of collapse for that to happen. (No offence to the Rangers), but the Capitals are a great team. They aren't going to just roll over, and on their home ice no less. I'm sure many assume they will get back into this series.
The Penguins have been outplayed at many points in this series. How much longer can they hold on? Their stars have been quiet, especially Sidney Crosby, and their powerplay is abysmal. Some guys will need to step it up yet again if they want to eliminate the Caps. On Washington's side, well they'll have to find a way to adapt, and Braden Holtby has to be on top of his game. The Caps will bring their best. It's going to be a fight. [Toronto Sun], [Washington Post]
In other news…
Tampa Bay just keeps on rolling. [Yahoo Sports]
The Islanders have been a scrappy bunch. I didn't expect them to get this far, mainly because of goaltending questions. But Thomas Greiss has done everything he could. Even with key injuries, the Lightning have a stranglehold. Can the Islanders make a comeback? [Todays Slapshot]
Some trade scenarios for the Edmonton Oilers. [Beer League Heroes]
It appears as though College winger Drake Caggiula has signed on with the Oilers, much to the chagrin of Vancouver Canuck fans. [Oilers Nation], [The Hockey News]
I like how Canucks' fans are so salty about Drake Caggiula opting to sign with Edmonton over them.

— Puneet Singh (@puneetsingh) May 7, 2016
Team Canada walked all over the U.S in the World Championship, but all the media cared about was Auston Matthews, who had no points, and a turnover that led to a goal against. [Sportsnet], [The Star]
Patrik Laine on the other hand had a great performance in his first game. Oh is this ever going to be a fun few months. [News from Finland], [TSN]
And finally, can the Sharks rebound after a tough overtime loss? [Fear the Fin]
Marcy, a former hockey player, is a hockey correspondent on CTV News and TSN radio. She began her career as a Sports Journalist in 2009 and has been part of The Hockey Writers since 2010, where she is currently a senior writer and editor.