It was a busy weekend in the hockey world. Check out the latest headlines from Hall of Fame weekend.
Nicklas Lidstrom was a generational talent. [TSN] Lidstrom and Sergei Fedorov entered the hall together as teammates. [Toronto Star]
Claude Giroux says that Chris Pronger helped him grow into the player he is today. [CSN Philly] Pronger's career started with a great beginning in St. Louis. [STL Today]
Will we see Chris Pronger running an NHL team in the near future? Story: https://t.co/DMhXRxWWMR pic.twitter.com/FfJuez2Xlc

— NHL (@NHL) November 9, 2015
HHOF weekend sparked a lot of talk of trades that didn't happen. [ESPN]
Speaking of trades, speculation suggests that Patrick Marleau is on the block. [Today's Slapshot]
Nikolay Goldobin was sent to the AHL. [Fear The Fin]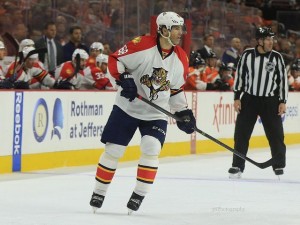 Which current NHL players will be Hall of Famers? [Sportsnet]
Patrick Kane had a four-point night to tie the scoring lead. [The Score]
Kyle Palmieri scored the overtime winner against the Canucks on Sunday. [CBS Sports] Vancouver's Brandon Prust is not happy with Devils' tough guy Bobby Farnham. [Sports Illustrated] Adam Larsson was ejected for a head shot. [Hockey Feed]
Ales Hemsky could see discipline for a hit he delivered Sunday. [Defending Big D] Andreas Athanasiou made his Red Wings debut in the same game. [Detroit Free Press]
Frank Vatrano of the Bruins scored his first NHL goal. [Stanley Cup of Chowder]
Rick Jeanneret lost his mind during a Jack Eichel goal. [Deadspin]
The Capitals beat the Maple Leafs in a shootout this weekend. [Pension Plan Puppets]
Travis Zajac is red hot in New Jersey. [All About the Jersey]
Maine's goalie had to serve his own penalty. [Puck Daddy]
I am a former NHL media member and reporter for the St. Louis Blues, working for various media outlets. Currently, I am an NHL News Writer and Editor for The Hockey Writers. I live in St. Louis and work as a freelance copywriter in numerous industries.