Here are your hockey headlines for Thursday, Oct. 1:
It was an exciting 4-3 shootout win for the Hurricanes Wednesday night. [Canes Country] Eddie Lack could very well be the starter for Carolina this season. [Cardiac Cane]
The Rangers bested the Bruins in their final preseason contest, 3-2. [Providence Journal] It was a tough end to the second period for Bruins' goaltender Jonas Gustavsson. [Comcast Sportsnet] Zac Rinaldo was a focal point in this contest. [Pro Hockey Talk]
https://twitter.com/myregularface/status/649375030225301504?ref_src=twsrc%5Etfw
The Devils beat the Flyers, 4-2. [In Lou We Trust]
Chris Butler and Magnus Paajarvi were placed on waivers by the Blues. [Frozen Notes]
Andrej Meszaros was cut from his tryout with the Panthers. [Hockey Feed]
The Blackhawks left Antti Raanta off of the Stanley Cup. [Sports Illustrated]
Sharks coach Peter DeBoer to name a captain before Oct. 7 opener. [Fear The Fin]
The city of Pittsburgh is looking for a cut of the Penguins' sale. [Today's Slapshot]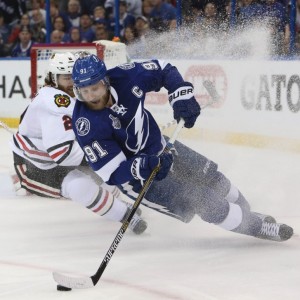 Tampa Bay may very well be the scariest team in the NHL. [CBS Sports]
Johnstown, Penn. was atop the hockey spotlight this week. [USA Today]
Quebec City's hopes of getting a team completely in the hands of the NHL. [Globe & Mail]
Ryan Strome leads a slew of young players attempting to make the NHL this season. [Toronto Sun]
The Coyotes and Islanders are two of nine teams sporting new unis this season. [NESN]
Are you sure you want to pay for NHL Gamecenter Live? [Pension Plan Puppets]
If you're a dog lover, you'll enjoy this Capitals photoshoot. [Puck Daddy]
I am a former NHL media member and reporter for the St. Louis Blues, working for various media outlets. Currently, I am an NHL News Writer and Editor for The Hockey Writers. I live in St. Louis and work as a freelance copywriter in numerous industries.