What are the Ottawa Senators?
They seem to be an enigma in the NHL this season. After the Daniel Alfredsson debacle during the summer of 2013, the Canadian team brought in scorching winger Bobby Ryan to fill their captain's top-line role. With some injuries throughout 2013-14, the Senators missed the postseason for just the second time in five seasons.
The following summer was an interesting one for Ottawa, as Jason Spezza demanded a trade and it appeared that the Senators were likely heading to a rebuild that would be fast tracked by general manager Bryan Murray. The beginning and middle of the season seemed to be more of the same from a Senators group that could be vying for a top-five pick in the loaded 2015 NHL Draft.
Then, The Hamburglar took over. Before his first appearance on Feb. 16, the Senators were 11 points out of the final wild-card spot in the East. They've come as close as actually appearing in the playoff picture, but now sit three points back of the Boston Bruins with four games remaining.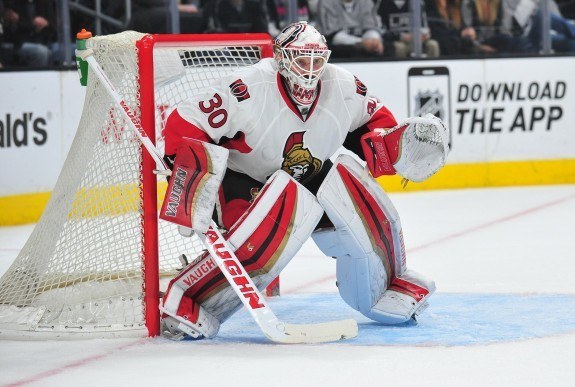 It's impossible to get a read. Did this team pick themselves up with a 27-year-old rookie in net and play to their potential, or are they playing above their heads because of a crazy surge from an AHL netminder? It makes for a difficult situation for Murray over the summer, as he is left to decide whether the December Senators or the March Senators are the real Senators. Murray and his team will be spending  an exhausting amount of time on talent analysis, whether the team makes the playoffs or not.
These Senators nabbed another win on Saturday, which headlines a busy day in the NHL:
Ottawa's playoff hopes are still alive after a big OT win against Washington. [Ottawa Citizen]
Former Toronto mayor Rob Ford joined the Hockey Hall of Fame board of directors. [Puck Daddy]
The U.S. defeated Canada in the women's world hockey championship. [Globe & Mail]
Lee Stempniak scored two goals to power the Jets past the Oilers. [Our Windsor]
After a scoring slump, Steven Stamkos fired three points past the Panthers in a Lightning win. [TSN.ca]
Ben Bishop set a Lightning record with 38 wins. [The Score]
Gustav Nyquist labeled a perfect shot on Devan Dubnyk. [Hockey Feed]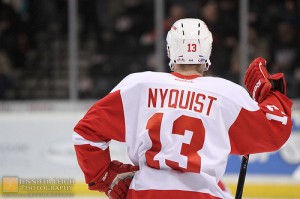 The Stars kept their playoff hopes alive with a win over the Predators. [Defending Big D]
The Blues' and Blackhawks' playoff positioning may come down to the final game of the season for both squads. [Chicago Tribune]
Mike Smith has been solid to close out this season. What does it mean for the Coyotes going forward? [Today's Slapshot]
I am a former NHL media member and reporter for the St. Louis Blues, working for various media outlets. Currently, I am an NHL News Writer and Editor for The Hockey Writers. I live in St. Louis and work as a freelance copywriter in numerous industries.