It was like forward Rene Bourque came out of nowhere last playoffs for the Montreal Canadiens. Despite notching just nine goals in 63 games during the regular season, he scored eight through three rounds, before the Habs bowed out in six games to the New York Rangers in the Eastern Conference Final.
His eight goals led the team by a wide margin, with four tied for the next-highest total of five. In short, the 6'2" Bourque played up to his potential… finally, albeit over the course of just a month and a bit, before his effort level regressed to essentially non-existent this season. He was eventually demoted to the American Hockey League and subsequently traded to the Anaheim Ducks and then to the Columbus Blue Jackets.
Maybe his offensive output last spring shouldn't have been all that shocking, seeing as he was a two-time 27-goal scorer with the Calgary Flames. Hell, his predecessor, Michael Cammalleri, the man for whom he was traded by the Habs, similarly set the league on fire back in 2010 with 13 goals in 19 games.
If anything, it goes to show that there's almost always one Rene Bourque each postseason… and thankfully only one Rene Bourque the rest of the time.
Here are the five likeliest Montreal Canadiens to become the next goal-scoring hero these playoffs (presumably minus the disappearing act next fall):
5. Devante Smith-Pelly
One can argue that Montreal's pre-trade-deadline acquisition, Devante Smith-Pelly, nearly had a Rene Bourque-esque postseason already, when he notched five goals (zero assists) in 12 games with the Anaheim Ducks last year.
A few counterarguments, though: Bourque's eight goals and three helpers in 17 games were arguably more impressive. And Bourque didn't exactly have the same caliber of linemates that Smith-Pelly did in Ryan Getzlaf and Corey Perry.
Meanwhile, for stretches with the Canadiens, Smith-Pelly has meanwhile had the same linemate that Bourque did last postseason in Lars Eller (who ended up leading all Habs forwards in scoring last spring with five goals and 13 points).
The results, from a production standpoint anyway, have been less than overwhelming. In 17 games so far with Montreal, Smith-Pelly has a single assist. From a general standpoint? He was a healthy scratch for two straight games against the Florida Panthers and Tampa Bay Lightning late last month.
Still, he has obviously shown a capability to put the puck in the net, and head coach Michel Therrien tends to change lines about as often as most people do their clothes, meaning Smith-Pelly could find himself getting top-line minutes with the Habs eventually. At that point, anything can happen.
4. Jeff Petry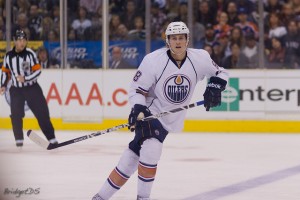 Defenseman Jeff Petry, whom the Habs got on trade-deadline day from the Edmonton Oilers, has never really been all that productive of an offensive defenseman. He's a good puck-mover, but one with a career-high 25 points (two goals) back in 2011-12.
There's a pretty steep drop-off between those 25 and his next-highest total, 17, which came in 2013-14, though. However, seven of those 17 points were goals, so he clearly can score, which Habs fans are just now finding out.
In his first 12 games with Montreal, nada. In his last four games, Petry has four points, including three goals, one in each of his last three. It remains to be seen if he can keep it up entering the playoffs, but the potential for a break-through postseason, especially in a contract year, is definitely there.
3. Pierre-Alexandre Parenteau
It might be surprising to many that Pierre-Alexandre Parenteau only made the playoffs once in his career, last season as a member of the Colorado Avalanche. In seven games, he notched a single goal and two assists, before the Avs got upset in the first round by the Minnesota Wild.
Parenteau rarely gets the credit he deserves offensively. When he was with the New York Islanders, his 67-point season was obviously due in no small part to him playing with current-Hart Memorial Trophy-candidate John Tavares. However, the following year, his first in Colorado, he scored 43 in 48 games.
This season, he has a modest 20 in 53 contests. Since returning to the lineup, he has one goals and four assists in 12, though. It's not that impressive of an uptick in production, but Bourque only had 16 points in 63 games last season before exploding in the playoffs. And Parenteau's playoff sample size is far too small to get a good reading in regard to just what he's capable of when the pressure's on. Habs fans may be in store for an actually pleasant surprise.
2. Dale Weise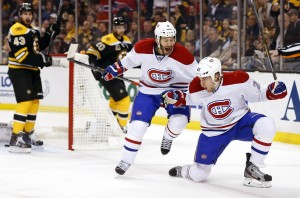 Ever since becoming a Montreal Canadien, Dale Weise has taken his production to another level to the point that Therrien had the grinder playing on the first line for long stretches at a time with Max Pacioretty this season.
As a result, Weise has shattered his previous career-high 12 points this year and is just one shy of 30 (10 goals, 19 assists). Now, thirty points is hardly anything to get excited about, but his seven points (three goals) in 16 playoff games last year is a different story, even if it amounts to a just a slightly higher level of production. The bigger the stage, the better it looks like he performs.
Weise has received some time on a line with Eller and Brandon Prust recently, and as a unit it's been pretty impressive. If that line stays together during the playoffs, Eller may just be able to rekindle some playoff magic from last year, playing with a winger who actually is able to produce a consistent effort level.
1. Alex Galchenyuk
Admittedly a bit of a selection from out of left field, or wing to be more accurate, since that's where he plays nowadays, Alex Galchenyuk is the most realistic candidate to break out this postseason.
He's arguably already done so by becoming a first-time 20-goal scorer this season, but, technically, his 45 points so far puts him on pace with the 27 he scored (in 48 games) during his rookie season. And, with a lower-body injury limiting him to just five playoff games last spring, no one really knows how he'll produce this spring (assuming, knock on wood, he stays healthy, like everyone else).
He ended up with two goals last spring, a year after getting just one (in five games as well). Hopefully this year he'll get more than three (in more than five games, obviously). Like Petry, he's in a contract year as well, so that could be the extra motivation he needs to stand out. Unlike Bourque, he's shown little sign of it not transferring over to next season.
.