On a day that free agency was supposed to take center stage, the Pittsburgh Penguins took control of the spotlight and shone it proudly on themselves.
In a blockbuster move, the Penguins acquired wingers Phil Kessel and Tyler Biggs, along with defenseman Tim Erixon and a second round choice in the 2016 draft, from the Toronto Maple Leafs in exchange for forwards Kasperi Kapanen and Nick Spaling, defenseman Scott Harrington and 2016 first and third round draft choices.
It was a move that brought the Penguins a high-end winger to fill out a tremendous top-six forward group, which includes the likes of Sidney Crosby, Evgeni Malkin, Chris Kunitz and Patric Hornqvist. Kessel likely fills in on the top line, but general manager Jim Rutherford would not speculate as to who his center will be.
Rutherford tells TSN it will sort itself out in camp as to whether Kessel will play on Crosby or Malkin's line. #Penguins

— Shelly Anderson (@_ShellyAnderson) July 1, 2015
Let's not kid ourselves, though; Kessel and Crosby will be the one-two punch that the Penguins are hoping to see. Never has a fan base and management staff wanted two players to gel since Wayne Gretzky was acquired by Brett Hull's St. Louis Blues in February 1996. The attempt to find chemistry between the two will be a focus at the Penguins' training camp in September.
You can't blame head coach Mike Johnston, either. Crosby's 104-point campaign in 2013-14 came while skating mostly with linemates Kunitz and Pascal Dupuis; Kunitz, in particular, had a stellar season, posting career highs with 35 goals and 68 points. Although Kunitz has turned into quite the offensive weapon during his tenure in Pittsburgh, imagine what Crosby, who scored 84 points in 77 games last season, can do with an established winger on his right side.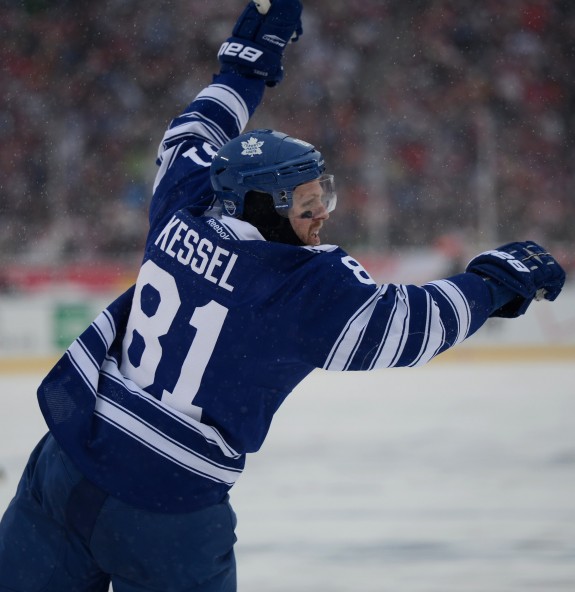 Kessel has his crack at playing with a top-tier player for the first time of his career. Again, Tyler Bozak and Nazem Kadri are no slouches, but there's a reason Crosby is up for NHL awards every season. Kessel's career-best season was in 2011-12, when he amassed 37 goals and 82 points in all 82 games played. The Madison, Wis. native was joined by Bozak and the oft-injured Joffrey Lupul for the majority of the season.
It's Han Solo and Chewbacca. It's Dean Martin and Jerry Lewis. It's Batman and Robin. This is exactly what the Penguins needed to push them over the lull they have faced since winning the Stanley Cup in 2009. If Crosby and Kessel can find that magic, and can possibly be joined by Malkin on the top power-play unit, it will be lights out for other teams on a nightly basis.
For the rest of the headlines on a big day in the NHL, check out the following news:
Stay up-to-date with every signing with THW's Free Agent Tracker.
Kessel has faced his share of haters; now, he can shut them up. [Puck Daddy]
Kapanen becomes a top prospect for the Leafs. [Pension Plan Puppets]
The Capitals inked Justin Williams to a deal. [Today's Slapshot]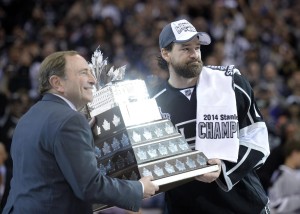 Arizona brings back Zbynek Michalek, Antoine Vermette, among others. [ABC15 Arizona]
The Panthers acquired Reilly Smith and Marc Savard's rights from Boston. [ESPN]
The Bruins signed Matt Beleskey. [SI.com]
The Red Wings signed Mike Green and Brad Richards. [MLive]
The Predators added Barret Jackman, Cody Hodgson to the mix. [The Hockey News]
Paul Martin was signed by the Sharks. [Fear The Fin]
The Avalanche signed Blake Comeau and Francois Beauchemin. [Hockey Buzz]
I am a former NHL media member and reporter for the St. Louis Blues, working for various media outlets. Currently, I am an NHL News Writer and Editor for The Hockey Writers. I live in St. Louis and work as a freelance copywriter in numerous industries.