Here's your NHL news and notes for Monday, Feb. 23.
Ryan Miller left Sunday's game with an apparent leg injury. [National Post]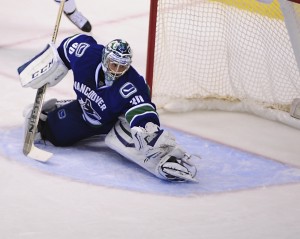 Zemgus Girgensons may have the assist of the year. [SB Nation]
Oilers newcomer Jordan Oesterle impressed his captain in his debut. [Edmonton Journal]
The Ducks unveiled their new AHL team in San Diego. [Pro Hockey Talk]
The Penguins could be seeking help from an old friend at the trade deadline – Jordan Staal. [Trib Live]
Penguins defenseman Kris Letang laid a pretty hip check on Blues forward David Backes on Saturday. [Deadspin]
Arguing whether the Maple Leafs' roster should be torn apart. [The Faceoff Circle]
Why the Central Division deserves a look for the Stadium Series. [Today's Slapshot]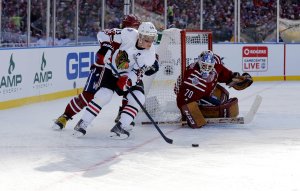 Herb Brooks' 1980 gold medal ring sells for $113K in an auction. [Puck Daddy]
Pekka Rinne should receive the Vezina without any doubt. [Puckology]
A guide to which NHL GMs have played professional hockey. [Grantland]
The Worcester Sharks are dominating the AHL. [Fear The Fin]
I am a former NHL media member and reporter for the St. Louis Blues, working for various media outlets. Currently, I am an NHL News Writer and Editor for The Hockey Writers. I live in St. Louis and work as a freelance copywriter in numerous industries.