Or Else What? Eh Jamaica?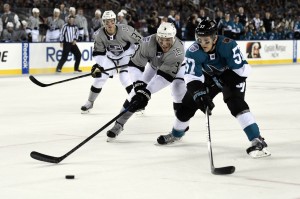 Or else they can kiss the playoffs goodbye. The San Jose Sharks have 21 games remaining to move back up and into a playoff position before the regular season ends. Through quirks in the schedule, Team Teal hasn't had an ideal travel itinerary. It was well documented at the beginning of the year how the Sharks faced the most heavy road schedule to start a season in NHL history. San Jose played 16 of their first 21 games away from home. One would think that would be the end of any sort of brutal road stretch. Unfortunately that isn't the case. Immediately following the next eight games where the Sharks play seven at home, they will then start upon their second seven game road trip of the season from Mar. 17 through Mar. 29. Seven games in 13 days.
If the Sharks are to make up ground and get back into the playoff picture, it almost certainly isn't going to happen on that road trip. The games they have to take advantage of are these next eight with seven at home. Normally a dominant home team, the Sharks have failed to take advantage of their home heavy middle portion of the campaign. Thus far they have lost more than they have won at home, going 14-12-5. During this next stretch of eight games they get the Canucks twice, once at home and once in British Columbia. Thus far they have had mixed results against Vancouver but have generally carried the play. If the Sharks want to have a realistic chance of finishing in the top-eight, they will probably need at least 12 of the next 16 points. Anything less and the writing will be on the wall.
The teams right in front of and right behind the Sharks are playing tremendous hockey. The Kings have won seven straight and the Wild are 8-1-1 in their last 10 games. San Jose must get it together immediately or else it won't matter even if they're able to have a decent road trip. Continuing to play no better than .500 at home over the next stretch would force them to need a near damn perfect road trip to make up for it. Since that is nothing short of a pipe dream for a team as inconsistent as the Sharks, these next few games really are a possible breaking point. If they can only muster four wins out of the next eight games, you can basically put the nail in the coffin on their playoff hopes.
Management's Indecisiveness Hurts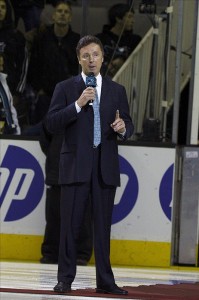 One could certainly argue missing the playoffs bodes better for the Sharks' future. There is no doubt about it that a higher draft choice could be beneficial. However, given the Sharks have already started to lose fan attendance, one has to wonder how much more of a decrease will come next season if they miss the playoffs. For years the Sharks sold out every game (17,562) was always the announced attendance, but not this year. A large number of games haven't been sold out to the point where a number like 17, 047 doesn't shock anyone when announced.
If San Jose backs up their worst playoff collapse by not making the playoffs for the first time since 2003, well, certainly even fewer fans will show up next season. It will be interesting to see just how many season tickets are renewed for next season. It certainly does come as a surprise that San Jose's front office is twiddling their thumbs trying to "rebuild" and develop younger players while still giving minutes to veterans like Scott Hannan and John Scott. Smart fans realize that maybe GM Doug Wilson was correct when saying the Sharks need to "take one step back to take two steps forward" but losing while playing lower tier veterans who are about to retire is a conflicting message to the fan base.
Young players like Barclay Goodrow, Chris Tierney, Mirco Mueller, Daniil Tarasov, and Matt Tennyson have all been taken out of the lineup at times for the aforementioned Hannan and Scott. These youngsters already are more talented than the veterans who often play ahead of them. If this Sharks season is about rebuilding and developing youth, they have done a terrible job at it. Chances are neither Hannan nor Scott return next season. The Sharks would be better off giving 100% of those minutes to the youngsters who have a chance at being impact players in the future. Rather than waste them on players who are borderline NHLers at this point and aren't under contract for next season.
Andrew has been credentialed to cover the Sharks since 2010 and the 49ers since 2012. He graduated with his BA in Broadcast Electronic Communication Arts in 2013 from San Francisco State University.