On the very first episode of the new Hockey Writers Podcast, I went from Edmonton to San Jose, stopped in Buffalo and Toronto and had a lengthy conversation for NHL Hall of Famer and former goaltender Grant Fuhr.
What to Expect on the Podcast This Week…
Segment 1: The NHL 5-Minute Runaround
As we travel the writers of the Hockey Writers crew, we get news updates on the St. Louis Blues, Nashville Predators, Montreal Canadiens, San Jose Sharks, Ottawa Senators, Philadelphia Flyers, Colorado Avalanche, Detroit Red Wings, Boston Bruins, Chicago Blackhawks, Tampa Bay Lightning, Vancouver Canucks, and Toronto Maple Leafs.
Segment 2: The Latest in NHL Rumors
What's going on the with biggest stars and popular teams in the NHL rumor mill? We'll keep you up to date.
Segment 3: The Edmonton Oilers Many Changes
Rob Soria, — an Edmonton Oilers contributor at The Hockey Writers—was our first guest and we dug into the Tom Wilson hit and a lack of punishment by the NHL, we spoke William Nylander's new deal with the Maple Leafs and we dug a little deeper on the goaltending, coaching change and season for far for the Edmonton Oilers who are right around the .500 mark on the 2018-19 season.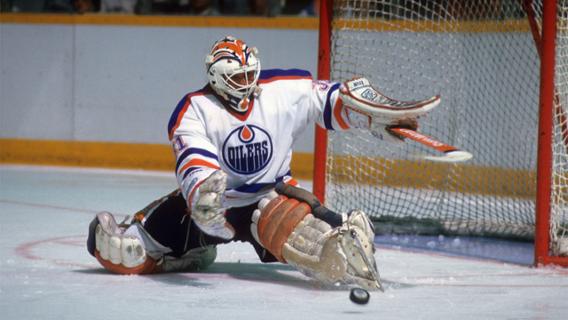 Segment 4: The San Jose Sharks and the Coaching Hot Seat
I then checked in with Zeke who covers the San Jose Sharks and he suggested Pete DeBoer is on the hot seat and that there's something a little nerve-wracking going on when it comes to Erik Karlsson.
Segment 5: The Toronto Maple Leafs and Nylander
Considering the big news of the week was the Nylander watch, the show stopped in with Andrew Forbes and spoke the new deal, what happens with the Maple Leafs moving forward and if these contract negotiations are going to continue to plague the organization.
Segment 6: The Buffalo Sabres and Jeff Skinner
Jeff Seide checked in and helped me (maybe) understand the error of my ways when it comes to moving Jeff Skinner out of Buffalo. While there may be merit to trading Skinner closer to the deadline if he's stuck on $9 million or more, doing so now is ridiculous.
Finally, we chatted with former Edmonton Oilers goaltender, NHL great and Hall of Famer, Grant Fuhr. Fuhr was resting a knee replacement, but was still busy thanks to the release of his new documentary Making Coco: The Grant Fuhr Story, which aired on Sportsnet in Canada this week and we chatted his health, the film, the Oilers season and his take on the state of the NHL when it came to hits, officiating and the need to eliminate the instigator penalty.
Join us next week for more with the writers of THW and other special guests.