The World Junior Championships are less than three weeks away and the participating nations announced their preliminary roster invites over the past week. As these announcements were made, I looked to find Nashville Predators prospects and was shocked at what I found. Two of the team's prospects received invites, one to the main tournament held in Canada this year and one to the Division I, Group A tournament in Germany.
To say I was surprised would be an understatement. Sure, I realize the Predators have a poor farm system, but that's often the price to pay for having NHL success. However, I didn't realize the cupboard was this bare. I had anticipated a handful of prospects receiving invites, but never did I expect one being invited to the year's biggest prospect tournament.
Related: Growing Fangs: Introducing Tolvanen, Fabbro, and Others
So what's behind this lack of representation? The team has players in the system with 45 players signed to contracts and only 23 allowed at the NHL level, not including those on injured reserve. Are the majority of the prospects too old to participate in the tournament? Did players get snubbed by their respective nations? Or do the Predators simply lack the high-end prospects that get invited to World Juniors? I intend to explain the reason for the absence of invites, but first, an introduction to the players who were invited.
The Prospects Who Received Invites
The only prospect invited to the main tournament is 18-year-old center, Jáchym Kondelík. Although he was born in Germany, he represents the Czech Republic. He played junior hockey with the Muskegon Lumberjacks of the USHL before the Predators used a fourth round pick on him at this year's draft.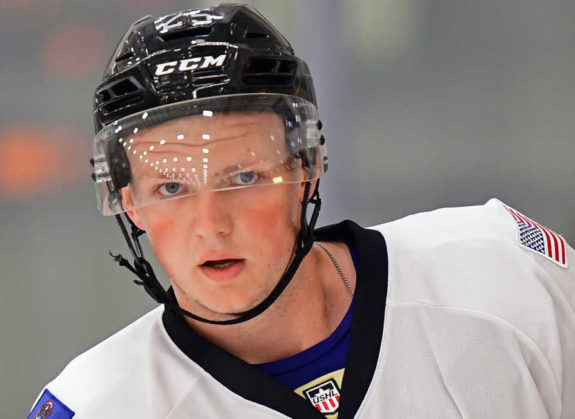 He is currently a freshman at the University of Connecticut and has one goal and 14 points in 17 games to lead the team and tie for ninth in conference scoring. He has represented the Czech Republic on numerous occasions, including two years ago at the World U18 Championship when he had six points in five games.
The other prospect to receive an invite is defenseman Vladislav Yeryomenko, a fifth round pick, also in this year's draft. He is from Belarus, playing in the Division I tournament after they were relegated last year. He currently plays for the WHL's Calgary Hitmen, with whom he has one goal and 14 points in 29 games. Last year, he was on Belarus' World Junior team and contributed one goal and four points in six games. Before that he represented his country at the 2017 World U18 Championship.
There is a third prospect, top prospect Eeli Tolvanen, who may play but hasn't officially received an invite yet. At 19, he is still eligible to represent Finland as he did each of the past two years when he had six points in each tournament. However, because he is currently in the NHL, it is unlikely the Predators will allow him to leave the team and participate. But, if he is sent back to the AHL before rosters lock, there's a good chance he will join Finland as they look to medal for the first time since winning gold in 2016.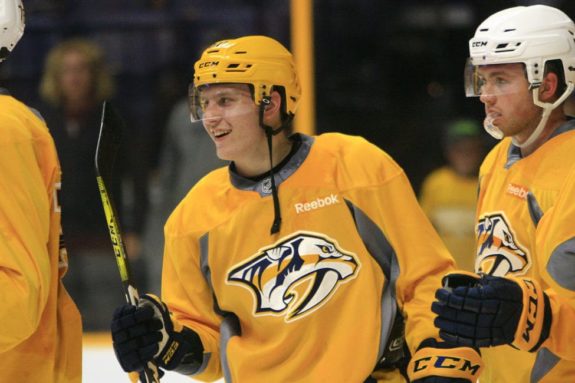 Eeli Tolvanen (center) likely would have received a World Junior invite if the Predators hadn't called him up to the NHL. (Photo by Danny Murphy/Icon Sportswire via Getty Images)So that covers the players who received invites or could still participate. What about the Predators' other prospects and what a lack of participants means?
What Does Lack of Invites Mean?
Overage Prospects Ineligible to Participate
The Predators have three prospects in their farm system who played at World Juniors last year but are ineligible this year because they are too old. Patrick Harper, a center from the United States, is a junior at Boston University. He represented the U.S. at the past two World Juniors, winning a gold in 2017 and a bronze last year. He totaled three goals and five points in 14 tournament games.
He turned 20 in July, making him ineligible to compete as participants have to be under the age of 20. The Predators drafted the 5-foot-7, 150-pound forward in the fifth round of the 2016 Entry Draft after a stellar high school career. With the BU Terriers, he has averaged .88 points-per-game (P/G) in 71 games and has five points in 14 games this season.
Next up is Dante Fabbro, the Predators' top defense prospect whom they took 17th overall in 2016. He has been on scouts' radar for years as a strong two-way blueliner who dominated the BCHL, a Canadian Junior A league. He represented Canada the past two World Juniors, winning a gold and silver medal, and had one point in 14 games. He also played at the 2016 World U18 Championship. With a June birthday, he turned 20 earlier this year. He is also currently a junior at Boston University, where he serves as the team's captain and has 13 points in 14 games this season.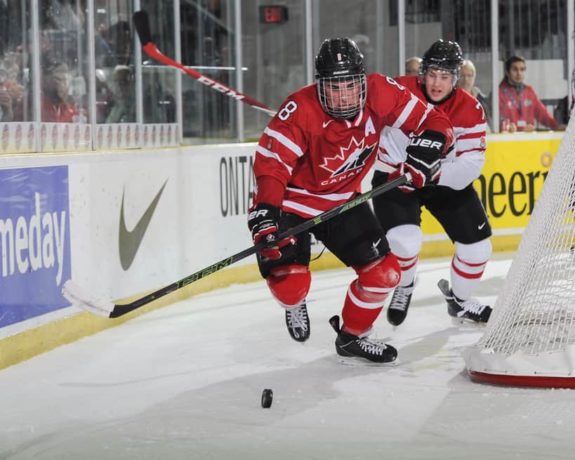 The last prospect likely talented enough to play at World Juniors but is too old is Czech netminder Milan Kloucek, who turned 20 in April. He has represented the Czech Republic on numerous occasions, most recently at the 2018 World Juniors but didn't appear in a game. He is currently in the second tier of the Czech league with a .929 save percentage and a 2.16 goals against average. The Predators drafted him in the seventh round of this year's draft.
Not Developing as Expected
Then there are those prospects who either aren't developing as expected and weren't invited or were simply passed over. First up is American forward Grant Mismash, currently a sophomore at the University of North Dakota. However, with him, it's less that he hasn't developed properly and more that he was snubbed.
"He was a part of USA Hockey for a couple of years and he's probably disappointed, but it's one of those things where you now move on to our team and try to win a national championship. Life is full of these things — peaks and valleys. It's how you respond. And he's done it the right way. He's practiced extremely hard this week." – UND head coach Brad Berry on Mismash's absence from Team USA's selection camp (from 'Can Grant Mismash use World Junior Snub as Fuel?' Grand Forks Herald – 9/6/18)
He has the pedigree, as a former second round pick. He has the production, with 31 points in 54 college games and is tied for third on the team in scoring this season. There's also familiarity as he played for the U.S. National Development Program (USNDP) prior to being drafted and represented the United States at the 2017 World U18 Championship where he had eight points in seven games and won gold. Considering Team USA's strength is at forward, it would have been tough for him to make the roster with five first round picks being invited, plus 2019 top prospect Jack Hughes.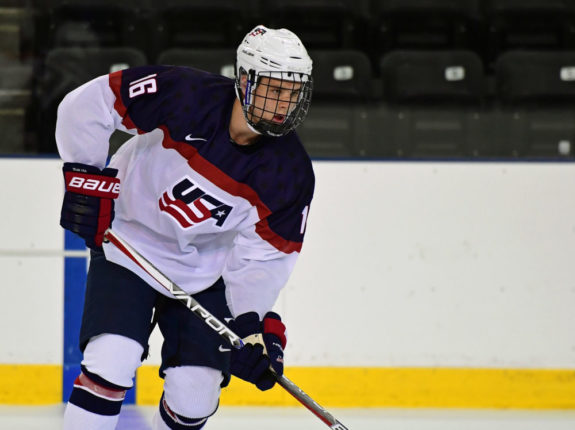 Fellow American, and B.U. teammate of Harper and Fabbro, David Farrance is a left shot puck-moving defenseman in his sophomore season. The Predators drafted him in the third round of the 2017 Entry Draft after he played with the USNDP. Last season he had nine points in 31 games as a freshman and moved between defense and wing. This season he has six points in 14 games exclusively on the blue line.
He represented the U.S. at the 2017 World U18 Championship and thought he belonged on this year's World Juniors team based on his Twitter response. However, with 2018 first round picks K'Andre Miller and Quinn Hughes on the roster and the latter having made the team last year, Farrance was a long-shot.
Haha

— davidfarrance (@davidfarrance) December 6, 2018
Russian Pavel Koltygin was the Predators' 2017 sixth round pick. A center, he is in his third year with the QMJHL's Drummondville Voltigeurs and has 10 goals and 18 points in 29 games this season. Two years ago, he played at the World U18 Championship and finished the tournament with four points in seven games as Russia took home gold.
In his three seasons with Drummondville, his scoring rates have dropped in each one, from .72 P/G in 2016-17 to .62 P/G this season. It would have been difficult for him to make Russia's roster given his decline in production and the country's high-end forwards that include Grigori Denisenko, Vitali Kravtsov, and Klim Kostin, all three first round picks with the first two currently in Russia.
NHL Success Equals Poor Farm System
In a salary cap league like the NHL, there is a cycle of winning. Teams typically bottom-out through seasons of losing to earn high draft picks, which should lead to high-end prospects who are controllable for years to come. The Pittsburgh Penguins and Chicago Blackhawks were bad in the early 2000's before drafting Sidney Crosby, Evgeni Malkin, Jonathan Toews, and Patrick Kane, respectively, and becoming modern dynasties. Eventually, perhaps sooner than later, their rosters will age and a period of losing will occur and, once again, they will need high draft picks to build up their prospect pool.
The Predators currently find themselves in the winning portion of that cycle. They drafted as high as fourth in 2011 but have never bottomed-out out enough to receive a first overall pick. In recent years, they either haven't had a first round pick or have selected late in the round. At this year's draft, they made four picks and not until the fourth round and in 2017, they didn't make a selection until 30th overall when they took Tolvanen. Additionally, they haven't selected in the top-15 since 2014 when they drafted Kevin Fiala.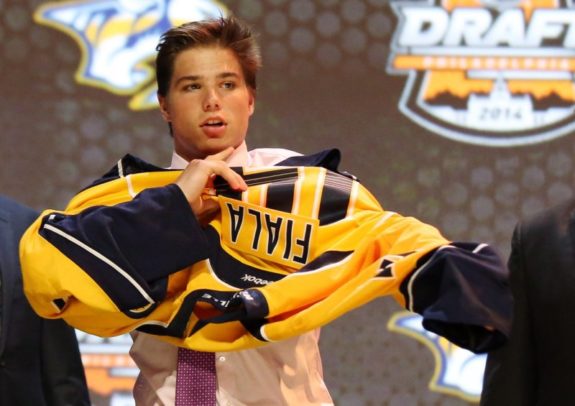 On top of not having high draft picks, GM David Poile has been quick to part with prospects and/or picks to add to the NHL roster. Last season, he gave up prospect Victor Ejdsell and first and fourth round picks to acquire Ryan Hartman. Those picks became defenseman Nicolas Beaudin and center Philipp Kurashev, both of whom received World Junior invites this year. In 2017, he gave up Samuel Girard and Vladislav Kamenev, both younger than 22 at the time, and a second round pick to the Colorado Avalanche for Kyle Turris.
Related: Is Hartman Worth What the Predators Gave Up?
The Avalanche traded that pick to the Penguins who used it on Filip Hållander, also a recipient of a World Junior invite. Lastly, in what seemed like a throwaway pick to acquire P.A. Parenteau in 2017, the Predators gave up a sixth rounder. The pick made its way to the San Jose Sharks, who selected Alexander Chmelevski with it and Team USA invited him to their World Junior camp.
Trades can be great and Poile has generally succeeded in making them. Filip Forsberg, Ryan Johansen, and P.K. Subban all became Predators via trade. However, those were all either one-for-one deals or the Predators received a prospect (Forsberg) in the process. But when Poile has parted with prospects and/or picks to add to the NHL roster, there have been mixed results.
It's the reason why there are only seven players currently in the AHL who were drafted by the Predators and why they only have one former first round pick (Fabbro) in juniors, college, or Europe. These combine to provide support for The Sporting News ranking the Predators' farm system 27th prior to this season, and that included Tolvanen in the mix. Only the Columbus Blue Jackets, Washington Capitals, Sharks, and Penguins had worse systems.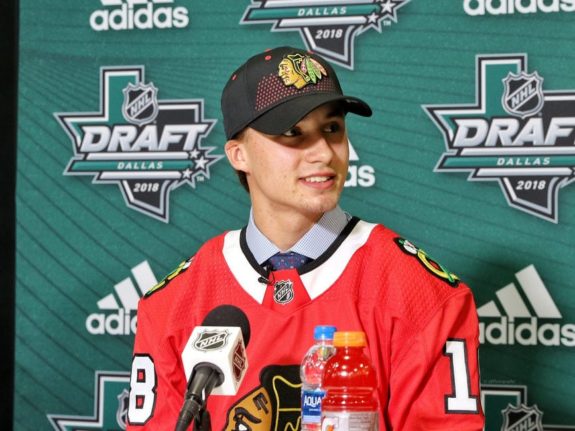 After making four selections in this year's draft, the Predators currently have eight picks in the 2019 Entry Draft and, most importantly, their first round pick. Calling their farm system weak is a compliment and that's after Tolvanen, one of the league's best prospects, fell to them. That means Poile and the front office need to build up their prospect pool.
Holding onto draft picks when possible, especially first rounders, will be key moving forward. Even the Penguins, with the league's worst farm system heading into this season and who haven't made a first round pick since 2014, have three prospects who received invites.
If Poile and the Predators win a Stanley Cup with this core, the poor farm system won't be a big deal. Yet if they don't, the team will be void of a championship and won't be built for the future. The team needs to do everything possible to restock the prospect cupboard, because if the lack of World Junior invites is indicative, the Predators' future is bleak.
*All stats came from Elite Prospects