To say JT Miller was surprised by the trade that sent him from the New York Rangers to the Tampa Bay Lightning at last season's trade deadline on Feb. 26 would be a huge understatement. Miller was a two-time 20-goal scorer with New York who was apparently deemed expendable and not part of their future plans at the ripe old age of 24-years-old. After being assured he wouldn't be traded by the Rangers' front office, Miller and Ryan McDonagh were traded to the Lightning for Vladislav Namestnikov, Brett Howden, Libor Hajek, a first-round pick in the 2018 NHL Draft, and a conditional first-round pick in the 2019 NHL Draft.
For Miller part of the uncomfortableness was eased by being traded with a good friend in McDonagh and reuniting with former Rangers Dan Girardi and Ryan Callahan. "Yeah, definitely," Miller told The Hockey Writers when we asked if those familiar faces made a tough pill to swallow easier. "I was told I wasn't getting traded. So when I was traded I was caught a little off guard. But once I got down here they all made me feel at home very quickly. Myself, my wife, and my family are very happy to call Tampa home right now and it's been great so far."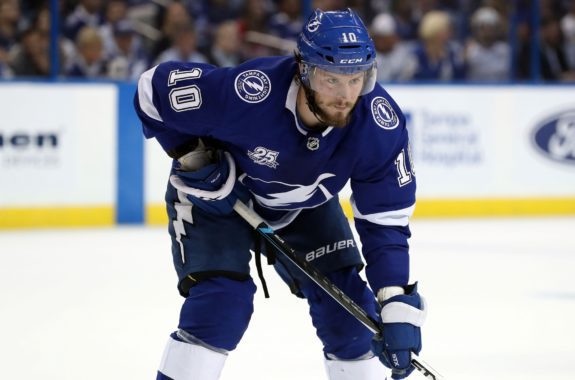 The Lightning is certainly happy to have Miller on board and he has been exactly what they wanted with 38 points (16-22a) over his first 49 games with them. He also chipped in eight points in 17 playoff games during Tampa's run last season that ended in the East Finals. After the trade last season, he put up 18 points in 19 regular season games, which was enough to convince them to re-sign Miller, now a three-time 20-goal scorer who hasn't missed a game since 2014-15 (over 300 games), to a five-year contract worth just over $26 million.
Tampa's Talent on Display Nightly
"Obviously this is a hell of an opportunity and there are a lot of good players here, a lot of familiar faces. It was an easy choice for me to sign here," Miller said, "and I'm very fortunate to be a part of this team for the next five years." He also said it was nice to feel wanted by a team after being lied to by his former employers.
Tampa Bay is so deep that on any given night any player on any of their four lines could step up to be a hero that night. "There's a lot of depth on this team and it's one of our big strongpoints," said Miller of his team's interchangeable flock of forwards. "As long as we keep playing the right way, we're going to have success."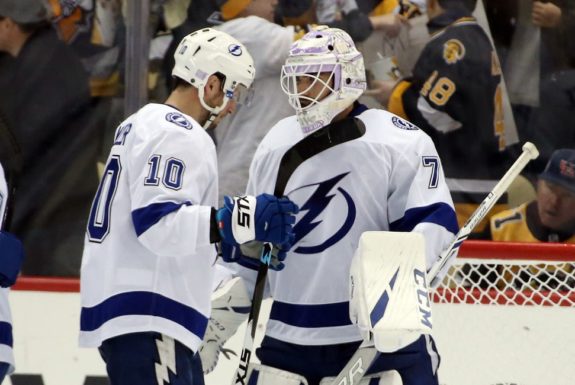 Tampa has continued to have great success despite their no. 1 goaltender Andrei Vasilevskiy going down with a fractured left foot in mid-November. All they've done is take over the NHL's points lead while holding off division rivals (Toronto and Buffalo) behind an 8-1-0 record. "Louie (Louis Domingue) has been awesome (in goal). Obviously, Pointer (Brayden Point), Kuch (Nikita Kucherov), and Johnny (Tyler Johnson) are carrying the load right now for us offensively and have been awesome; and our power play has been great."
Bad news for the rest of the league: the Lightning only have four players on their roster over 30-years-old, so they aren't going anywhere for a long time. The way Steve Yzerman was able to compile the talent on this team is pretty amazing.
Miller Time
Some of Miller's favorite hockey memories came during his time before he was surprisingly shipped to Florida, as he explained to us. First NHL goal is one memory that never fades away, from any player.
"I remember the play," he replied when asked if he remembered his first goal that came against the New York Islanders. "I picked the puck up on the wall from (Chris) Kreider and kind of lost it a bit in my feet but was able to get a shot off quick; top shelf. It was a surreal moment. It was a fun rivalry game." Miller actually scored his first two goals in his second career game, victimizing Evgeni Nabokov at Madison Square Garden.
The 25-year-old told THW that as memorable as his first NHL goal was it doesn't come close to rivaling his favorite goal that he has ever scored. It was an overtime goal that ended the 2018 Winter Classic at Citi Field, giving the Rangers a 3-2 win over Buffalo. "I think the overtime one was way better. That was cool," he said while cracking a smile."You never forget your first one but emotion-wise, there were a lot more people in that baseball stadium. For me, that was pretty special."
JT MILLER! OVERTIME WINNER AT THE WINTER CLASSIC! RANGERS WIN! pic.twitter.com/A0PAiQUQLO

— Hockey Daily 365 (@HockeyDaily365) January 1, 2018
Another memory that stands out – winning gold medals while playing for Team USA in 2011 (U18) and 2013 (U20) at the World Junior Championships. "Yeah it was a long time ago and it's always an honor to wear your country's colors," Miller said with another smile. "To do them proud and win a couple of tournaments, championships, it's pretty special. I definitely miss those days with my teammates and it's definitely one of the most special moments of my life being able to win a gold medal with those guys."
His last gold medal isn't on display anywhere though. He told us that he buried it with his great-grandfather who passed away a few weeks following Team USA's victory.
Now he's chasing the biggest prize of them all – the Stanley Cup, and with the type of talent in Tampa around him for the next five seasons, it would not be a shock if Miller and the Lightning are celebrating a championship very soon. They've been so close, right on the cusp and it almost seems inevitable that it'll be Miller Time in the Bay and the franchise will capture their second Cup.