HOT
1. Toewsing the Senators
Jonathan Toews is not an offensive juggernaut. He likely will never lead the league in goals, or even points. Coming into Tuesday's game against the Ottawa Senators, the captain of the Blackhawks had 9 points in 12 games, a modest yet uninspiring point total. However, it's a consensus that Toews is considered a top 10 forward in the game, with many (including myself) believing that he is in the top five in that category. What makes him so valuable to his team is his ability to take control of a game. Whether it's killing penalties, controlling the powerplay, or scoring a timely goal, Toews seems to do everything right when needed. This was certainly seen on Tuesday in Canada's capital.
Down 4-2 to the Ottawa Senators, Captain Serious recorded a natural hattrick to give the Blackhawks the lead in the third, propelling Chicago to a narrow 6-5 victory. This was added to his primary assist on the team's second goal, making him apart of almost every goal in the offense-heavy game. While Chicago is one of the most balanced teams in the league, things obviously cannot go right every game. Sometimes the goaltending will post a .865 sv%, Patrick Kane will go pointless, and the penalty kill is ineffective. And on those nights, Toews will step up and help Chicago steal an undeserved win, and he certainly did just that against the Sens.
2. Philliping Fantastic
Being the best player on the Toronto Maple Leafs comes with some added responsibility and criticism. The expectations are even more heightened when the best player signs a $64 million contract, and Phil Kessel did just that. Despite the critics of the deal and of Kessel himself, he has performed masterfully thus far, scoring a hattrick and recording 14 points in 12 games entering last week. Heading to Edmonton on Tuesday, he continued on the torrid pace that he set in the days prior.
In a 4-0 victory over the Oilers, Kessel scored 2 goals and added 2 assists to lead the Toronto Maple Leafs. It was his 5th four-point night of his career, and gave him 18 points on the season, putting him on pace for career numbers in both goals and points. It's very easy for hockey fans to make fun of Kessel, but there is no denying that if he continues to play like he has for the first few weeks of the NHL season, that contract will be completely worth every single penny.
3. Stepping up to the Matt
It was late on Sunday the 27th when news broke that Matt Moulson had been traded, along with a 1st and 2nd round choice, to the Buffalo Sabres for Austrian winger Thomas Vanek. To many, the trade was inconceivable. Moulson had been a security blanket for franchise forward John Tavares, and was suspected to receive a contract to entice JT to remain in Brooklyn later in his career. However, the 30 goal scorer, the "product of Tavares", was sent to the team with the worst record in the league. Despite unlikely playoff chances and apart from the new contract, Moulson had something to prove: that he was more than just a product of a top-end center. Last week, he certainly proved that he was a true goal scorer.
In his first game, Moulson scored 2 goals, and added 2 helpers in their game against Anaheim to net 4 points in his first 3 games as a Sabre. While his efforts weren't enough to propel Buffalo to a victory, it once again was an example of Moulson defying the odds. Not drafted into the OHL, being drafted 263rd into the NHL, signing as a free agent and going straight to the AHL, and being left unsigned by the Kings was never enough to get Matt Moulson to quit, and when he finally reaches his potential in a good situation he still cannot be recognized for his success. He is a criminally underrated player, and will hopefully continue to prove in Buffalo that he doesn't need a franchise forward beside him in order to be a good NHL player.
NOT
1. Ray Emery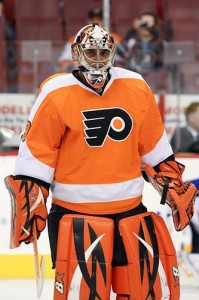 It is rare for the number one "not" moment of the week to be a true embarrassment. Sometimes it can be a bad goal, which is mostly attributed to bad luck. Other times it can be a bad performance, which is embarrassing for the player but a solid game can turn that notion around. Occasionally it represents a bad hit, which is seen commonly in the NHL and one of the negative consequences of playing a sport on a small surface with players hitting upwards of 30 kilometres per hour. However, Friday night consisted a true embarrassment to the sport of hockey. Losing 7-0 to the Washington Capitals, a fight broke out between Simmonds and Wilson, causing Ray Emery to skate 200 feet down the ice, and begin mercilessly pounding on Braden Holtby.
This is not an ant-fighting, nor a pro-fighting debate. This is a human-rights issue. Ray Emery is an amateur boxer, and quoted to be a "top 5 fighter" in the NHL, still being a goaltender. There is no reason, nor desire, for Holtby to fight Emery. But it didn't stop the Flyers goalie from grabbing the Capitals netminder, punching him repeatedly, and punch him in the back of the head while he was down. Even ignoring the fact that punching people in the back of the head is completely illegal and very dangerous, you cannot fight an unwilling combatant. That's not a fight. That's assault. It is irrelevant that's "on the ice", to fight anyone that is unwilling and unprovoked is an assault. Emery skated down 200 feet to fight a player with no desire or involvement in the play, and told him that "it's happening and to protect yourself". Had Holtby suffered a concussion or any sort of trauma because of the incident, Emery would be in a lot of trouble. But he skated away scot free because of a lack of precedent and no specific rule (probably because nobody ever imagined a goaltender would be so crazy and attack an opposing goaltender).
He can blame it on the Flyers' culture, the owner, the GM, or the coach. He could feel that it was 7-0 and a spark needed to be ignited. But Ray Emery should be embarrassed for his lack of self-constraint and his borderline illegal and unlawful behaviour. The league has a desire to crack down on the amount of concussions and head injuries, seeing the scary past incidents in the NFL. Maybe they should pay more attention to what Ray Emery did, and punish that foolish and dangerous display.
2. Feeling Blue
While some teams flourished this week, others faltered. And nobody faltered quite like the Columbus Blue Jackets did. In their three games, the Blue Jackets went winless, scoring 5 goals and allowing 11 in two games against Pittsburgh and one against Anaheim. Obviously, the quality of opponents for Columbus was high, and likely contributed to their poor record. However, they are fighting for a playoff spot in a pretty underwhelming Metropolitan Division, and even managing to get 2 points would make a large difference.
Mostly, the issue appears to be untimely goals. The Blue Jackets allowed goals within the first 120 seconds in two periods against the Ducks, and the winner with less than three minutes to go. In their first meeting against the Pens, Pittsburgh scored three quick goals in the first five minutes of the second period, and the second meeting saw a third period goal scored 47 seconds in put the game out of reach. The Blue Jackets had an inability to prevent early-period goals from hurting their team, and it hurt their performance this week.
3. Delayed Takeoff
The week also didn't go well for the Winnipeg Jets. Following a gritty win against the Dallas Stars, the Jets went winless on the week, losing three games to the Avalanche, Blues, and the Blackhawks. While the loss in Colorado wasn't bad, and the Blues game ended on a final-minute powerplay goal, losing three in a row is something that Winnipeg can't afford to do in such a competitive race for the playoffs where every point matters. Some of the blame could be pinned on Pavelec, who finished with a .848 sv% in his two starts (including stopping only 9 of 13 against the Blackhawks), or perhaps on the inability of the special teams to shut down the opposition in timely situations. Regardless, the Jets are a team with depth and talent, but need to manage to find points every week, or they'll find themselves on the outside looking in.