There were plenty of surprises when the Team Canada Olympic Roster of 47 players  was announced back in August, and no doubt GM Steve Yzerman will have a couple more surprises up his sleeve when he eventually does name the team in late December. Hockey Canada can take three goalkeepers, eight defencemen and fourteen forwards to Russia.
One vitally important piece to remember is that Hockey Canada plays a particular style of game, it's infused at all age levels and the Olympic team is no exception. It is not a matter of simply putting the fourteen top scoring forwards together and booking them an Air Canada flight to Russia. Many blog predictions I've seen have merely listed off the best players available. It's not how Hockey Canada chooses their teams.
While there is still at least two Rob Ford scandals between now and the Sochi Olympics, it's worth having a look at who is trending up and down through one full month of NHL play.
Who's Hot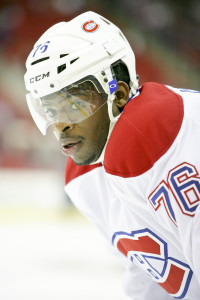 PK Subban
Subban is likely to be the most talked about player on this roster regardless of whether he makes the team or not. Currently, Subban is 2nd among NHL defencemen in points and packs one of the league's premier shots from the point. Subban receives much publicity for taking bad penalties but draws just as many and is a 0 rating on penalty +/-. I had the pleasure of watching Subban play live against Calgary, he is clearly as dynamic as they come on the ice.
Marc-Edouard Vlasic
At 26 years of age Vlasic is in his 8th NHL season with the Sharks, who continue to fuel Team Canada (we all remember the San Jose line from Vancouver). Vlasic is known as a shut down defenceman and would fulfil that role in Sochi, however he is currently 4th among NHL defencemen in goals + primary assist with five of his seven helpers being the primary assist. He is also an NHL best +12. Vlasic is also a unique proposition because he shoots from the left, something only Duncan Keith brings to the table among the likely defencemen going to Sochi.
Corey Perry
It seems a little weird having Perry in this group as he was a member of the Vancouver gold medal winning team and is a Rocket Richard Trophy winner. The fact is, Perry has been up and down since Vancouver including not registering a goal in last seasons playoffs. One month into this season it seems the Richard-winning Corey Perry is back just in time for Olympic selection. Nine goals has Perry tied for 5th in the NHL with Phil Kessel and Matt Duchene and a +9 rating is tied for 7th among all NHL forwards. Perry was left off TSN's predicted team, so despite being an incumbent member, he has a point to prove.
Matt Duchene
Duchene's rise through the NHL ranks is not a surprise to anyone but it's the nature of his success this year that has caught many off guard. Duchene has been the stand out player on the best team through one month of play. 9 goals in 13 games, 55% in the faceoff circle and no penalties taken vs. 9 penalties drawn. Duchene also had 8 games and 4 goals with Canada's World Championship team on the big ice last year to help advance his case. Duchene holds a particular advantage in his versatility, he can play on the wing, something that will be needed when trying to force your way onto a team with natural centres like Crosby, Toews, Bergeron and the Staal's.
Chris Kunitz
Let's not beat around the bush here; Mike Babcock's biggest selection headache is finding linemates for Sidney Crosby. There is a school of thought that Crosby and Stamkos make sense, but Sid will be able to put in a good word for his Penguins buddy, so if he wants Kunitz on the plane to Sochi, Yzerman will oblige. Kunitz has 8 goals and 15 points through the first month of the season, good enough for the second most on the Penguins. No-one should be penalised for playing well with an elite force like Crosby.
Who's Not
Jordan Eberle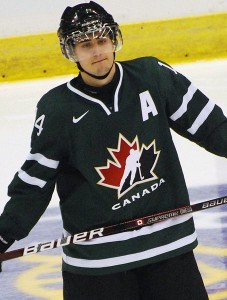 A Hockey Canada favourite who has demonstrated his ability to go to the next level when wearing the red and white sweater. Eberle has just 3 goals in his first 15 games for the Oilers and had been demoted to the third line by coach Dallas Eakins. Eberle is a pure winger but is in a unique position in that he is battling for a 3rd or 4th line spot, and could see his wing position be taken by a centre like Jeff Carter or Logan Couture.
Claude Giroux
As if this season hasn't been enough of a disaster for the Philadelphia Flyers, Giroux, their best player, is goalless on 27 shots and 13 games. Giroux has gone from the second line centre on this team, to questionable to make the team at all. One thing going for Giroux was his stellar performance beside Steven Stamkos on the big ice at last years World Championships. Giroux has two months to seal the deal, but he's the most glaring example of a player who is letting the Olympics slip.
Brad Marchand
Marchand was a sneaky pick to make the 14-man forward corp but 4 points in 13 games to open the season wont be making Yzerman's ears prick up. He's 10th in Bruins scoring. Marchand's time on ice is down, his offensive zone starts are down and he's taking more penalties than he's drawing. Marchand was never going to Sochi as a high scoring top 6 forward, he was going to be a high-impact, bash and crash behind the net forward who is in the two pivot spots. Right now, he's not even on the bubble, he's on the couch.
Mark Staal
The third Staal brother has been in all the predicted teams I've seen but his early season form has been anything but locked down. He's -11 through 14 games, second worst among all NHL defencemen. Staal's problems are even further compounded by Marc-Eduard Vlasic's rise.
Mike Smith
All of Canada's goalkeepers have question marks but Mike Smith currently has the third worst Goals Against Average at 2.87 and a Save Percentage of just .917. Despite this, the Phoenix Coyotes are 8-2-2 with him in net. Many fancy that Roberto Luongo and Carey Price will walk on to this team, so with one remaining spot open and outsider Marc-Andre Fleury breathing down his neck, Smith has some work to do.
I knew the one spot to shoot from that would always beat the goalie on Nintendo NHL 96. I'm a huge fan of the 'social' part of social media so speak to me @codyroyle or Cody Royle on Google+