At just 20 years of age, Linus Soderstrom is an inspiration. Although it's no secret that he's been an incredible talent for a long time, nothing has come easy for him. But where he's at right now shows that with dedication and a solid ground of self-reliance you can go further than most people think.
Close to three years ago, the young Swedish goaltender looked forward to the 2014-15 season with great confidence. In the summer he was drafted by the New York Islanders in the fourth round as the 95th overall pick, and after that, he was facing his first senior-level season with Djurgardens IF in the Swedish Hockey League (SHL). At least that's what he thought until he suddenly learned that there had been a change of plans.
"At first they [Djurgarden] wanted me, then they didn't, and later they wanted me again. It ended up with Djurgarden saying that I simply wasn't good enough for the SHL, and that they would go with someone else."
Soderstrom was thrown out, more or less, as he told Hockeysverige, and the years that followed would be defined by an immense struggle to pick himself up.
Today, he's past the midst of his debut season in the SHL, and his breakthrough didn't wait long to happen. In game after game, he gives the Islanders less reason to regret their fourth-round choice from 2014. Rather, the organization should seriously start to consider Soderstrom as their intended number one netminder in the future.
Diagnosis A Non-Issue
In reference to what I said earlier, perhaps the biggest reason why nothing has come easy for Soderstrom is his diagnosis. As he announced publicly in 2015, he has Asperger Syndrome, a neurobiological disorder on the higher-functioning end of the autism spectrum, which of course has made some parts in life more difficult for him. Through those times, hockey has helped him to cope.
"When I was younger, the things I really liked, I could focus a lot on, like hockey," Soderstrom said to The Hockey News. "The things I didn't like, for example school, was just a complete mess."
While at the same time, his diagnosis has done nothing to slow down or disturb his development. Between the pipes, he's like any other goaltender in the world, but better than most. As the former junior national team coach of Sweden, Rikard Gronborg, who later became head coach of the senior team, put it:
"He's tremendously focused. He plays the angles real well. When we're setting up a defensive plan, he's a big part of that discussion so he knows where the shots are most likely to come from. That's how we set up a defensive system; we play towards his strengths."
Soderstrom's Stats
Let's return briefly to the incident between Djurgarden and Soderstrom in 2014. I'm sure the team rejecting him hasn't forgotten. Because since then, Soderstrom's improvement rate has gone nowhere but up, especially after gathering experience from two straight World Junior Championships and making the official WJC All-Star Team in the 2016 tournament.
Meanwhile, with lots of ice time for HV71 in the SHL, he has earned confidence. And with confidence, he has become the nemesis of every goal scorer in Sweden. By looking at some of Soderstrom's statistics for the 2016-17 SHL season, we might get an understanding of how insanely good he actually has been.
Nearing the end of his first season in the SHL, Soderstrom is noted for:
Keeping five clean sheets after a total of 20 games played.
Leading the league in goals against average with 1.38 GAA.
Leading the league in win percentage with 77.78 W%.
Being second best in the league in save percentage with .943 SV%.
(Sources: EliteProspects and SHL.se)
The Islanders' Need
For the Islanders, goaltending has been a recurring issue for quite some time. Sure, after Jaroslav Halak was put on waivers in late 2016, you could say that Thomas Greiss has taken advantage of the opportunity. But to be honest, the long-term solution isn't Greiss or backup goalie Jean-Francois Berube for that part.
Naturally, most of the talks revolve around the Russian prospect, Ilya Sorokin. The Islanders selected Sorokin in the same draft as Soderstrom, and since then the goaltender has been flourishing in the KHL. Considering the performances of Soderstrom in the SHL this season, however, it would surprise me if the Islanders ruled him out over Sorokin right away. But they seem to know what's going on.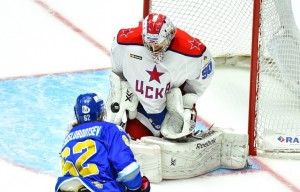 "They have been over here and watched a few times, and we talk to each other", Soderstrom said, although he didn't want to give much information about when he thinks he will become a permanent New Yorker. "I will go there for the camp this summer and I look forward to it. Really fun. I have been doing that every year since I got drafted."
Enjoying Life
It's difficult not to like Soderstrom. Even though he's only 20-years-old, he appears mature both on and off the ice. And he obviously has his priorities straight. This can be illustrated by why he chose to go public with his Asperger Syndrome diagnosis a couple of years ago — to help other people who suffer from it.
"I know how it is to be in those dark days when you don't feel confident. It can be very small and very scary. I want to be a support for them. Tell them to keep on going, keep having fun with life. Keep getting great support from your family and just never stop believing. Enjoy life. That has worked out for me."
It hasn't only worked out, but rather, has turned into something even grander than that for Soderstrom. And seeing that he has come this far, who is to say where he will stop?
---
Fun Fact: Soderstrom has some remarkable skills in the video game NHL 17. As a gamer, that is. At the peak of his virtual career, the Islanders prospect has in fact been ranked as high as number two in the world! In total, there are about 500,000 people competing online in EA Sports NHL 17. How about that?!
Freelance sports journalist settled in Malmo, Sweden. Author on the official site of the Swedish Hockey League. Cover Swedish prospects on their road to the NHL, and Swedish players making it in the NHL.