For the Tampa Bay Lightning, goaltending is a position of strength heading into the 2020-21 season. When Andrei Vasilevskiy is your nightly starter, after all, you can rest somewhat easy knowing that you will have one of the best players in the world in net most nights.
Behind Vasilevskiy, the Lightning are relying on journeyman Curtis McElhinney to play the role of back-up for the second straight year. His job is simple: start roughly 20-25 games so Vasilevskiy can have a few nights off during the regular season, then get out of the way when the postseason starts.
This system worked out well for the Lightning throughout the 2019-20 playoffs when Vasilevskiy played every minute for Tampa Bay while carrying the team to a Stanley Cup.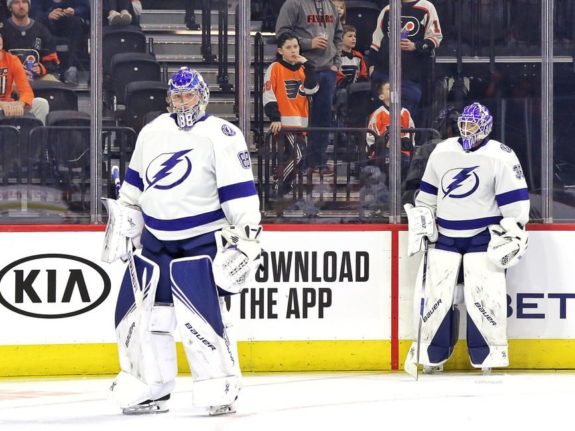 Once you get past this certainty, however, what does the Lightning's goaltending pool look like? Do the Bolts have anyone who can jump into NHL ice time should injury strike? Are their prospects developing into players who could be fighting for a job with the franchise over the next few seasons?
Lightning Thin Behind Starting Tandem
While the Lightning may have had a hit when they drafted Vasilivskiy back in 2012, they didn't have much long-term success with their goaltending picks around him. This left their cupboard a bit bare when it came to goalies, forcing a mass signing of new goaltenders back in the 2019 offseason.
Out of the players signed, only Spencer Martin remains with the organization, despite posting a mediocre 3.00 goals-against average (GAA) and a save percentage (SV%) below .900. He is expected to split playing time with Tampa Bay's AHL affiliate, the Syracuse Crunch, next season alongside Christopher Gibson, whom the Lightning signed this offseason.
Even if Gibson has some NHL games under his belt, neither player has shown signs of long-term NHL capabilities. This means that if either Lightning starter suffers a major injury this season, then Tampa Bay will likely need to swing a trade for a back-up rather than force one of these goalies into a role that they simply aren't ready to take on.
Related: Lightning All-Time Rookie Hat Tricks
This could change, of course, but as of now, the Lightning's AHL pool looks a bit shallow for the upcoming season.
Lightning's Goaltending Prospects Looking Solid
Over the last decade, the Lightning have made a somewhat concerted effort to draft at least one goaltender each year, despite knowing that Vasilevskiy was developing in the background. While these picks haven't always worked out, it has left Tampa Bay with a few solid prospects for the near future.
First we have Magnus Chrona, a big, swedish goalie who was a 2018 fifth-round pick by the Lightning. He is currently playing hockey at the University of Denver, where he started 27 games in 2019-20, posting a 2.15 GAA and a .920 SV%.
As said by Brayden Olafson about Chrona:
A modern NHL sized goaltender considered to be a technical project. He has what can't be taught in size which will play to his advantage in the Lightning depth chart.
Next is Hugo Alnefelt, another big Swedish goalie that was a third-round pick by the Lightning in 2019. So far this season, he has played seven games in the SHL (Sweden's top hockey league), posting somewhat middling numbers by his standards. However, he is developing his game against men, and it is believed that Alnefelt has an incredibly high ceiling, making him an exciting prospect to watch.
Finally is the Lightning's most recent goaltending pick, Amir Miftakhov. While he is considered a little bit undersized by current standards, he was a worthy late sixth-round pick for the Lightning as he has a great toolkit to build upon.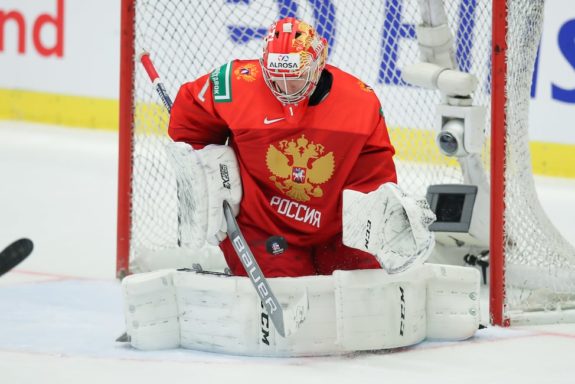 Similar to Alnefelt, Miftakhov is developing his game against men in Europe. As a 20-year-old, he has already started seven games so far this season, posting a 2.25 GAA and .917 SV% for an Ak Bars Kazan team that is expected to be a championship contender.
Lightning Have Solid Future, Lacking Current Goaltending Options
As long as Vasilevskiy can stay healthy, then the Lightning's goaltending future will remain bright. He is signed to an expensive, eight-year contract, after all, so Tampa Bay expects him to live up to that cost for years to come.
As far as the future goes, the Lightning also have a bright outlook. With three solid prospects in great positions to develop their game, they could all be fighting for AHL ice-time soon and push to be Vasilevskiy's back up for years to come.
However, the current goaltending situation is, frankly, unnerving. If Vasilevskiy were to miss a significant amount of playing time, then Tampa Bay would be in a very bad spot. McElhinney may be a solid option, but he's not a player you want to rely upon for a deep playoff run.
So, while the near-term in net for Tampa Bay is still positive, this all hinges upon Vasilevskiy remaining healthy and dominate in his play.
---
---