After an entirely action-packed week, the New Jersey Devils are heading into the re-sign and free agency period with a tremendous need on the defensive side. The forward corps, with the addition of Nico Hischier, is in far better form than any time since the team's most recent Stanley Cup run. Throw in a possible Ilya Kovalchuk reunion and suddenly it looks like the attack of a conference contender.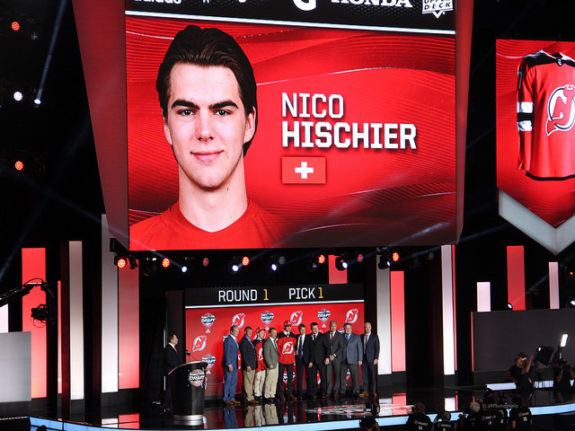 However, despite a good crew at forward and an all-world goalie, the team will continue to be paper tigers until general manager Ray Shero starts improving the defense. It's not for lack of trying – Shero constantly looks to make low-risk moves to keep the team's blue-line at par. That said, for every John Moore there's a Yohann Auvitu and Brandon Gormley.
A Defense in Disrepair
This harkens back to Shero's time in Pittsburgh when he opted for cheap plugs, hoping that his coaching staff could yield more production than other teams could. That is ultimately many teams' goals and constitutes effective roster management, but there also needs to be top-end talent in place to fall back on when new acquisitions fail to rise to the occasion. That is ultimately where the Devils lack on defense. Recent, expansion-protected defensemen Damon Severson and John Moore deserve a longer look in 2017-18 to determine if they can be all-situation defensemen. If that fails, the only one capable of playing anywhere is Andy Greene, who will be 35 by season's start.
The trade market, which was rife with speculation surrounding marquee blueliners, never took off and the Devils have little to show for it, acquiring Mirco Mueller for a 2018 second-round pick and a swap of mid-round selections. The Swiss defenseman has played just 54 NHL games at age 22. He certainly has potential as a former first-round pick, but his production does not paint a great picture.
Mirco Mueller's numbers in the AHL this past season were not, uh, impressive. Worst among the defensemen on SJ. pic.twitter.com/RMpWRHOjGS

— Todd Cordell (@ToddCordell) June 19, 2017
On top of that, the acquisition of Mueller made Jon Merrill an expansion draft casualty, as the Swiss defenseman seems to have taken the last protected slot that would have belonged to the former Devil. In that regard, Mueller's production versus Merrill's seems like a lateral step.
Examining Defensive Composition
The Devils defense is in need of a lot of work. Greene is in the twilight of his career; Moore and Severson are steady but works in progress; Mueller and Steve Santini are unproven; Ben Lovejoy and Dalton Prout are not NHL quality defenders. So what is there to do?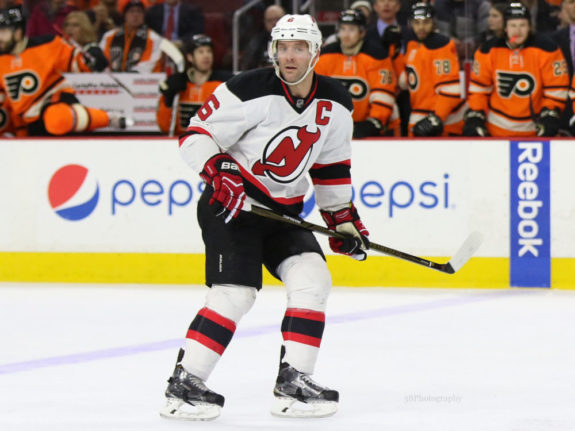 The problem isn't just a lack of talent; it's also a logjam of depth and filler. On most teams, Moore, Mueller, Lovejoy and Santini would be vying for bottom-pairing minutes, yet the Devils have two of them in their top-4 at the moment.
Solutions
For a team looking to rebuild and go young, it is rarely advised to reload with older talents. But the Devils are growing an impressive array of forwards and have a prime-aged superstar in goal without the defenders to match. To improve the blue line, the Devils have three options: trade, sign, or promote.
Scour Trade Market for Defense
Of the three options, trading tends to be the most expensive; teams will give to get, which makes any transaction come across as zero sum. This means that the best way to win a trade is depleting one strong area in order to fortify a weaker one. Trading is difficult because of the need for a double coincidence of wants but Shero has proven over time that he is able to make a partner out of anyone.
The key for the Devils will be to leverage one of their well-stocked areas – left wing and goalie come to mind – in a move for defense. With the Expansion Draft and Entry Draft in the rearview mirror, has the Devils' ideal chance to make a move disappeared?
Heading into the expansion draft, there was a strong belief that the Devils were in on Anaheim's Sami Vatanen, a talented project with tremendous potential. The Ducks wound up retaining their Finnish defenseman, one of many teams to dangle a marquee player without pulling the trigger.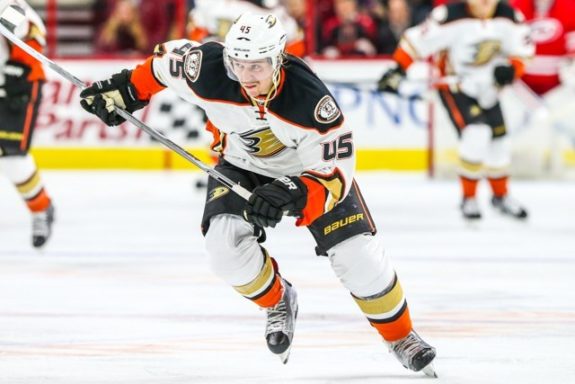 The 2017 NHL Entry Draft also saw a few talented blueliners move in three separate deals, one involving Connor Murphy and Niklas Hjalmarsson; another featuring the Coyotes' Anthony DeAngelo going to the Rangers; and the last one headlined by former-Islander Travis Hamonic. If these three trades set the market rate of a top-four defenseman, then the Devils can ill afford to join the festivities.
There are still several names once purported to be available who are still toiling on their current franchises. Vatanen comes to mind, as does the Oilers' Mark Fayne. Given that the Expansion Draft and Entry Draft were supposed to be the ideal time for sellers, it seems that the dust has settled on the trade market. Like the Taylor Hall trade, Shero would need to make a move for a player not believed to be on the trade block.
Bid Competitively on Free Agents
Free agency can be an opportune time of the season for teams looking to add another piece to aid in playoff contention. For the poorer performers, July 1 is often a quiet day, though sometimes it can see some swift movement. Despite finishing near the bottom of the standings in 2015-16, the Sabres, Oilers and Canucks all made splashes on the opening day of free agency last year. With plenty of cap space, the Devils are equipped to do the same.
Unlike last year, the 2016-17 free agency class features a bonafide top pairing defenseman in Kevin Shattenkirk. The former St. Louis Blue and Washington Capital is looking to capitalize on a brilliant five-year stretch. At one point Shattenkirk was declared a good fit for the Devils given the team's proximity to his hometown of New Rochelle, NY. Nevertheless, the team's owners and Shero might not be willing to pony up and pay Shattenkirk. Some wonder if, given the Rangers' recent transactions, if they are gearing up to make a play for the 26-year-old.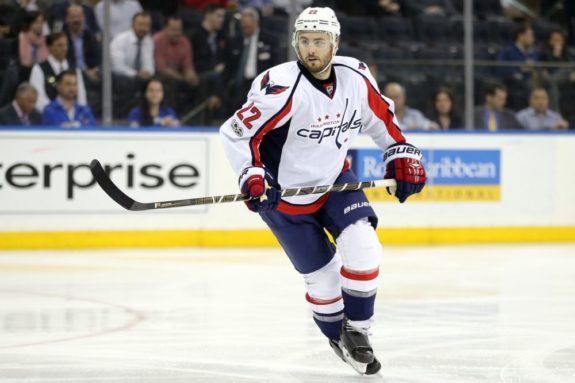 The rest of the class drops off from there. Sure, there are definitely some strong pieces in the crop – like Dmitry Kulikov and Justin Schultz – but none of them could transform a defensive unit quite like Shattenkirk could. That said, the Devils lack top-2 and top-4 defenders so making a move for a lesser option would still go a long way to fixing a depleted core.
As mentioned before Kulikov and Schultz, two entirely different types of defensemen, are the two next best options. Kulikov is a left-handed, stay-at-home rearguard who utilizes his 6'1″, 205-pound frame to keep opposing forwards out of high quality scoring areas. On the downside, he does not have the scoring toolkit to play in all situations. Schultz is a right shooting defenseman with a rocket of a slapshot and good awareness in the offensive zone. Both defenders' key offering is their ability to succeed in their own ways with top-end minutes.
There are some options after that who would improve the Devils' blue line besides Shattenkirk, Schultz, and Kulikov. Names like Karl Alzner, Michael Stone and Brendan Smith are often thrown around as potential fixtures, but the reality is that they each lack the ability to succeed in big minute situations in the way that the aforementioned three names have. Adding Alzner, Stone or Smith would only add to the Devils' logjam of bottom-pairing talent.
Build From Within
John Hynes and co. gave out plenty of tryouts to young defensemen with hopes of unearthing a blue line fixture. That never happened as players like Seth Helgeson, Yohann Auvitu, Michael Kapla, and others had brief stints in Newark. The only name to escape the depths of Albany permanently is Steve Santini, who was still one of the Devils' worst defensemen.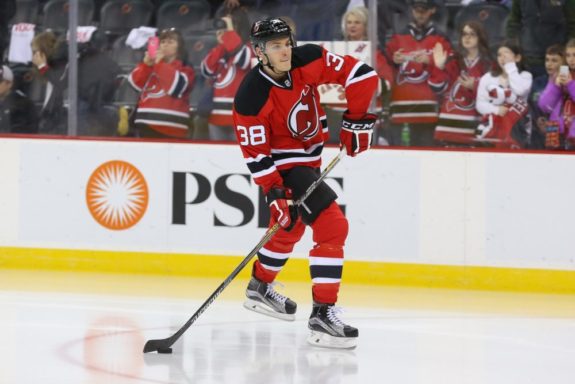 There are certainly some good talents playing in Binghamton who wouldn't look out of place in New Jersey. The problem is that the Devils need to improve not move laterally. Joshua Jacobs, Vojtech Mozik, and Jacob MacDonald had some bright spots in Albany last year, but it would be tough to say they are ready for the big league.
With that said, it's unclear if bringing up more talent from Binghamton would actually raise the team defense's level of play. There are a few names who have yet to get an extended look in New Jersey, but these players are not entirely unknowns; they all tried out for the team in September and lacked the requisite talent to be a difference maker in the NHL. A lot can change in a year, but it would be presumptuous to pencil in any AHL defender on the Devils main roster for 2017-18.