After years of trading away draft picks and making poor choices with the remaining picks, the Toronto Maple Leafs have enjoyed a bountiful few years of drafting. Under Brendan Shanahan and Lou Lamoriello, the Leafs have made a point to amass picks and restrain themselves from trading many away.
From that, the Leafs have drafted star players in William Nylander, Mitch Marner and Auston Matthews, as well as a crop of promising players that are expected to compete for NHL spots in the next few years. With a drafting record like that, it would be easy to get excited for the players of the 2017 NHL Entry Draft. This is where we need to temper our expectations.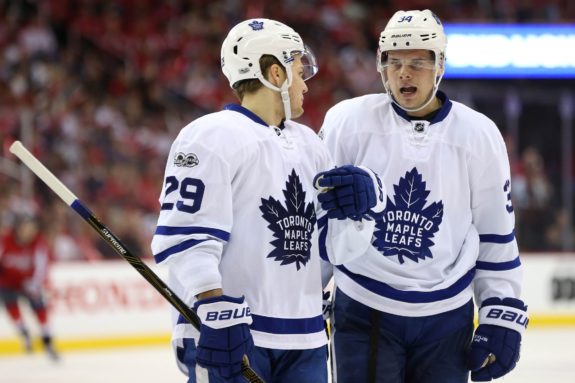 The 2017 draft is one of the weaker drafts that the NHL has had for a while, and it certainly doesn't help that we've been spoiled over the last few years by players like Connor McDavid and Matthews. For the Leafs, this is a draft year where it will be a while before these picks produce results at the NHL level, if at all.
First Round
Timothy Liljegren (D), No. 17
Timothy Liljegren has been regarded as a steal of a pick by the Leafs at 17th overall. Early in the season, Liljegren was projected as a top-three pick in the draft according to TSN's Bob McKenzie, but his draft stock fell drastically after he got mononucleosis and missed two months of the season.
His play after returning didn't inspire much confidence in scouts. This can be attributed to the long-lasting fatigue that's a result of mononucleosis, which would severely affect a player's performance. Liljegren was also bounced around to a couple of teams over the course of the season in addition to playing on Sweden's under-18 team internationally.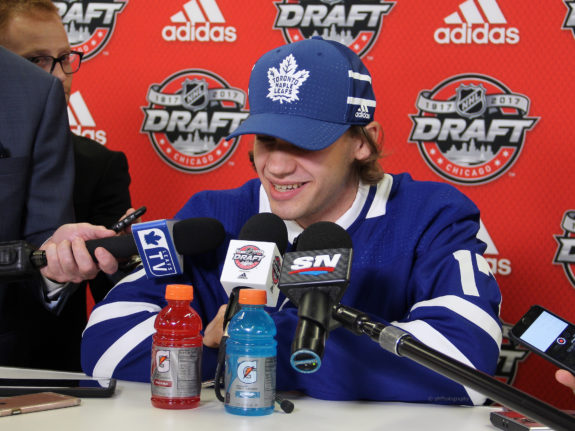 Liljegren spent most of the season splitting time with Rögle BK in the SHL and their junior team in the SuperElit. With Rögle BK in the SHL, Liljegren had five points in 19 games and then seven points in 12 games in the SuperElit. His 2015-16 season with Rögle BK in the SuperElit gives a better idea of Liljegren when he's healthy. Liljegren finished with 22 points in 29 games and had the second-most points for defensemen on the team.
Liljegren will fit in nicely on the Leafs' future blue line as a top-four mobile puck-moving defenseman, but it will be another year until we see him in the Leafs organization as he's committed to another year in Sweden.
Prospect Profile: Timothy Liljegren
Second Round
Eemeli Räsänen (D), No. 59
In the second round, the Leafs picked another defenseman in Eemeli Räsänen. Outside of Liljegren, Räsänen is the most exciting pick the Leafs made in this draft.
In the Leafs' 2016 draft, they made a point of drafting incredibly tall defensemen that don't contribute much on the side of offense. Many were worried by those picks and on the surface it seemed like the same would be said about Räsänen, who comes in at a staggering 6-foot-7. Luckily, that couldn't be further from the truth.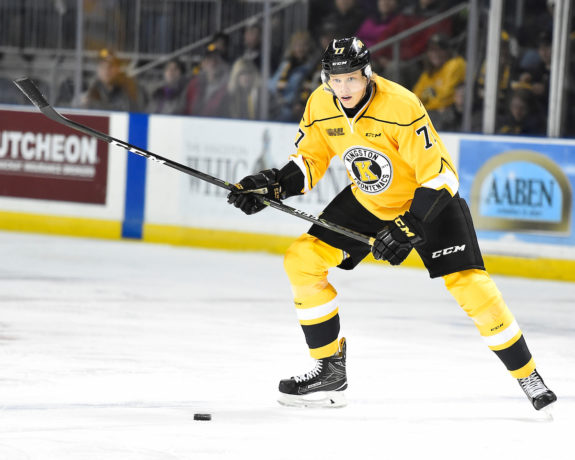 Räsänen had previously played in Finland before coming over to the OHL this season to play for the Kingston Frontenacs. In 66 games, Räsänen had six goals and 39 points and had the second-most points by Kingston defensemen only behind his defensive partner and ex-Leafs prospect, Stephen Desrocher. Räsänen was also a key part of Kingston's power play with 26 assists and 30 power-play points, the second-most on the team.
Räsänen has shown to be an excellent passer with a quick, hard shot. There are still some mobility issues, as to be expected by anyone his size, but he will be an interesting prospect to watch as he continues to develop.
Prospect Profile: Eemeli Räsänen
Fourth Round
Ian Scott (G), No. 110
This is where the picks start to fall off in quality, at least compared to the players that the Leafs were able to pick in the later rounds for the last few years.
Here the Leafs are taking a chance on goalie Ian Scott and hoping that he's actually a better goalie than his numbers would suggest. Now it's hard to get a sense of how good of a goalie he is when he played for the Prince Albert Raiders, who finished third-to-last in the WHL.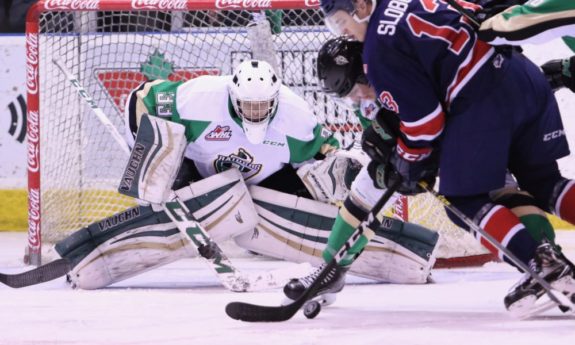 Scott played 50 games and only came away with 12 wins while having a 3.69 goals-against average and a .895 save percentage. These stats aren't great and they weren't any better in the 2015-16 season when Scott played 26 games and had 13 wins with a 3.24 goals-against average and a .892 save percentage.
The difference is that in 2015-16 the Raiders finished 10th in the WHL and made the playoffs with 84 points, while this season they were third-to-last with 49 points. That's a drastic difference between the two seasons, and yet Scott's numbers are quite similar for both. Scott will need to visibly improve soon if he wants to get the attention of Leafs management.
Vladislav Kara (C), No. 124
With the 124th pick the Leafs selected Russian center Vladislav Kara. It seems like every year now the Leafs make an off-the-board pick of a Russian player, and that was certainly the case with Kara, as he wasn't even listed on the NHL's 2017 Draft Prospect Rankings.
Kara split this season with 34 games in the VHL with Bars Kazan, finishing with eight points, and then with 31 games in the MHL with Irbis Kazan, where he had 20 points. The Leafs have taken a chance on Kara, but it seems unlikely that this pans out.
Fifth Round
Fedor Gordeev (D), No. 141
Between the 2017 and 2016 drafts, the Leafs have more than enough defensive prospects over 6-foot-5. At 6-foot-6, Fedor Gordeev is another big defenseman to add to the group of big defensemen that the Leafs have. Gordeev had 14 points in 64 games in the OHL with the majority of the season spent with the Flint Firebirds.
Originally from Russian, Gordeev and his family moved to Toronto when he was young and he's since grown up as a Leafs fan. He looks like a long shot for the NHL, but it's hard not to hope that a hometown kid makes the team.
Sixth Round
Ryan McGregor (LW), No. 172
At 172nd in the draft, the Leafs finally picked their first winger in Ryan McGregor. In his second season with the Sarnia Sting, McGregor had 27 points in 65 games, which was a slight improvement over his 2015-16 total of 24 points in 58 games.
McGregor's production is certainly lacking but he has a good release on his shot, so hopefully next season he will put that shot to use and validate the Leafs' choice.
Seventh Round
Ryan O'Connell (D), No. 203
With their last pick of the 2017 draft, the Leafs selected Ryan O'Connell. O'Connell has spent the last two years playing for St. Andrews College of the CAHS.
In 47 games, O'Connell had 27 assists and 33 points, which was an improvement over his previous year's total of 31 points in 55 games. O'Connell finished this season 10th in team scoring and was tied for the most points on the team by a defenseman.
He is committed to Penticton Vees of the BCHL next season and Boston University of the NCAA in 2018-19. Although the NCAA has become a great developmental league, this also means that it will be years before we ever see O'Connell, assuming he's even able to make the NHL or AHL.