The Calgary Flames have a lot of unanswered questions heading into the 2017-18 season, but it's unlikely they will find many answers among the available free agents this year. No, this summer the answers probably lie closer to home with a few familiar faces. If not, young prospects like Mark Jankowski, Hunter Shinkaruk, Brett Kulak or Morgan Klimchuk will get a chance to prove they can fill a regular spot in the Flames' lineup.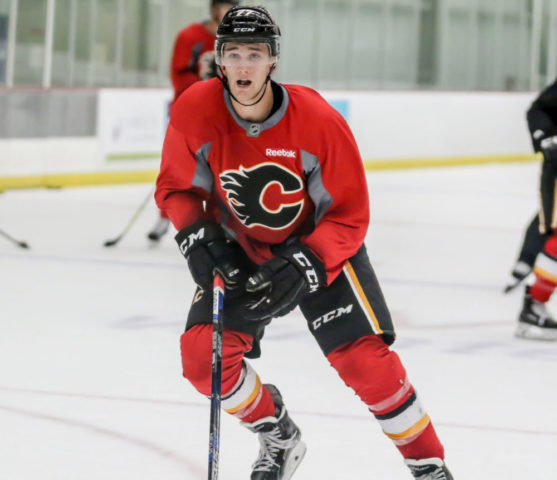 Filling Roster Holes With Familiar Faces
As free agency looms, the strategy for the Flames is simple. It's to re-sign Kris Versteeg and Michael Stone to cap-friendly contracts while luring Chad Johnson back to Calgary after trading his rights to Arizona in the Mike Smith deal. This won't be easy to do as all three players will no doubt be fielding offers from NHL teams willing to pay them as much or more than what they earned last year.
However, the Flames are fortunate in that all three players played big roles on last year's team and all of them also either grew up in the Calgary area or played their junior hockey in the city. The possibility of a hometown discount among these players is high. Also, since the Flames chose to save some cap space by not extending a qualifying offer to right winger Alex Chiasson, they hopefully have opened up enough cap room to sign at least some of these core players, assuming of course that their price tags aren't too high.
"The thought process behind Alex Chiasson is that he was arbitration-eligible and that doesn't necessarily eliminate Alex 100 percent," said Flames general manager Brad Treliving to the Calgary Herald."But at this particular time, we made a decision not to qualify him. That doesn't necessarily close the door. Alex had a good year. I talked to his representatives, and he has a decent arbitration case. But it was something we felt more comfortable with dealing outside the realm of arbitration."
Of the three players, Kris Versteeg seems most likely to re-sign with the Flames.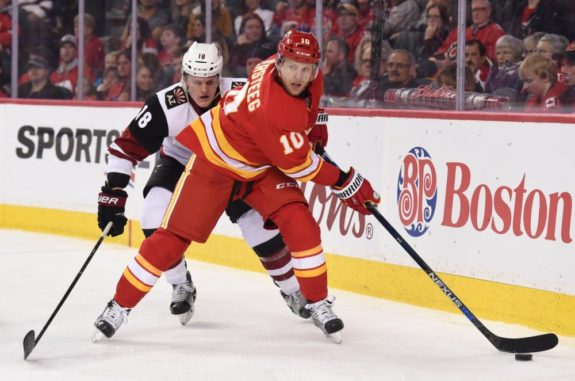 "Me and my agent have talked a lot about different scenarios and situations," said Versteeg to the Calgary Herald earlier this year. "Being in Calgary is obviously No. 1 for me. I have my family, I have my friends. I feel like I've made a lot of good friends on the team and in the organization. Here is where my heart is, especially right now. But things change and you never know. The business is pretty crazy."
The Best Number-Five Defenceman Available
After acquiring Travis Hamonic from the New York Islanders, the Flames find themselves among the elite of NHL teams on defense. That's why many Flames fans have been shocked to hear that Michael Stone is still in conversation with Flames management over the possibility of re-signing in Calgary before July 1. Many thought this scenario would not be possible given that Stone is an unrestricted free agent coming off a season where he made $4 million on a one-year deal he signed with the Arizona Coyotes before being traded to Calgary.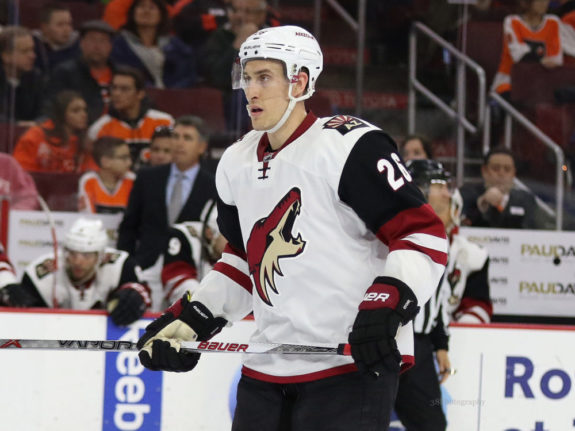 Retaining Stone for a role as a number-five defenceman when he could easily get more minutes and a better contract elsewhere is probably a bit far-fetched. However, Stone loved getting his first taste of playoff hockey in Calgary last season and seemed to really settle in and help solidify the Flames' defense pairings after the Dennis Wideman era ended. It could be that he just wants to stay.
Still, there are pros and cons to Stone re-signing for both him and for the Flames given the amount of money he could command on the open market. Also, keeping him around does limit the NHL exposure that young prospects like Brett Kulak and Rasmus Andersson could get with the Flames next season.
The Infamous Goalie Dilemma
Ever since the 2013 retirement of Miikka Kiprusoff, the Flames have struggled to find consistency between the pipes. For this upcoming season, Flames management has placed its hopes squarely on newly-acquired veteran Mike Smith. However, right now the question of who will back up the 35-year-old is still very much up in the air. Last season's backup, Chad Johnson, had a great season in Calgary and even though his rights were traded to Arizona for Smith, there's a chance he could return to Calgary if he signs again after July 1.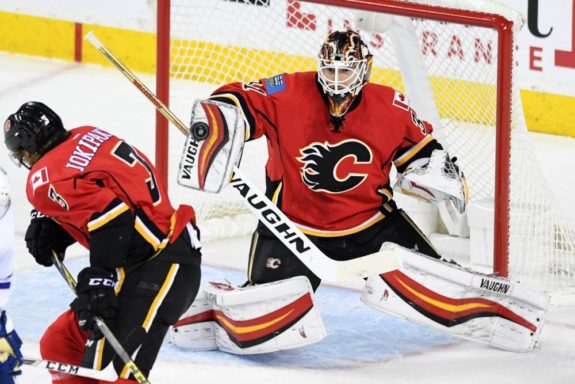 Johnson posted a 2.59 goals-against average in 36 games to go along with a .910 save percentage last season. In fact, his play was a big factor in the Flames' ability to secure a playoff spot. Yet, like Brian Elliott, Johnson struggled with consistency at times and wasn't able to steal quite as many games for the Flames as they would have liked. Right now, it's unclear whether Johnson's play will bring offers of a starting role with an NHL team next season or what kind of salary he will fetch on the free agent market, but of all the goalies available, Johnson is the best fit for the Flames.
However, if the price isn't right or if Johnson isn't interested in a backup role to Smith, then expect to see youngsters like David Rittich and Jon Gillies emerging as NHL rookies to battle it out for the backup role in Calgary.
Jon is a Calgary resident and life-long Flames fan who is a new contributor on TheHockeyWriters.com. You can follow Jon on Twitter @sportfanyyc where you'll probably learn a bit more about sledge hockey as well.