Looking to the future has always been essential in the NHL. Whether it's looking forward to next season, looking at future contracts or the future of the salary cap. It's all about having a plan for what's next. And when it comes to future success of an NHL team it's dependent on drafting.
The Toronto Maple Leafs came out of the 2016 NHL draft with 11 picks. That's the largest amount of picks the Leafs have had since 2001 when they had 12, and that was back when there were nine draft rounds. The Leafs made the most out of the 2016 draft by picking an assortment of players in both position and roles.
In the 2015 draft the Leafs mainly targeted highly skilled players, who happen to be on the shorter side, while the 2016 draft was the opposite. There are more bigger players coming out of this draft with a focus, seemingly, on players that would play bottom end roles for the Leafs.
So halfway through the season, how are the Leafs' 2016 draft picks doing?
1st Round
Auston Matthews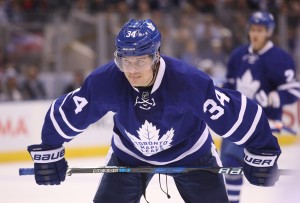 What more can you say about Auston Matthews that hasn't already been said? We knew that Matthews would be good for the Leafs going into this season, but we didn't know just how good he would be.
He was billed as a solid two-way forward with comparisons in Jonathan Toews and Anze Kopitar. Just adding a player of that calibre would be tremendous for the Leafs. But in 52 games Matthews has shown that he's even better than we thought with 25 goals and 44 points.
Matthews is already the top line center that the Leafs have craved for years, and it's just his first season in the NHL.
2nd Round
Yegor Korshkov
Yegor Korshkov was a scrutinized pick since the Leafs traded the 30th overall pick to the Anaheim Ducks in the Frederik Andersen trade. The scouting staff must have seen something that they liked to have picked him that high. He's a big winger at 6'4″ but needs to put on some weight at only 187 Ibs. Luckily Korshkov has proven to be a good choice so far.
Korshkov is in his third year with Lokomotiv Yaroslavl in the KHL and has shown continuous improvement. He's fifth in team scoring and is having a career year with six goals and 18 points in 35 games. Unfortunately, his season has been cut short after breaking his leg. Hopefully, Korshkov can get back in time for the end of the season and the playoffs.
Carl Grundstrom
Carl Grundstrom looks like the most promising of the Leafs 2016 crop of draft picks, besides Matthews obviously. He's not a high skilled winger, but is hard-working and plays with an aggressiveness that the Leafs seem to have a need for. It seems that further down the line he would fill the role that Leo Komarov brings to the team.
With 12 goals and 15 points in 34 games with Frolunda HC in the SHL he seems to have impressed Leafs' management. According to TSN's Darren Dreger, the Leafs are in talks to sign Grundstrom.
https://twitter.com/NicholsOnHockey/status/824769376440102912
So we could see Grundstrom start next season with the Toronto Marlies, which would greatly help their depth on the wing.
3rd Round
Joseph Woll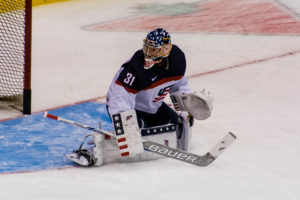 This is a pick that looks better as time goes on. Joseph Woll has continued to impress as the season's gone by.
The Leafs seem to have placed an importance on having taller goalies with the decisions they've made in net. So it shouldn't be a shock that the Leafs picked the 6'4 goalie.
The most notable thing about Woll is his consistency at every level. Last year Woll played with the U.S. National Under-18 Team and finished with a 2.14 goals against average and a .918 save percentage. Woll is playing for Boston College this season and his consistency is the same with a 2.49 goals against average and a .920 save percentage.
He also showed his prowess at the World Juniors over Christmas. Woll only played two games for the U.S., but he made the most of it by only allowing 3 goals and having a 1.50 goals against average and a .935 save percentage. Woll is looking to be the best goalie that the Leafs have drafted in years.
J.D. Greenway
This is the point in the list of the Leafs 2016 draft picks that players seem to be picked for their future role, instead of picking the best available player.
J.D. Greenway is the first of three defensemen that the Leafs picked in this draft. They are all over six feet tall and are shut-down defensemen. This is where a problem comes in with drafting "big" players in today's NHL. They need to be able to skate and keep up with the speed that the game is played, in the modern NHL, to be effective.
In 23 games with the University of Wisconsin, Greenway has just one goal and five points. The good thing is that he isn't expected to be much of a contributor offensively. He's a big guy that plays with an edge and if he can become mobile enough for the NHL, then the Leafs might have a great shut-down defenseman on their hands.
4th Round
Adam Brooks
Players like Adam Brooks always carry some degree of risk. Brooks was over-aged, 20 years old, when the Leafs picked him. The worry is always that if nobody else picked him when he was first draft eligible then he won't make it to the NHL.
Brooks looks like he might buck that trend at the pace he's on. He finished first in the WHL in points last season with 120 points in 72 games and has 89 points in 44 games this season. We know that he can rack up the points, but as a 5'10 center the question changes to whether he can do that while playing with much bigger players in the NHL.
There have been many small centers over the years that seem to dominate in junior, but they just can't translate their game to the NHL. The interesting thing with Brooks being older is that he can play for the Marlies next season, so time will tell for him.
Keaton Middleton
Keaton Middleton is the second big defenseman the Leafs picked, coming in at 6'4 and a whopping 235 Ibs. Keep in mind he is just going to turn 19 years old in a few days.
He suffers from the same problems as Greenway does, big defenseman that doesn't put up many points and can he skate well enough to keep up? Many were scratching their heads when the Leafs drafted him since they had just drafted a better version of Middleton in Greenway. Middleton is having a career year with 13 points in 47 games with the OHL's Saginaw Spirit.
5th Round
Vladimir Bobylev
Vladimir Bobylev was a good find in the 5th round. He finished with 67 points in 72 games, playing in the WHL, during his draft year. So he doesn't look like a huge offensive threat for the Leafs, but late in the draft, picking almost a point-per-game player is never a bad choice.
Bobylev started the season by going to the KHL and playing for the Moscow Spartak. He only played 20 games before going back to the Victoria Royals in the WHL. He didn't get much playing time with Moscow which resulted in his low point total of one goal and three points.
Back in the WHL he's a point-per-game player again with 21 points in 20 games for the Royals.
6th Round
Jack Walker
The Leafs' scouts must really like what they saw with the Royals since they picked Jack Walker right after picking his teammate, Bobylev.
Walker is one of three players from the Leafs 2016 picks that are under six feet. He, like Bobylev, is a point-per-game player with 84 points in 72 games last season and 55 points in 51 games this season. Walker is interesting as a pick since he spent time as a defenseman, while he is currently playing as a winger.
Walker has continued to improve every year and looks promising for a 6th round pick.
Nicolas Mattinen
Nicolas Mattinen is the last big defenseman that the Leafs picked, coming in at 6'5 and 215 Ibs.
He is again in the same spot as Greenway and Middleton. Hopefully one of these three defensemen can improve their game enough to make it to the NHL and become the shut-down player that the Leafs wanted. Mattinen has just six points in 48 games for the London Knights.
7th Round
Nikolai Chebykin
Nikolai Chebykin was the last player the Leafs picked in the 2016 draft and he looks like a bust only half a year later. Most 7th round picks don't make it to the NHL, or even the AHL, but it's surprising how quickly Chebykin has fallen down the ladder.
In his draft year he played for HK MVD Balashikha in the MHL, which is the Russian equal to the juniors here, and had 35 points in 39 games. This season he started in the KHL with the Dynamo Moskva and had only one point in seven games. From there he played with Dynamo's VHL affiliate and had 8 points in 23 games. From there he went back to the MHL and has 27 points in 17 games.
It's a sure bet that we won't be seeing Chebykin in the NHL.
In Review
So in review of the Leafs 2016 draft picks at the midway point, it's clear that they drafted with a purpose and a focus on drafting big players that would realistically end up as bottom end players in the NHL.
Grundstrom and Woll have proven that they are the best bet for making the NHL. Some think that Grundstrom will make the Leafs out of training camp next season, but playing with the Marlies is more realistic. Woll has great stats, but it will be a few years before he has the chance to get a crack at the NHL.
The three defensemen that were selected all fit the same bill. It's unclear if any of them can make it to the NHL, but by picking three it seems like the Leafs wanted to make sure that at least one does make it.
2016 was a great draft year for the Leafs with 11 players selected. Hopefully we should see a few of them in Leafs uniforms in the years to come.